These are my updated preliminary DJF outlook maps:
Temperatures:
Early Winter (NDJ):
Late Winter (JFM):
Precipitation Outlook: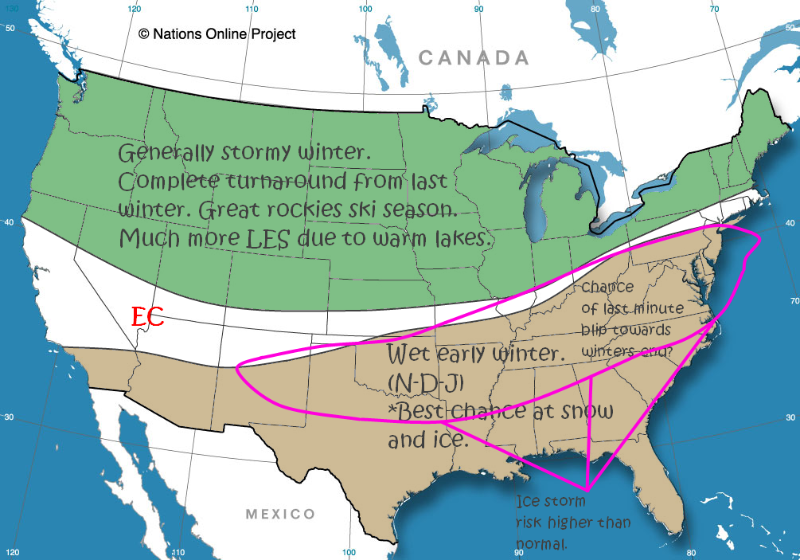 Winter Pattern to expect:
- Winter starts early for the east and south followed by a possible early Autumn leading to a cold holiday season. This is 1 or 2 windows for us
to get wintry weather.
- Winter starts early for GL's, NNE, OV, Apps, MW, N. Plains, Rockies, and PNW. Winter starts and it stays for the long-haul. However,
this statement is more valid for the rockies and PNW.
- Much more snow in the NNE, N. Plains, GL's, OV, Rockies, and PNW.
- Serious threat of ice from the central and southern plains to the SE and up to the Mid-Atlantic.
- Warmer and drier weather invades the southern tier by mid-winter.
- By winters tail-end (March) we could have a couple of weeks where we could squeeze in another snow or ice event before its over (similar to 08/09).
- Winter last much longer for northern and western states leading to ski resorts staying open later into the year.
- I expect a moderate La Nina that is east based becoming basin-wide that weakens throughout the winter hittings its peak during the Fall months.
- I expect solar activity to remain very low.
- Finally, I expect a -PDO, +PNA with a varying AO/NAO.