I have had a lot to say in the past about things and one of the things that has been brought up is that I have no room to talk because I have not issued my own long range outlook. Well, I have been working on it for some time, as evidenced by my Southern Plains info I posted last Sunday, but I did not want to post any maps until I had at least 60 percent confidence in one of them. As luck would have it, I know have enough confidence enough in my temp forecast to post them, and I will go ahead and post my precip as well with the caveat that my confidence is only around 25-30 percent on that front.
As for what I expect from the big factors, well my thoughts are rather mundane. A high end moderate Nina that is central based (really more basin wide with slightly higher anomolies in the east and slightly lower in the west, which is to say slightly warmer in Nino 1+2 and cooler in 4). The negative PDO is a given, as is a lower than normal solar cycle (even if it is waking up). I forsee a mainly -NAO with periods of slightly positive anomolies and an -AO that will be neutral-negative to negative with a few weeks where it goes very positive in January. I will admit, the QBO going to the plus side worries me, but I do believe that some of the other factors will help to balance that out a bit.
So as we go into to my temperature map, I would like to point out that the SE Ridge is present in a more suppressed form, although it will certainly be more variable then some would like to admit. The warm anomolies in the SE show the mean location of the ridge. I do not think it is a foregone conclusion that the Pac NW will be colder than normal so I have left them out of the cooler anomolies for now. However, I think the coldest anomolies (which is not to say the coldest temperatures per say) will be in the central and northern plains and the central Rockies. You will notice a large amount of white on the temperature map, and that is to say that I really think this will be a pretty average winter over much of the US.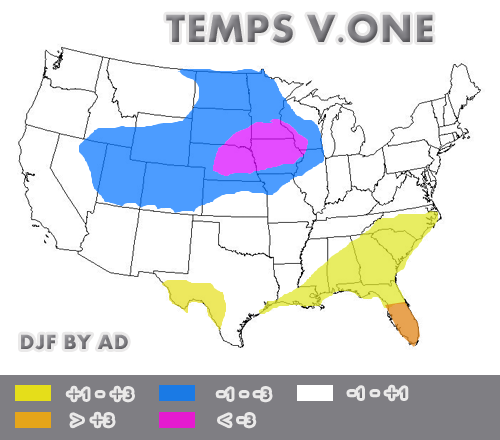 Moving on to the precipitation, which again I am not extremely confident in at the moment, you will see that the there are a large amount of positive anomolies throughout the center of the country. This is due to the fact that I think the mean storm track will be just north of I-44 this year, which is why you have the large green blob within 100 miles either way of that track (give or take). I threw in three more areas of positive anomolies (in the NE, NW, and SW) where moderate Ninas have tended to give slightly higher amounts of precip. I do however see a sharp gradient to the south of our main storm track, meaning areas in Texas and Louisiana look to continue their drought conditions. One thing I do feel comfortable in though is the extreme dryness in the upper Rockies (after what I think will be a wet fall for that area). A disclaimer that just because you appear in the green, it does not mean I am saying you will have above normal snow, just above normal precip in general.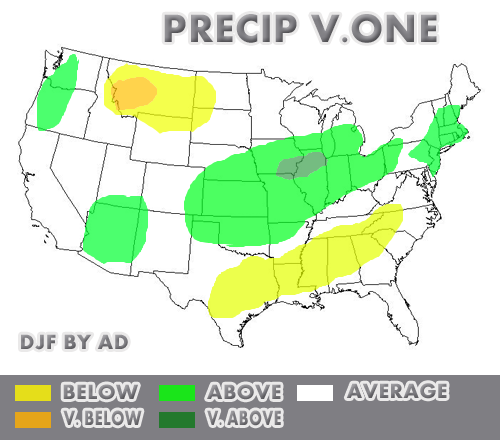 There you have it, my first look at the winter with another coming up toward the end of September or early October. Although I did not include a snowfall map, as I think it is a bit early and really hard to broadbrush areas where there can be extreme variablity; however, if you want, I can give you my thoughts on your area if you really want.
Enjoy, and if you so choose, enjoy ripping it apart!