Well kids, this year so far has been one heck of an extreme weather ride. From extreme cold to extreme hot, extreme snows to extreme drought, winter storms to hurricanes…And now, Summer is nearing an end. The heat is dying, the nights are getting noticeably longer, fall colour will soon be in full swing, etc. So now, I present you all with my final outlook for this Fall:
National Temperatures: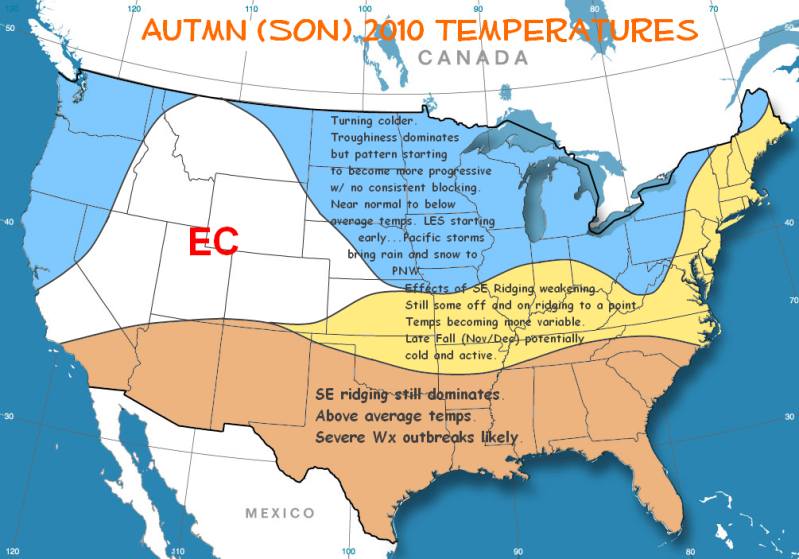 National Precipitation:
TEXT FORECAST:
- I expect a warm Fall across the Central and Deep South. Also the Gulf Coast, deep southern plains, and southwest.
- I expect things to start getting pretty cold in the far northern sections of Maine, the Lakes, northern Apps, northern OV, N. Plains, and the PNW.
- I expect the the Lakes to begin cranking out good amounts of LES and LER.
- This is the time when the La Nina will peak, maxing out at upper end moderate to lower end strong status. It will then begin to weaken slowly but steadily by very late Fall/Early winter.
- Because of this I believe that there will be a temperature battlezone between the cold in the northern tier and the warm in the southern tier. This central region which includes the Atlantic Seaboard, Mid-Atlantic, SNE, upper fringes of the South, lower OV, and parts of the Central Plains will see their temperatures becoming much more variable. A couple of days could be + 5 or _+10 and then for the next few days it could be -5 or -10. I firmly believe that this will be the common theme this Autumn and it will seem as if Nature is confused.
- The PNW, around the Lakes, and N. Maine will be wet this Fall, with a vast area stretching from the lower PNW to the N. Plains down through the lower Lakes, OV, Apps, and up the far inland areas of the NE turning wetter and stormier. This is due to more Pacific storms, LES, Apps Runners, and clipper storms of an increasing amount.
- The Gulf Coast, Southeast Coast and up the eastern seaboard will see things turning wetter early on due to tropical moisture, severe wx, etc. And while not terribly likely, we CANNOT rule out the possibility of a Nor'Easter as they begin to happen more and more during the Fall months. This region will be drying out by mid Fall as the Hurricane Season begins to die down and cooler air reduces the amount of severe wx. Then by late Fall/Early winter this region could turn briefly wetter again. This is especially true for the eastern and northern sections (NC, VA, NJ, DE, MD, NY, PA, CT, RI, MA, VT, NH, ME). This is one of two windows for places such as NC, VA, NJ, MD, and DE to get wintry weather.
- I expect the Rockies to start getting good snows soon, probably October which is when snow usually starts to fall in that area. But I expect the snowpack there to rapidly reappear this Fall and remain very healthy throughout Winter. An early starting ski season, IMO, seems like a very real possibility.
- I expect a variable NAO, AO, and PNA.
- Tropical activity will continue until early October after that I think things begin to die down.
- I expect the N. Hemisphere Ice extent and snowpack to rebound quickly this Fall, which will lead to stronger cold snaps down the road.
- I expect volcanic activity to continue to flare off and on while solar activity will fluctuate, remaining low on average though.
- ONE VERY IMPORTANT THING I EXPECT: I expect an increasingly progressive pattern with a notable lack of blocking. This means that I expect no LONG-TERM or LONG-LASTING above average temps or below average temps for MOST. Any long lasting cold will be confined to the far Northern tier and any above normal temps to the deep south, gulf coast, and southwest.