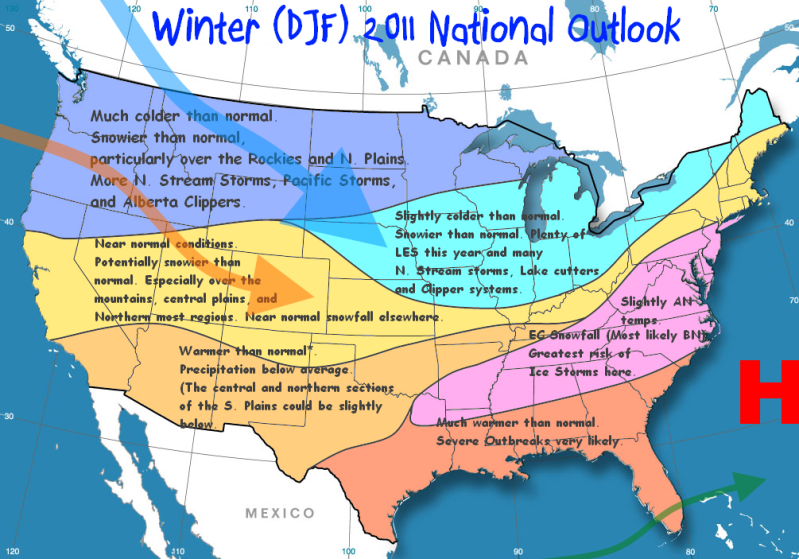 This is my updated preliminary Winter (DJF) National Outlook for Winter 2011!
The SE, S. Plains, Gulf Coast:
- Warmer than normal temperatures. Departures ranging from +1 to as much as +4 or +5 along the Gulf.
- Below normal precipitation. Some Ice possible. A freak snow event like what happened in Georgia in the winter of 07/08
cannot be ruled out.
Mid-Atlantic, Atlantic Seaboard, Apps, SNE:
- Temperatures near normal towards the SNE and Appalachians. Above normal for much of the Mid-Atlantic and Easter Seaboard. Departures ranging from +1 to +3.
- Snowfall below normal. Expect 50-95% of normal snowfall. However, a freak snowstorm like what struck the I-95 corridor in 07/08 and 08/09 cannot be ruled out. If such a storm were to occur we could see some areas get 110-125% of normal.
Ice is a very serious risk this winter in the aforementioned areas. The last major Ice Storm to strike parts of the region was over 10 years ago on Christmas Eve of '99. We are VERY overdue. So keep an eye out!
Have to go eat dinner right now. I'll be back with the other text forecast for the other regions in a bit. For now tell me whatcha think so far and how the map looks.