Here are the maps for what I expect for the 3 months of October, November, and December heading from Fall into early Winter:
October:
November: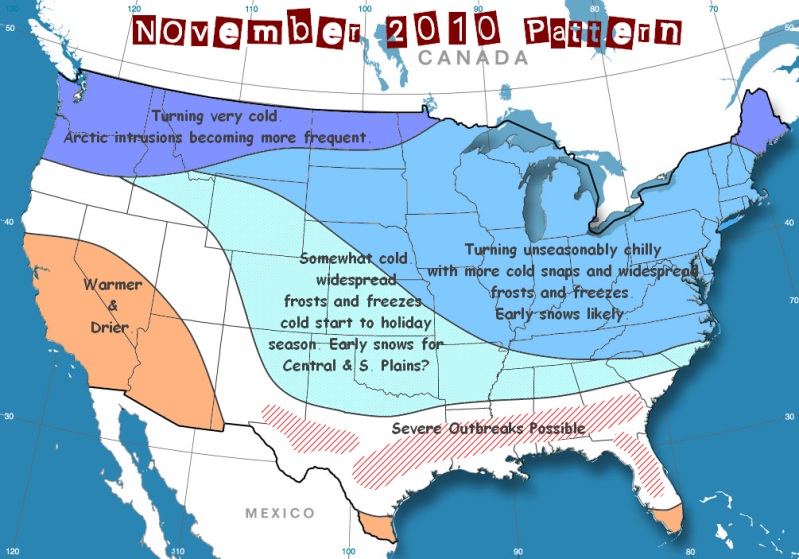 December: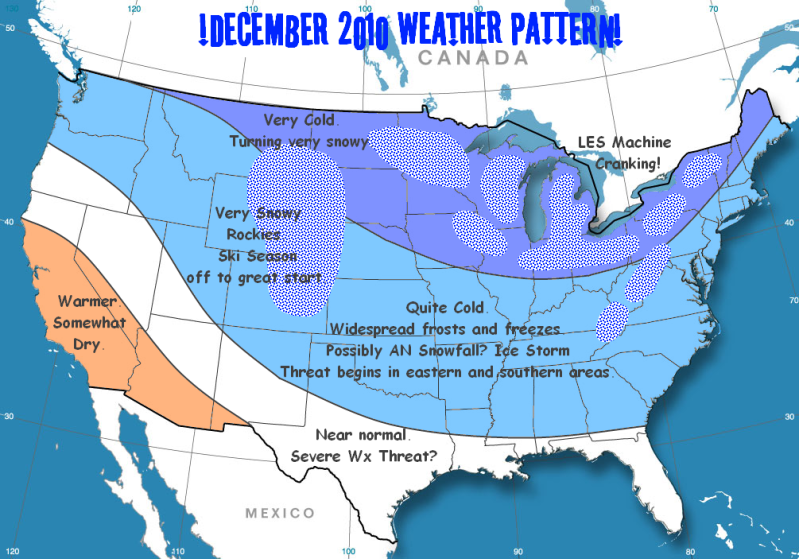 Now, onto my thoughts…
Next week is the first full week of October. We are now in the throws of cooler weather that will last the rest of this week and all of next week as well. Then there is another cool spell hot on it's heels where places as far south as where I am located have a CHANCE at seeing their first LIGHT frost. This is a developing situation so I will keep monitoring it. Needless to say, the rain the east coast is getting has and will continue to provide a huge death blow to the current drought. We can also safely say that ALL hot weather is completely done for the rest of the year. Now that's something to celebrate!
The pattern that I see developing will be a wetter pattern and one that will lead to the eastern half of the nation as well as the central, northern, and northwestern areas growing colder over time. We will have a warmer day here and there but nothing terrible. This pattern unfortunately does mean that this October could be a big time month for tropical activity and the US could be under the gun a lot. We will also see more and more troughs swinging through and we may start seeing the typical pattern of Autumn Nor'Easters begin soon. By late Fall from the PNW and Rockies eastward things are turning cold and active. The Rockies ski season and the LES Machine will both get started quickly. The eastern US could also be in for some early snows as well. (For VA, November 2008 repeat?)…This will result too in widespread frosts and freezes stretching rather deep into the southern tier. Along the Deep South, Gulf Coast, and deep S. Plains, Severe Wx Outbreaks could be a problem. By early winter (DEC) a huge chunk of the nation will be turning rather cold and the PNW, Rockies, N. Plains, Lakes, and N. New England become rather stormy. Areas farther south (Mid-Atl, Central and S. Plains, Upper South, Apps) could also see a good bit of snow and could end up AN for the month. Unfortunately, the aforementioned areas will also see the risk of Ice Storms begin to increase dramatically. But anyway, hope y'all enjoy a cold holiday season because it looks like you're gonna get it!