This is what I forecasted for much of the country November into December. I came out with this forecast in early November taking from a set of analogs featuring a hyperactive hurricane season. November ended up busting because of a negative PNA. However excuses are excuses and I'm not ashamed to admit my mistakes.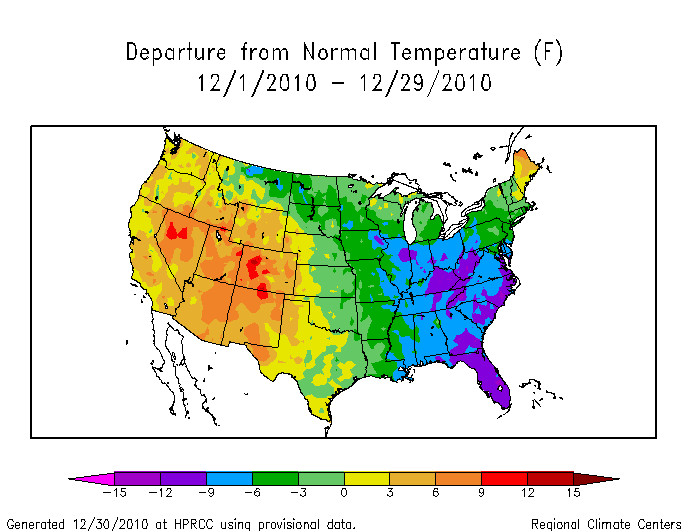 To no surprise the departures from normal temperatures for December look awefully similar to my forecast above. This is all part of the hurricane analogs and also my prediction of the negative NAO/AO combo early on. I should've known better with Maine not to have them slightly below average as in a blocking pattern they tend to stay on the warm side of things(in respect to average). I think I nailed the southeast's forecast as they ended up well below average. We have today and tomorrow of December and I don't expect any notable changes to the map above.
Looking ahead to next month Okie333 in a previous thread mentioned some interesting things. We are about to see a major warming event occur in the 10mb level of the stratosphere… something that hasn't happened yet this winter. This will be the precursor to what could be very significant and widespread cold for MUCH of the nation mid-late January. I have my suspicions that the stratospheric warming is in response to the recent volcano eruptions over the last couple of years. The AO will become briefly positive for a time next week only to go back into the tank. I was starting to catch on to WJP's forecast idea early on but now I'm deferring and going back to my original thinking. This La Nina is going to be offset by a number of factors this Winter.
For an example the major rains across the southwest this winter so far. The result of blocking supressing the jet to the south. This is NOT the pinapple express that the media and some others have talked about. It only shows they no nothing. The subtropics are dominated by subsidence right now as a result of La Nina. The wet pattern has been the result of the moistern laden northern jet being suppressed south clashing with the warm anomalies in this area. This is likely to continue for awhile.
This has been a very complex pattern this Winter so far… one that has taken even me(someone who from the beginning stated this would not be a typical La Nina winter) by surprise.
p.s. I know it's been awhile since I have posted anything on here. I've been very busy with personal matters and school but now that I have been out for break and the holidays are coming to an end I should be more available.