It is entirely too quiet around here! At this point last year, there were at least five WINTER forecasts, let alone those for fall. It's time to get this community back on track with serious discussions about our thoughts for upcoming seasons!
With that, I will debut my SON forecast for this year, temperature only.
Discussion
When looking for analogs it becomes very clear that we are in very uncharted territory. Going back to 1950, I could only find six years that had negative neutral or weak Nina conditions following a borderline moderate/strong Nina. 1956,1985,1989, 1996, 2000, 2008. Of those, only 1989 is a great fit with a Nino/Nina three year pattern as we are in now.
With that said, 2000,despite being year three of a three year Nina, had a lot going for it as well. Descending QBO, similar summer, etc . . . Both of these standouts are pissing the predominate overall -PDO, -AO, -NAO trend we have been in, so that has to factor in as well.
Given the abscence of a perfect analog, I am using a blend of 60 percent analogs with heavy emphasis on 89 and 00, 30 percent roll forward of current pattern, and 10 percent gut.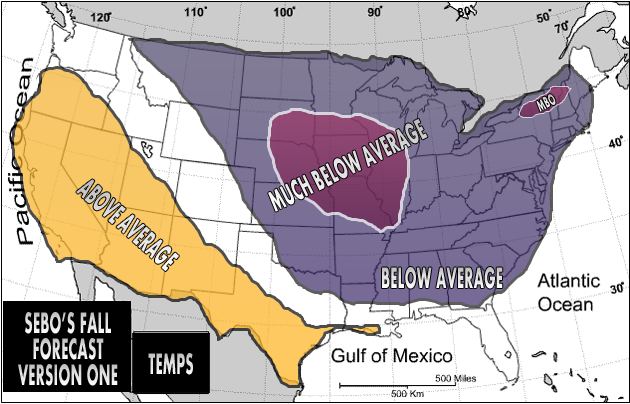 I do think the ridge currently centered over Oklahoma City will continue to grow over the next month before start to shift west around the third week of August. By the start of September, I expect the axis of the ridge to be straddling the Rockies, ushering in below average temps in all but the far western periphery of the blue bubble above. This is not to say that the ridge won't flex during September and there will be plenty of warm days left for most, but the heat should be on its last legs.
Although I do not include precip in this forecast, I do think we will see early snows north of 40N in early November and north of 35N around Thanksgiving. I see November to be major cold for most of the nation, being an early start to winter.
If you have any questions, just ask. Full disclosure, I'm not great at predicting the entire nation, but very good at predicting the Southern Plains. Decided to do the whole thing to foster discussion.