September 5: Bright Mars and Moon Pair Up For A Stunning Display
Dinner and a show? Be sure to step outside Saturday night to catch this stunning display. We tell you where and when to watch!
The question everybody will be asking late Saturday night of the upcoming Labor Day weekend is: What is that big fiery colored star hovering just above the Moon?
Looking to the east after about 9:30 p.m. Saturday night, September 5, 2020, you'll see the waning gibbous Moon, about 86 percent full, shining brightly. Usually, when it's this bright, it will squelch any star in its immediate vicinity. Not this year.
If the night is clear on Saturday, you should be able to see an object that will be sitting literally right above the Moon's upper rim. It will not be affected at all by the Moon's brilliance. What is this object? It's not Venus or Jupiter, which appear silvery-white to the eye. This object shines with a yellow-orange hue, almost like the color of a pumpkin—it's Mars.
Mars: Closer and Brighter
Interestingly, Mars is only about twice as big as the Moon. And when it's in the sky, it usually doesn't attract much attention. Case in point: At the beginning of 2020, Mars was ranked among the stars of second magnitude; bright (like Polaris, the North Star), but not something that "stands out." Mars was also 203 million miles away from Earth and visible only for a couple of hours before daybreak.
But since then Earth has been playing a game of catch-up with Mars and as we have been getting closer to it, Mars has been gaining in brightness; ever so slowly at first, but in recent days and weeks its radiance and luster have been increasing rapidly. On Saturday, its distance to us will have shrunk to just 44 million miles and it will have increased its brightness some 25-fold since New Year's Day!
On October 6, 2020, Mars will make its closest approach to us: 38.57 million miles; closer than it will be until the year 2035. It will then glow nearly twice as bright as it does now!
Of course, our Moon is much closer to Earth than Mars —only a quarter of a million miles away—and as such, it moves much quicker each night against the starry background. And in this version of a "celestial roulette wheel," it just so happens that come Saturday night, the Moon will end up passing just below Mars in our sky.
We're billing this as an "M&M night" (Moon & Mars).
In fact, if you stay outside all through the late-night hours, into early Sunday morning, you'll be able to watch as the Moon actually passes Mars and moves beyond it. The Moon appears to move at its own apparent diameter per hour in our sky.
When To Watch
If you live in the Eastern Time Zone, Mars and the Moon will appear closest together between midnight and 12:30 a.m. In the Central Time Zone, 10:30 to 11 p.m. In the Mountain Time Zone, 9:45 to 10:15 p.m. and for the Pacific Time Zone, right after the Moon rises at about 9:20 p.m.
We can only guess what the reaction of the general public will be. It will, after all, be a Saturday night of the Labor Day Holiday weekend, so no doubt many will be out and about. We can imagine a sudden rash of phone calls to local planetariums, weather offices, TV and radio stations and even police precincts, as folks inquire as to "What is that strange object hovering above the Moon?" Maybe some will think it might even be a UFO.
But now that you know, why not spread the word, and then step outside with your family, friends and neighbors and admire this unusual heavenly display for all to see. Here's hoping for clear skies!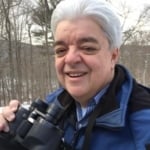 Joe Rao is an esteemed astronomer who writes for Space.com, Sky & Telescope, and Natural History Magazine. Mr. Rao is a regular contributor to the Farmers' Almanac and serves as an associate lecturer for the Hayden Planetarium in New York City.