Beef Barley Vegetable Stew
Warm up with this hearty, healthy homemade stew!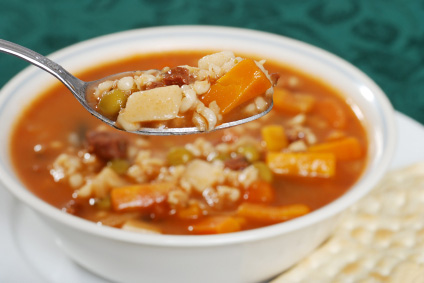 Ingredients:
4 slices bacon, diced
1 tablespoon olive oil
1 1/2 pounds stew beef, lean, cut into small pieces
3 tablespoons flour
1/2 teaspoon salt
1/8 teaspoon pepper
8 ounces sliced mushrooms
1 cup sliced celery
6 cups beef broth
1 bay leaf
1/3 cup pearled barley
2 cups sliced carrots
2 cups diced turnips
1 large baking potato, cut in cubes (remove skin if preparing for your dog)
1 cup green beans, frozen, thawed
2 tablespoons flour blended with 2 tablespoons cold water, optional
Directions:
Cook bacon over medium-low heat in a large stockpot or Dutch oven until almost crisp. Toss stew beef pieces with the flour, 1/2 teaspoon salt, and 1/8 teaspoon pepper. Add to the bacon mixture. Add olive oil. Add mushrooms and celery. Cook over medium heat, stirring frequently, until beef is browned. Add beef broth and bay leaf. Cover and simmer over medium-low heat for 45 minutes. Add barley, carrots, and turnip. Reduce heat to low. Cover and simmer for 25 minutes. Add potatoes and simmer for about 25 minutes longer, or until vegetables and meat are tender. Add beans and cook for 10 minutes longer. If desired, stir in the flour and water mixture. Cook, stirring, until thickened and bubbly. Serves 6 to 8.
Beth Herman is a freelance writer with interests in healthy living and food, family, animal welfare, architecture and design, religion, and yoga. She writes for a variety of national and regional publications, institutions, and websites.