Beeswax Wrap: Reduce Waste & Save Money
Looking for more ways to reduce food waste and trash piling up in landfills? These reusable coverings made of beeswax and cloth are the answer. See how they actually help food last longer, thereby saving you money.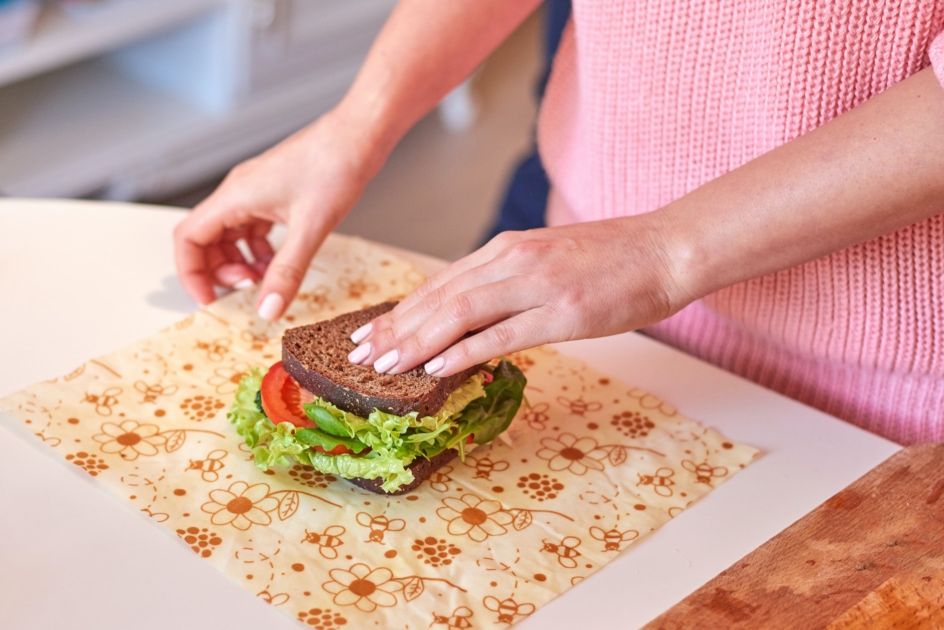 You most likely made the switch to reusable shopping bags and produce bags, you put a stop to catalogs and junk mail, you compost and recycle, but when trash day rolls around, you still have so much garbage. What's an environmentally conscious individual to do?
One way to further reduce household waste is by using beeswax food wraps. These reusable coverings are a great alternative to plastic wrap and do a better job of keeping food fresh. They're made of beeswax, jojoba oil, tree resin, and either cotton or cotton-and-hemp fabric. The beeswax, jojoba oil, and tree resin are natural ingredients that possess preservative properties to help food last longer, thereby reducing food waste. And beeswax food wraps decrease household waste overall by taking the place of plastic bags, throwaway containers, and plastic wrap. Unlike many other types of food storage, they allow some air circulation, which is especially nice when wrapping fruits and vegetables. And if foods are stored properly, they won't go bad as quickly.
Beeswax Food Wraps: The Facts
Here 8 things you should know about beeswax wraps:
They are malleable. You can mold them to fit over a glass bowl or container, or wrap them like a package. The wraps adhere, so they won't unwrap in the cupboard or refrigerator.
They develop "character" over time. Expect creases, fraying, and stains. Like antique furniture or old jeans, these imperfections become part of their charm.
They are easy to clean. Simply wash them in cold water and soap (eco-friendly, gentle ones with low alcohol content are best).
They are NOT heat-resistant, therefore, they can't be cleaned in the dishwasher or used on the stovetop. Hot foods must be cooled before being stored in beeswax wraps.
They last about a year, and after that, they are compostable.
When in doubt, they should be used with a glass bowl or container.
Certain foods are a no-no. Foods containing certain enzymes, such as pineapple, may damage the wraps.
You can't use them to wrap raw meat. Raw meat or poultry should not come into contact with the wraps.
Can You Make Your Own Beeswax Food Wraps?
All this information begs the question, "Can you make your own?" Yes, if you have the time and the inclination. Plenty of instructions are available online, but most don't include information about the jojoba oil and tree resin, so you miss out on the preservative benefits of those ingredients. Also, production of the wraps requires a bit of trial-and-error finesse to get the ratio of beeswax to cloth just right.
Whether you decide to make your own or purchase some of these, you'll be taking a honey of a step toward reducing household waste.

Jean Grigsby is a writer, who lives on the banks of the Kennebec River in Chelsea, Maine. She enjoys working out, reading, and running her marketing and public relations business, The Write Approach. Her article, Where Are All The Birds? appears in the 2021 Farmers' Almanac.