5 Mistakes You Might Be Making With Your Cast Iron Skillet
Do you have a cast-iron skillet you love? Be sure you're caring for it properly so that it will provide you with non-stick heaven for generations.
Whether you're a professional chef or a home cook, you probably have a favorite cast iron skillet that's your go-to pan for everything from eggs on the stovetop to cornbread in the oven. Some skillets have even been in families for generations. The benefits of cooking in cast iron are many, but the primary one is temperature control. Because cast iron is heavy, it retains heat well, and at higher temperatures, it can sear and brown food, or heat it gently and keep things warm at lower temps. Despite all the benefits, there are some key mistakes people make when caring for their cast iron cookware that results in sticking food or rust. Are you guilty of any of these?
Mistake 1: You're Not Using Enough Fat When Cooking
While it's true that a well-seasoned cast-iron skillet is a joy to cook with, it is never going to be quite as non-stick as a nonstick skillet, unless you use an ample amount of your preferred cooking fat. First, it's important to always heat up the pan prior to adding any oil, butter, or fat. When cooking on cast iron, when it comes to fat, less is not always more. It's better to err on the side of too much fat, and then simply drain any excess after cooking. Any southern cook will tell you that the morning after frying chicken is when the skillet is at its most perfect nonstick for breakfast, with the eggs sliding right off the pan. Your cast-iron skillet loves fat; it's actually what the seasoning (the black color of the metal) on its surface is composed of—fat that's been exposed to heat, leaving a smooth coating of carbon.
Mistake 2: You're Not Cleaning It Properly
One of the most effective ways to clean a cast-iron skillet is to use a bit of water and a stiff brush, while the pan is still hot. Brush off any cooked-on food, which softens from the water, then rinse, and dry. Avoid metal brushes that can scratch through the seasoning and expose raw metal. The only time you should use metal scourers to clean a cast-iron pan is when there is a lot of food build-up on the outside of the skillet. Some cooks are proud of that build-up, but it's really due to neglect from improper cleaning. For that, use a specialized cast iron cleaner, which is a square of woven round stainless steel "chainmail" scrubber for removing thick build-up on the outside of your skillet.
Can you use "soap"? Go with dish detergent. Soap tends to leave a residue, while dish detergents, composed of synthetic compounds, are "free-rinsing." Using a mild dish detergent breaks some of the bonds in the fat on the pan's surface, and strips away a bit of the seasoning, but tends to rinse off, and really won't cause irreparable harm. Still, using detergent is not necessary.
Mistake 3: You're Not Heat Drying
One of the biggest mistakes people make is not heat-drying their cast iron skillets. Letting them drip dry, or wiping them with a towel is not enough. Just dry the pan on a burner set to low heat until all the water has evaporated (just don't forget it's on the stove!). This also sterilizes the surface. Leaving water in the skillet can lead to rust. And while rust isn't the end of the world (if you catch it in time, you can clean it off with cooking oil and a cloth), you don't want to leave the pan to rust to the point where you have to strip it and totally re-season.
Mistake 4: You're Not Maintaining The Surface
Taking the time to coat the pan with oil after heat drying is essential in maintaining the seasoning layer and keeping your skillet non-stick. To keep the surface working for you, rather than against you, it's important to do the maintenance. Remember, cast iron loves fat, and keeping the surface clean, smooth, and well-oiled is like moisturizing your skin.
If you need to restore the surface, sometimes the best option is to heat the pan to very hot— in your self-cleaning oven or outside on the grill—and burn off all the build-up.
Method:
Clean the pan of any excess buildup on the outside using a stiff wire brush.
Remove all oven racks except one for the pan positioned in the center of the rack on the bottom rung.
Turn on the exhaust fan or have a window open as it can get rather smelly (a self-cleaning oven uses high heat to combat last Thanksgiving's gravy spills and other nasty build-ups).
Turn the skillet upside down. If doing more than one, the pans shouldn't touch.
Close it, lock it, and set the timer. 3-4 hours. Keep in mind most self-cleaning cycles are about 5 hours so you'll have to set another timer.
Let both oven and pan cool before handling.
All that will be left is some black ash on the bottom of the oven that can be swept up.
This will remove the beneficial seasoning layers too, so you'll need to re-season from scratch. To do this, let the pan cool until you can handle it, coat with oil, and bake it upside down in the center of a 400ºF oven for an hour. It helps to place some aluminum foil underneath to catch any drips.
Mistake 5: You're Using It For The Wrong Foods
Cast iron is a reactive metal, and acids like vinegar, lemon juice, or wine will leach iron ions into your food. Cooks are divided on whether iron from a skillet has health benefits, but regardless of which camp you're in, know that it will alter the flavor of foods. And while a well-maintained, well-seasoned skillet can usually handle some acidic foods, you should be careful of anything that strips off your seasoning. Boiling water in your skillet, for example, lifts much of the seasoning out of the pores in the metal and leaves it susceptible to rust. So if you plan on deglazing your pan with wine, just be sure you start cooking with a nice shiny heavily-seasoned skillet. The only foods that you should be dry-roasting in your skillet without adding that extra layer of fat, are things like nuts, and tortillas or flatbreads.
Cast iron is economical, versatile, and nearly indestructible. With some easy care and maintenance in cleaning and use, your skillet will last a lifetime so you can pass it along as a keepsake to the future generation of cooks in your family.
Happy Cooking!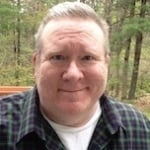 Edward Higgins is a freelance writer, artist, home chef, and avid fly fisherman who lives outside of Portland, Maine. He studied at Skidmore College and Harvard University. His article 10 Best Edible Insects appears in the 2020 Farmers' Almanac.