Colonial Cooking: A Look Back
The harsh conditions of a "new world" affected how and what our nation's founders ate. Learn to eat like a colonist!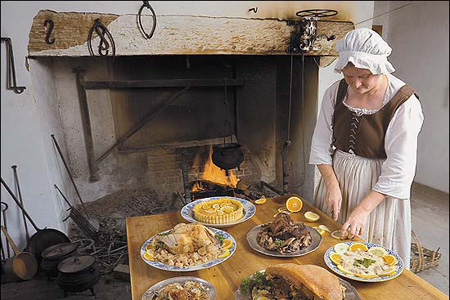 Imagine you are an early American settler about to have breakfast. You only have time for a cup of warm apple cider and some cornmeal mush. As a married colonist, you share a small home with your young wife and your two small children.
One of your foremost concerns at all times is how to keep your family alive. In order to fulfill this obligation, you need to preserve a large supply of food. One strategy your family uses to make the most of a meager supply of food is to consume many pies. Meat pies are an easy and inexpensive meal your wife makes in a tasty crust. She creates her signature chicken pot pies by setting the leftover parts of the chicken, along with odds and ends of vegetables left over from other meals, and baking them into a pie for your whole family to enjoy. Pies give your family the right amount of nutrients, flavor, and are a great option to reserve for future meals.
Because there is no refrigeration or other modern technology, your family benefits from knowing how to preserve food. During your early days in this strange new land, you learn how to use natural resources, and how to grow food in your fields and gardens. You also learn how to cure meat from local native tribes. This method of food preservation gives your family more food choices. Some foods that you dry during the spring include blueberries, blackberries, string beans, fruit slices, corn, and much more.
Another method you find helpful for preserving food is salting your provisions to keep them from rotting. By salting your meats and fish, you safeguard against bacteria. Certain meats, like beef and pork, are smoked as well as salted. The meats you string up in your smokehouse acquire a rich, smoky aroma. Since you recently learned how to pickle provisions, you will now pickle foods like beef, walnuts, corn, cabbage, fish, mushrooms, and cucumbers. Before storing your food items, you need to set them in a mixture of salt and vinegar. This enables them to keep longer, so you'll have them for lean times.
To this day in the United States, we consume a variety of pies, cured meats, and pickled foods, which shows how much we've inherited our eating habits from these early Americans. Much of what we know about food today was passed down by our colonial counterparts.
Here are a few tasty recipes handed down from colonial times:
Shepherd's Pie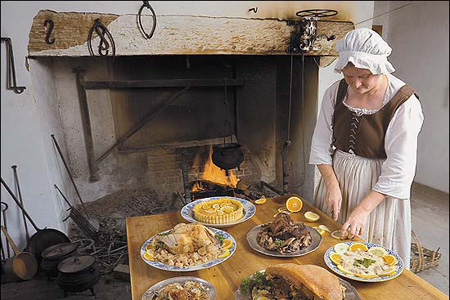 Shepherd's Pie
Ingredients
4 

tablespoons

unsalted butter

2

pounds

lean boneless leg of lamb, cut into 1/2-inch cubes

1/2

pound

turnips, peeled and diced

1/2

pound

carrots, peeled and diced

3

celery

stalks. trimmed and sliced

1

medium

onion, peeled and diced

1

teaspoon

fresh thyme leaves

1/2

cup

all-purpose flour

2

cups

beef stock or water

1/3

cup

tomato paste
Potato Topping
2

pounds

white or red boiling potatoes, peeled and cut into 1-inch cubes

1/4

pound

(1 stick) unsalted butter

1

egg

yolk
Instructions
First, allow the butter dissolve in a good-sized saucepan on medium high heat.

Place the lamb in your pan, and cook it until it browns. Leave enough room in the pan for other ingredients. Remove the lamb from the pan using a slotted spoon and set aside.

Place turnips, carrots, celery, and onion into the saucepan. Fry veggies for three minutes, mixing them often, until the onion becomes transparent. Return the lamb to the pan and add thyme.

Then take a pinch of flour and gently distribute it on the lamb and the vegetables. Bring the stew to low heat for 3 minutes, mixing stew often, and allow the flour to cook well.

Pour in cold stock or water, and set the heat on medium high, allowing it to boil.

Next blend in the tomato paste, and add salt and pepper. Keep the lamb stew covered on low heat for 40-55 minutes, or as soon as lamb is easy to cut.

After leaving the lamb to soak in the juices, place the potatoes in a pan of salted cold water. Bring the potatoes to a boil on high heat for fifteen minutes.

Drain out excess water and then mash the potatoes with a potato masher. Mash in the butter, egg, yolk, salt and pepper. Once the ingredients are mixed together, place them in a pastry bag with a big star tip.

Preheat your oven's broiler and arrange the lamb in a large baking dish. Pipe the potatoes onto the lamb mixture in a latticework pattern. Set the dish six inches below the broiler element and cook until the potatoes are browned.
Indian Pudding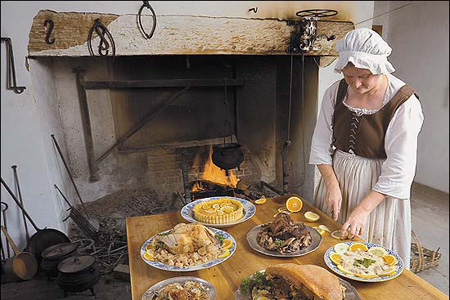 Indian Pudding
Ingredients
4

cups

milk

1/2

cup

cornmeal

1/2

cup

molasses

1/2

cup

milk

1/2

teaspoon

salt

1/2

teaspoon

ginger

1/4

teaspoon

cinnamon
Instructions
Fill the bottom pan of a double boiler with water and bring to a boil. Pour 4 cups of milk into the top pan of your double boiler. Let this come to a boil directly on the burner.

Pour the cornmeal into the milk and mix well using a wire whisk. Remove the mixture from heat.

Place the top of the double boiler over the bottom pan. Cook the cornmeal mixture for about 20 minutes, mixing often. Remove from heat.

Using a fork, whip an egg until it is a pale yellow and frothy. Add it to the cornmeal mixture, along with the molasses, milk, salt, ginger, and cinnamon. Finally mix in the other ingredients into the cornmeal mixture.

Empty the contents into a well-oiled 1 1/2 quart baking pan and bake for two hours.
Whipped Syllabub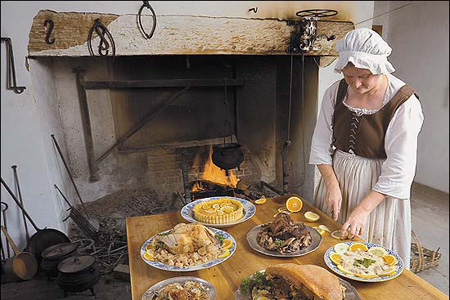 Whipped Syllabub
Ingredients
2 1/2 

cups

heavy cream

2

lemons

1

orange

1

cup

sugar

1/4

cup

white wine
Instructions
In a large bowl, whisk together 2 1/2 cups of heavy cream.

Slice the lemons and the orange in half and press the fruit, so that the juice goes in the bowl.

Add the wine and sugar and mix well.

Pour the mixture over the whipped cream and mix it a tiny bit to keep it foamy.
Photo courtesy of The Colonial Williamsburg Foundation.
Alicia is an editorial intern for the Farmers' Almanac. She is a senior at the University of Southern Maine Lewiston-Auburn College.