Comfrey to the Garden Rescue
Boost your soil, prevent weeds, and build compost with comfrey.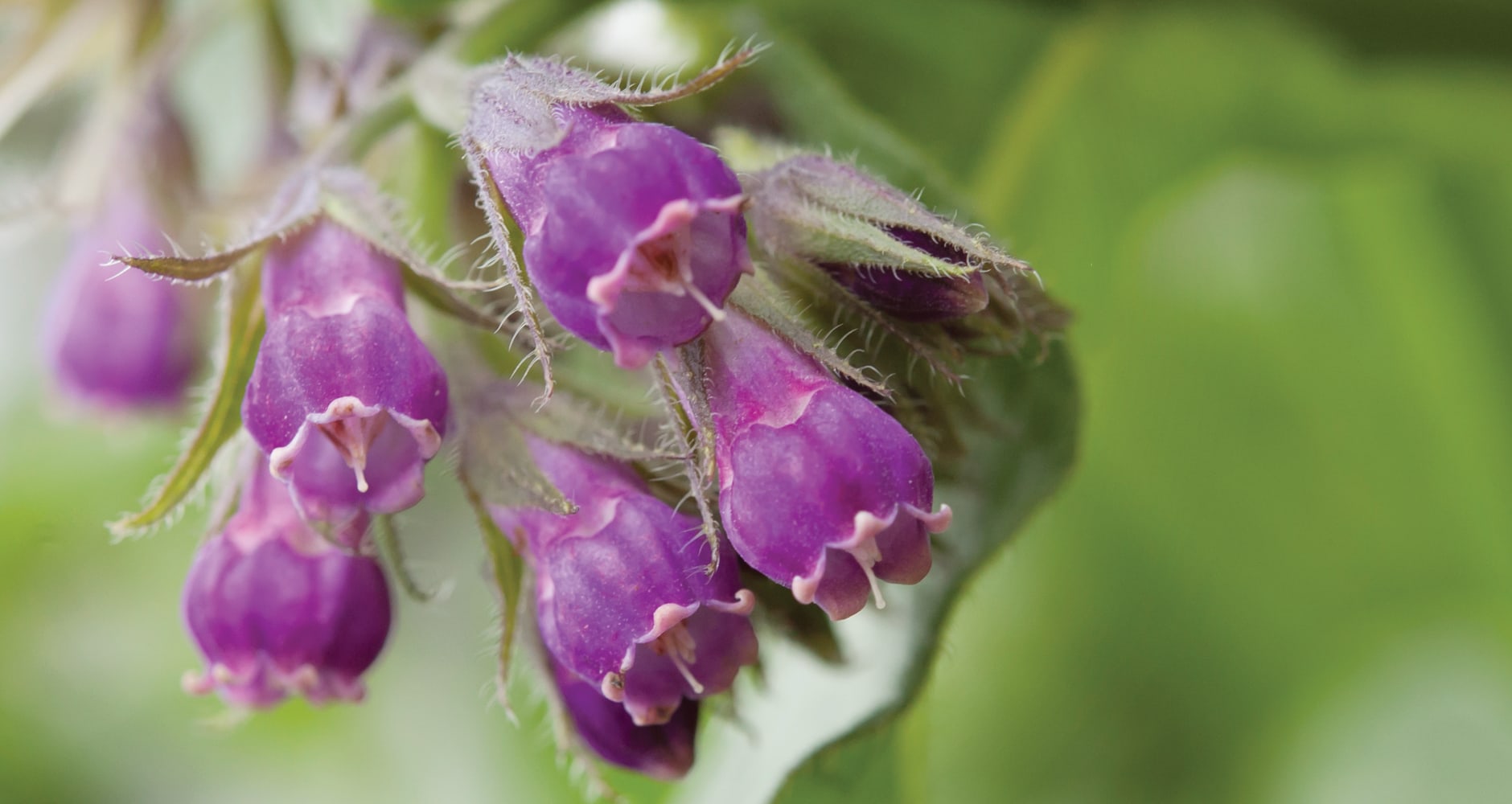 Interested in gardening without using chemicals? Consider growing a patch of comfrey (Symphytum officinale). This European native and member of the borage family is a great garden helper, acting as a soil conditioner, compost booster, and weed barrier all-in-one. Historically, comfrey was considered a valuable medicinal plant, although it is now known that it has carcinogenic properties and should never be taken internally.
A hardy perennial to Zone 4, comfrey is an extremely adaptable plant, and will thrive in nearly any type of soil. Although extremely drought tolerant, comfrey will perform best in moist, fertile soil. A full sun to part shade location is ideal. Comfrey is seldom bothered by pests or diseases.
Comfrey can quickly reach a height of 5 feet, with an equal spread, with multiple stems and fuzzy dark green leaves. (There are also variegated cultivars: 'Variegatum' and 'Goldsmith'). Clusters of small tubular flowers may range in color from violet blue, pink or pale yellow, depending on the variety. As with borage, comfrey's flowers are especially attractive to bees. Comfrey is usually propagated via root or crown cuttings; most gardeners will grow varieties that do not set seed.
Comfrey leaves are chockfull of the essential plant macronutrients potassium and nitrogen, as well as micronutrients such as magnesium, calcium and iron. Harvest the leaves at the height of the growing season and allow them to wilt before shredding them. (Always wear gloves when handling comfrey, as the leaves can cause contact dermatitis). Use shredded leaves as mulch at the base of nutrient deficient plants or crops that are heavy feeders. If you would rather use a liquid fertilizer, you can make comfrey "tea" by steeping leaves in water. The resulting liquid has an undesirable strong odor, but is extremely effective at replenishing nutrients —especially potassium – in plants.
Comfrey is considered a dynamic accumulator: it has a long taproot, and is able to take up nutrients from deep in the soil. Because of this, comfrey leaves make an excellent green manure. Just dig chopped leaves into the soil in late autumn and let them do their good work at replenishing soil nutrients. (This is an especially good way to prepare a vegetable bed for the following year). The taproot also acts as a clay breaker, penetrating compacted, heavy soils to increase drainage and lessen the chances of nutrient leaching from rainwater and other erosion.
If your compost isn't breaking down quickly enough, you can try mixing nitrogen-rich comfrey leaves into your compost bin as an accelerator. Make sure you turn the compost pile after adding comfrey, thoroughly combining the contents for best results.
Finally, comfrey can be utilized as a live weed barrier. Comfrey is particularly effective at controlling rhizomatous grasses. Plant a row of a sterile comfrey variety alongside crops that you want to protect from encroachment by weeds. Comfrey can also serve as a trap crop, luring slugs and snails away from food or ornamental plants.
If you are considering comfrey for your garden, keep in mind that it has a reputation for aggressive behavior. While you can obtain sterile cultivars such as 'Bocking 14' that do not set seed, it is best to plant comfrey in an area where it will not choke out other plants with its readily spreading root system.
For many gardeners, the benefits of growing comfrey far outweigh any problems, and it is welcomed as a valuable asset to the garden.
Sheryl Normandeau, BA, is a Master Gardener and writer from Calgary, Alberta, Canada. Her articles and short stories have appeared in several international publications. She is the co-author (with Janet Melrose) of the Guides for the Prairie Gardener series.
Keep Exploring