Eat Your Colors!
Eating a rainbow of colors can improve your health.
If you want to be healthy, be sure to eat your colors. No, not Skittles or food coloring, but fresh fruits and vegetables. In addition to being more aesthetically pleasing, the more colorful your plate is, the better it is for you.
This is how nutritional science explains it; plants are made out of phytonutrients that help protect the plant from diseases found in the soil and its environment. These phytonutrients are part of what give a plant its pigment, so purple plants and red plants, for example, have different combinations of phytonutrients (not to mention vitamins and minerals).
When we eat those colors, those phytonutrients protect us in a similar way to how they protect the plant. Think about it in these general terms:
Red is good for your heart.
Yellow and orange are good for your eyes.
Blue, purple, and black are good for your brain and memory.
Green is good for your bones.
By eating all these different colors everyday, you feed not just one part of your body, but your whole body. In reality, it's not quite that simple, but the simpler you present techniques to eating healthy, the more likely people are to do it.
Enjoy these recipes to get you started eating your colors.
Spinach Strawberry Salad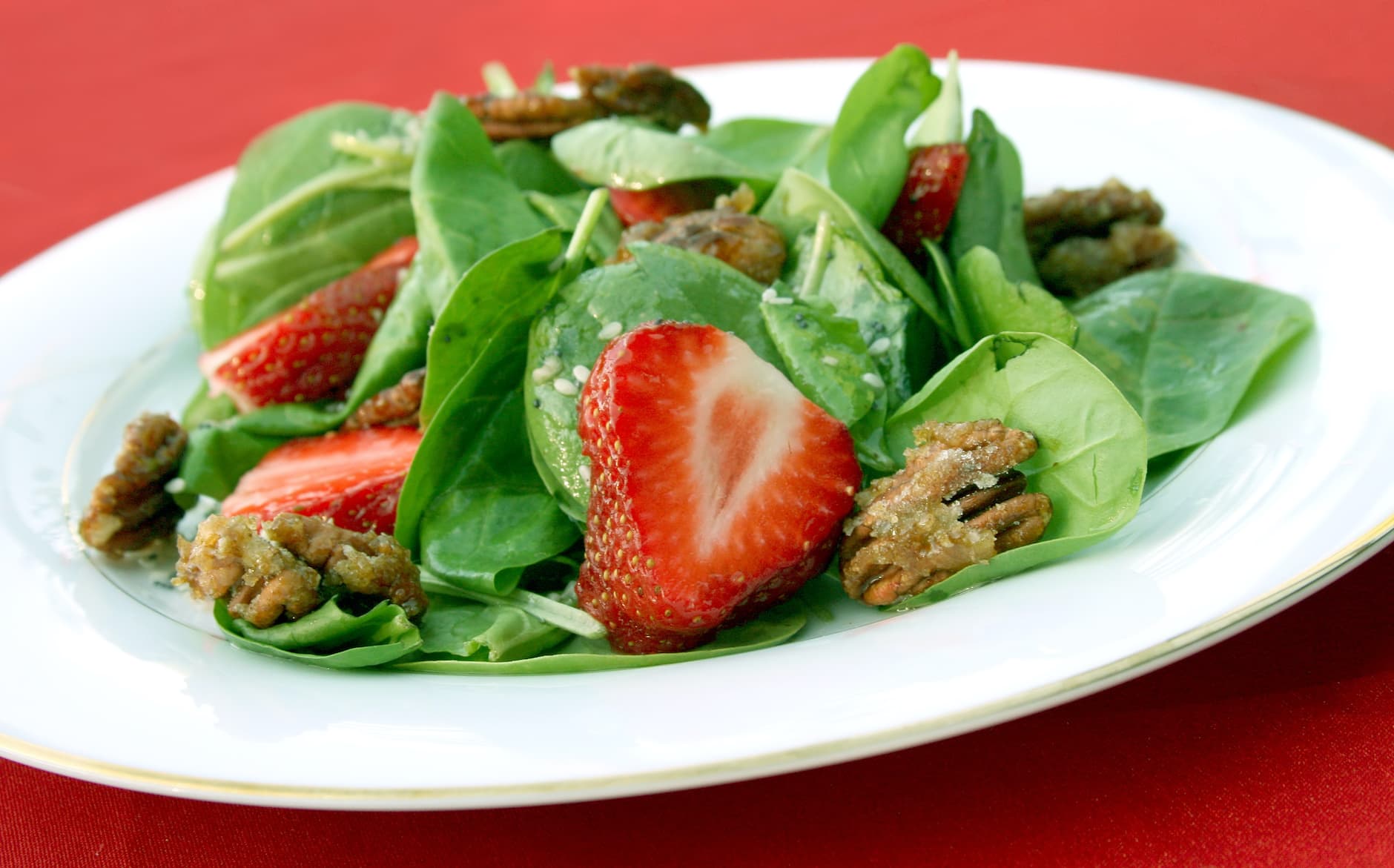 Serves 8
Ingredients:
3 cups spinach/lettuce mixture
1 pint strawberries, sliced
1/2 cup pecans, toasted
1/2 purple onion, sliced
Dressing:
1/3 cup raspberry vinegar
1/2 cup sugar or sugar substitute
1 teaspoon dry mustard
3/4 cups vegetable oil
2 teaspoons poppy seeds
Directions:
Toast pecans over low heat, set aside to cool (you can also make this with candied pecans). Combine dressing ingredients and shake well. Toss and garnish with a few sliced strawberries. Serve immediately. If you'd like, use a high-speed mini-mixer to emulsify the dressing.
Massaged Kale Salad
Serves 8
Ingredients:
Kale, 16 large leaves
2 tablespoons olive oil
Fresh squeezed lemon juice from 1 lemon
1/2 -1 teaspoon salt
Chopped and toasted almonds, pine nuts, or sesame seeds (optional)
1/2 cup bell peppers, diced (red or green)
Directions:
De-vein the kale, then roll up 4 or so kale leaves at a time and slice thinly to make thin, long strips. Place in a bowl with olive oil, salt, pepper, and lemon juice, and dig in your (clean) hands and massage the kale in the liquids. Add diced bell peppers and nuts. Lasts for 3 days refrigerated, tastes better if left to marinate for a little bit.
Healthful Hint: Try adding kalamata olives and/or fresh basil!

Denise Dill is a co-op livin', garden diggin', homegrown cookin' fool who creates soups of song out of local ingredients. She's currently working as a baker and soup maker while she completes culinary school. In the past, she worked as an urban gardener and community cooking educator. She has also toured the country as a folk musician, opening for such acts as Pamela Means and Hamell on Trial.