How To Make Handmade Holiday Cards
Save money and reduce waste by making your own cards with everyday household items.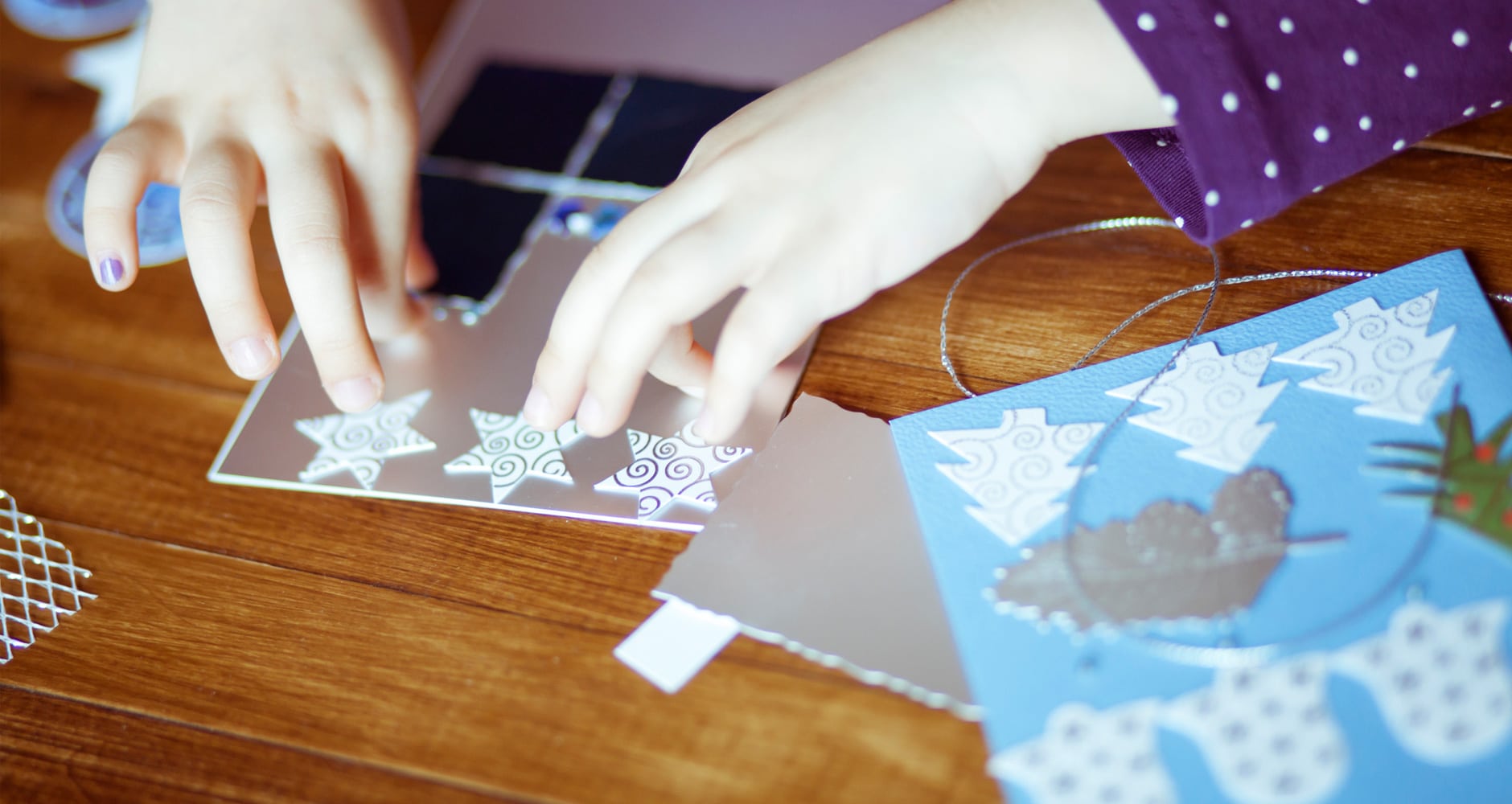 Ever since the first commercial Christmas cards were printed in 1843, the tradition of exchanging cards has remained and important holiday tradition. Each year, more than 1.9 billion Christmas cards are purchased in the United States alone.
Christmas card designs have become more varied, and more elaborate, with each passing year. They've also gotten more expensive, both to buy and to send. As our culture becomes more concerned about frugality and environmental responsibility (all of that paper means a lot of trees get cut down in the name of holiday greetings), many are beginning to rethink their annual holiday card list, especially with the rise of Online social media that keeps us connected with distant friends and family year-round.
With a little time and creativity, though, Christmas cards don't have to go the way of the dodo. Making your own one-of-a-kind Christmas postcards is a great way to send your holiday greetings without spending a lot of money. By recycling materials from around the house and gluing them onto standard-sized note cards, you can give your friends and loved ones a treasured keepsake that shows you care enough to give individual attention to each card. Postcard collages are also more practical than traditional Christmas cards because they use less paper, don't require envelopes (which just get thrown out anyway) and are less expensive to mail.
Handmade Holiday Cards Ideas
Here's a list of some handy things you can use to make your own custom holiday cards:
Old holiday cards
Recycle cards you've received from others. Mix and match the art and the inside message for unique new combinations.
Magazines
Glossy magazines always have the most stunning art inside. Most women's magazines release their holiday issues in late October or early November, so you'll have plenty of time to find great seasonal images.
Catalogs and sales flyers
Most homes get inundated with catalogs and circulars during the holiday season. Like magazines, these are often filled with attractive photography intended to evoke the holiday spirit.
Wrapping paper
Wrapping paper is inexpensive, dense with iconic holiday images, and chances are you have plenty of it lying around the house at this time of year. Scan your old rolls from years past, and save your scraps while wrapping gifts, for a wealth of snowmen, Santas, angels, cute animals, sparkly snowflakes and more.
Stickers
Foil stickers of stars, snowflakes, or anything else you enjoy, add a touch of shine.
Tissue paper
Add a little color and texture to your design by gluing tissue paper to the entire postcard, or just to bare areas. Look for bold colors or interesting designs. Some newer tissue papers include glitter or geometric patterns.
Photographs
Take a hike in the snow with your camera and capture images of winter's quiet beauty, or take photos of your children or grandchildren playing in the snow. Build a snowman or make a snow angel. Find a pine bough covered in white powder. Wait patiently for a cardinal or a whitetail deer. The outdoors are full of beautiful sights that would be perfect for your holiday cards.
Pressed leaves and flowers
While flowers are more commonly associated with spring, pressed flowers can add a lovely touch of color your card recipients may appreciate at this sometimes drab time of year.
Rubber stamps
Find a rubber stamp, or a few, with a design you enjoy and stamp your cards. Fill in the lines with colored pencils or paint.
Your imagination
If you can dream it you can do it. Look around you for other ideas and let your imagination fly.

Jaime McLeod is a longtime journalist who has written for a wide variety of newspapers, magazines, and websites, including MTV.com. She enjoys the outdoors, growing and eating organic food, and is interested in all aspects of natural wellness.