What The Heck Is Muffuletta?
Enjoy a taste of New Orleans with this meat-and-cheese masterpiece!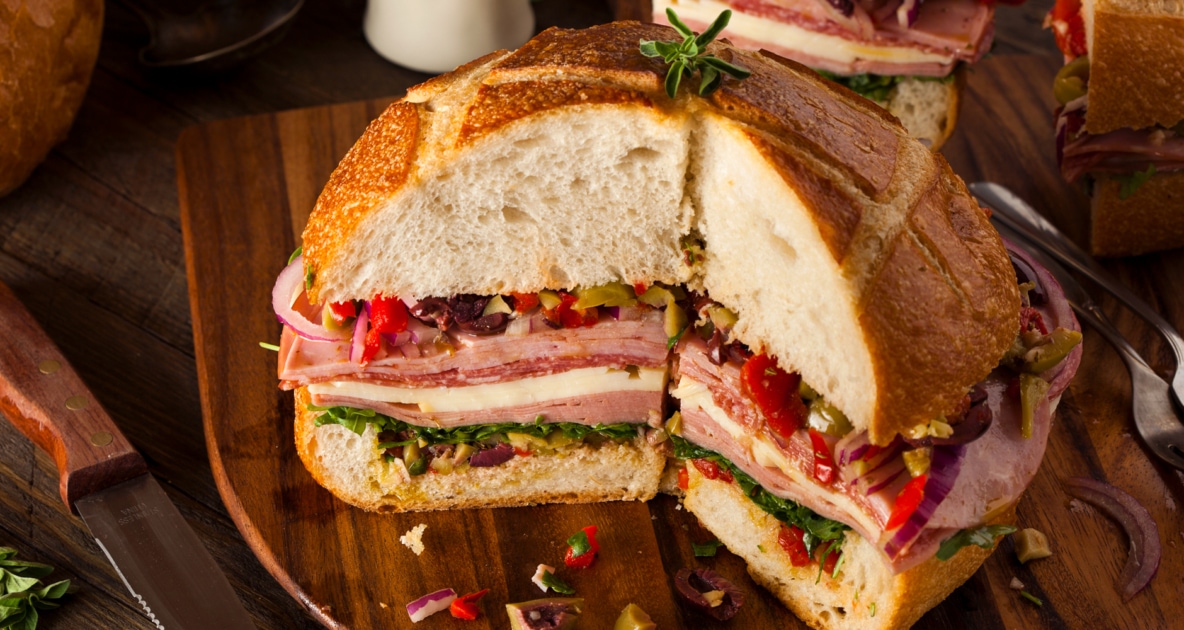 February is Mardi Gras time, when the city of New Orleans is thrust the spotlight with all its festivals, celebrations, and, of course, food! One of the more popular items served at restaurants in this region is muffuletta. But what exactly is it?
What Is Muffuletta?
Muffuletta is the name for both the round bread and the sandwich it's built on, that originated in the city's French Quarter in 1906. A close look at the ingredients, however, quickly reveals that this sandwich isn't French, Cajun, or Creole cuisine at all, but Italian. How can this be?
Being a port town, New Orleans has long been home to immigrants and foods from many countries and cultures. The muffuletta sandwich was created by Salvatore Lupo, a Sicilian immigrant that ran the Central Grocery with a sandwich counter in New Orleans. Lupo created the sandwich to feed Sicilian truck farmers who sold their produce at the nearby Farmer's Market, which was also located on Decatur Street in the French Quarter.
Marie Lupo Tusa, daughter of the Central Grocery's founder, tells the story of the sandwich's origin in her 1980 cookbook, Marie's Melting Pot:
Most of the farmers who sold their produce there were Sicilian. Every day they used to come to my father's grocery for lunch. They would order some salami, some ham, a piece of cheese, a little olive salad, and either long braided Italian bread or round muffuletta bread. In typical Sicilian fashion, they ate everything separately.
The farmers would sit on crates and try to eat while balancing their small trays of food on their knees. "My father suggested that it would be easier for the farmers if he cut the bread and put everything on it like a sandwich; even if it was not typical Sicilian fashion. He experimented and found that the thicker, braided Italian bread was too hard to bite, but the softer round muffuletta was ideal for this sandwich. In very little time, the farmers came to merely ask for a 'muffuletta' for their lunch.
This famous sandwich of humble beginnings feeds more than farmers today, as it is making its way into delis and restaurants across the nation.
How To Build a Muffuletta for Mardi Gras Or Anytime!
Depending on where you dine, there are many variations of this popular sandwich. Recently I had the pleasure of sinking my teeth into an impressive muffuletta for the first time. But it wasn't from New Orleans. It was from Battle Creek, Michigan. It was huge and fantastic, so I asked the source, Christy Stevens, of the Overtime Pub and Grill, to share what goes into this incredible layered sandwich.
"The sandwich begins with Muffuletta bread that is specially made for us by a bakery in Chicago. The bread is a large round somewhat flattened, sturdy, textured loaf that looks like a giant hamburger bun, only bigger and better, measuring 10 to 12 inches across. It is a very light bread topped with toasted sesame seeds. It is crispy on the outside and soft on the inside. Olive salad is the first layer that goes on the sliced bread. It is made fresh daily, and consists of a blend of: Italian spices, garlic, olive oil, fresh roasted red, yellow, and orange bell peppers, black and green olives and red pepper flakes. The layer of olive salad is followed by layers of smoked ham, provolone or fontina cheese, capicola ham, and Genoa salami. Arugula or spinach is added just before serving to keep it from getting soggy."
Muffuletta is best served at room temperature. It can be served whole, halved or quartered with a side of Italian dipping oil. The muffuletta is very popular for serving large groups and company parties. This huge sandwich can be cut into 10 servings or up to 20 for party trays.
If you can't find a restaurant locally that serves muffuletta, you can try making your own in honor of Mardi Gras. Prepared olive salads are available in the deli section of most major grocery stores.

Deborah Tukua is a natural living, healthy lifestyle writer and author of 7 non-fiction books, including Pearls of Garden Wisdom: Time-Saving Tips and Techniques from a Country Home, Pearls of Country Wisdom: Hints from a Small Town on Keeping Garden and Home, and Naturally Sweet Blender Treats. Tukua has been a writer for the Farmers' Almanac since 2004.