How To Have A Pollinator Party Pre-Game!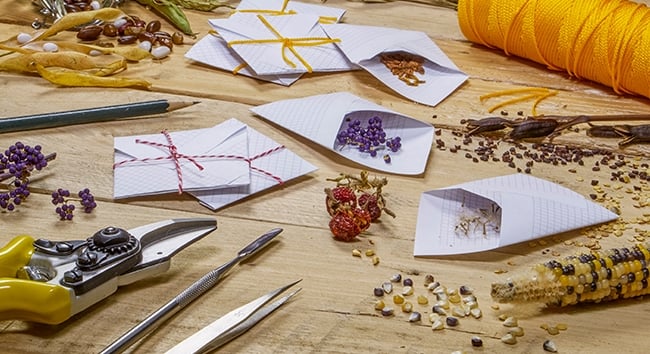 National Seed Swap Day is a great opportunity to trade seeds, share knowledge, and meet new friends! Beat the winter blues by organizing a get-together on the last Saturday of January (when National Seed Swap Day is traditionally observed). Here are some ideas to get growing! We also share some important information about heirloom seeds as opposed to hybrid seeds that you'll want to know.
Getting Started
1) Who is interested
Who of your friends enjoy gardening? Start talking to them about this event to gauge interest in attending and/or helping you organize a bigger event. If there's enough interest, enlist volunteers to form a planning committee. As a committee you'll exchange ideas for your seed swap ranging from how to promote the event, how to set up and display the seeds, refreshments, collect donations, possible workshops, or book sales, etc.
If you are planning an online event, you may want to keep the type of seeds specific to a certain category to generate the most interest. For instance: herbs, vegetables, or flowers, etc.
2) Where will it be held?
Ask a local community center, school, club, or church, etc., to provide free event space. This helps keep the event free to attendees, which encourages more people to participate.
You can also hold your swap in an online gardening group forum or video chat. But bear in mind that online events require a bit more planning ahead because participants must ship their seeds to the host's home or another designated location before the event takes place.
3) Set a date and time.
Successful annual swaps typically hold their events on a Saturday, in late winter (or early spring) for two to three hours maximum.
If you are holding your swap online, set a deadline for participants to ship a predetermined number of seeds in padded envelopes, along with money to cover shipping costs at least one week ahead of the event date. The swap host receives all the seeds by mail. They'll be divided by the number of participants, labeled and mailed to participants.
4) Generate Interest
Share your event's details by creating a social media post and asking friends to share it with others who may be interested. You may also create an email and print flyers for local distribution. Talk to your local garden store. They may want to help you promote the event, especially if they sell a lot of seeds. If you own your own garden store, this is a great opportunity for community engagement.
On The Day Of The Swap
5) Organize designated tables for the seeds.
Attendees will place seeds they want to share in labeled envelopes set up on designated tables, on the day of the event. Directions for participating in the swap should be printed on flyers and distributed in advance of the event in addition to being posted on the tables.
If you are holding your event online, begin with a brief introduction about yourself, your interests, what seeds you'll be sharing, and why you want to share them. Then invite the next person who will do the same.
6) Set up refreshments and seating.
Serving refreshments and providing chairs makes attendees feel more welcome and encourages them to stay longer to meet each other and talk.
7) Offer a gardening class.
If time and space permit, a member of a local garden club or gardening book author could give a short talk about the importance of heirloom seeds or another relevant topic.
8) Consider having door prizes.
Door prizes can be donated by bookstores or authors, gardening centers, etc. Noting the give-away prizes on your posts and promotional flyers may increase attendance.
9) Include a donation bucket.
People taking seeds that have none to share are encouraged to leave a donation in a designated bin. Donations received can be used to help cover event costs or be donated to a charity.
Put Your Seeds to the Test Before Swapping/Planting
Since germination rates drop as seeds age, it's a good idea to test the viability for those that are three years or older before passing them along to someone else. Here's a simple test. Dampen a paper towel and fold in half. Place 3 or more seeds of the same plant variety on the damp towel and fold again. Then place the towel into a plastic storage bag and seal. Allow the bag to sit in a warm location for a few days. Then, check the bag to see how many seeds sprouted. If most sprouted, your seeds are ready to swap or plant. If not, you will want to select others for the event.
Learn more about testing seeds.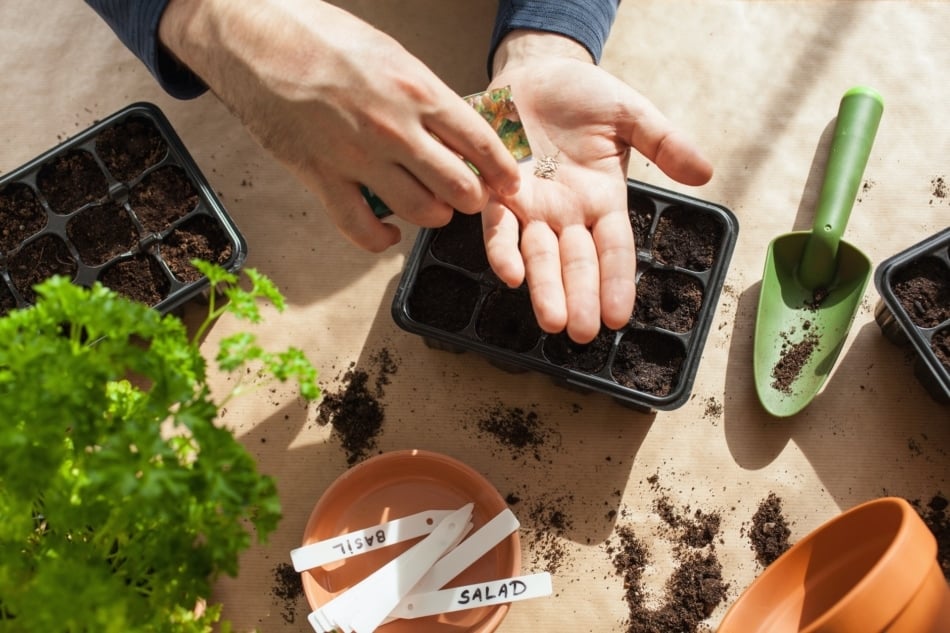 Drying and Storing Seeds
Proper storage is key to keeping your seeds viable for more than one growing season. Before storing, seeds must be completely dry to prevent mold formation. Spread seeds out to air dry, indoors is fine, for about two weeks or longer.
If you live in a humid climate or have larger seeds to dry, consider oven drying. Spread them in a single layer on a baking sheet. Place in oven at lowest temperature setting, preferably 100ᵒF for 24 hours. Turn the seeds once or twice during the process, to assure thorough drying.
An easy test to determine if seeds are dry enough to store is to break one in half. A dry seed will easily snap in two, like a dry twig.
Store sealed packets or loose dry seeds in airtight containers in a cool, dry place or in your freezer or refrigerator.
What are Heirloom Seeds and Why Share Them?
Planting, saving, and exchanging heirloom seeds is vital in sustaining the home garden for future generations as well as our own. Sharing heirloom seeds reduces waste, and helps you garden inexpensively for years to come.
Heirloom seeds are passed down from generation to generation, making them perfect for trading at your next swap. You can save heirloom seeds and plant them year after year and get the same results. Heirloom seeds are open-pollinated (non-hybrid) plant varieties that have been cultivated for at least 50 years. These time-tested seeds produce your favorite, trusted varieties, again and again.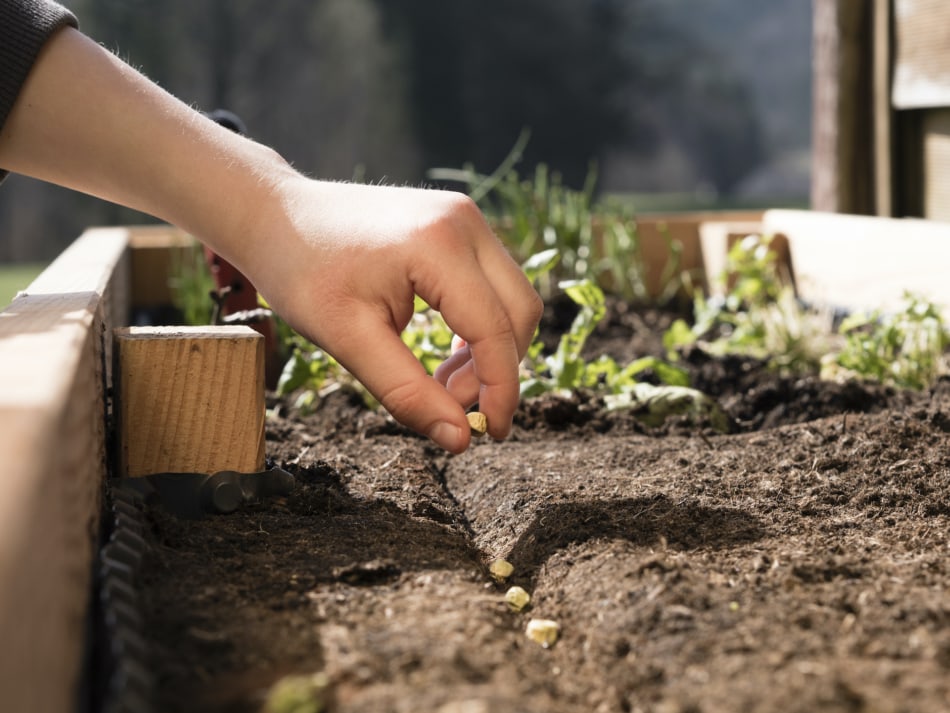 Hybrid vs. Heirloom
Hybrid seeds are produced by cross-pollination, crossing heirloom varieties. The downside is that the results will not be consistent after the first generation. There's no guarantee that saving hybrid seeds will yield the same results in future growing seasons. Hybrid seeds that are stored and replanted will grow into different plants than expected. Hybrids are unpredictable over time thus not good candidates for saving and replanting. It's best to buy new packets of seeds when planting hybrids.
Unlike hybrids, heirloom seeds retain the integrity of the plants for years to come. Take it a step further: Plant and save heirloom varieties labeled organic. This ensures that the heirloom seeds were grown without chemical pesticides or herbicides, thus preserving the natural integrity. Thus, heirloom seeds are ideal for sharing at your next seed swap.
Final Thought
We hope that these tips help you organize a fun event! If you have any questions, don't hesitate to reach out. Leave a comment below.
Related Articles
Join The Discussion
Will you have a pollinator pre-game party this year?
Do you prefer heirloom seeds or others?
Which seeds do you have the most success with planting?
Let us know in the comments!

Deborah Tukua is a natural living, healthy lifestyle writer and author of 7 non-fiction books, including Pearls of Garden Wisdom: Time-Saving Tips and Techniques from a Country Home, Pearls of Country Wisdom: Hints from a Small Town on Keeping Garden and Home, and Naturally Sweet Blender Treats. Tukua has been a writer for the Farmers' Almanac since 2004.