There's a lot going on in the night sky this month, including a "Pink" Supermoon, a meteor shower, planetary line-ups, and more. Bookmark it so you don't miss a thing!
All times are listed as Eastern Time for the Northern Hemisphere.
Take note that we sometimes will use angular degrees to define the separation between two objects, such as (for example) the Moon and a bright planet. Keep in mind that the width of your clenched fist, held at arm's length, measures roughly 10°.
April 4 – Last Quarter Moon at 6:02 p.m. In this phase, the Moon appears as a half Moon due to the direct sunlight, and the illuminated part is decreasing toward the new Moon phase.
April 6—This morning, look for the sedate yellowish-white glow of Saturn, about 4¾° above and slightly to the left of the 29% illuminated waning crescent Moon. The ringed planet rises around 4:15 a.m. local daylight time at the beginning of April, and at 2:25 a.m. by month's end. This is only an hour or two before dawn begins to wash away the stars. By mid-twilight, 45 minutes before sunrise, Saturn is roughly 20° up in the southeast. Here's your chance for an early telescopic preview of the ringed planet, which will be at its best in the evening sky at the end of the summer.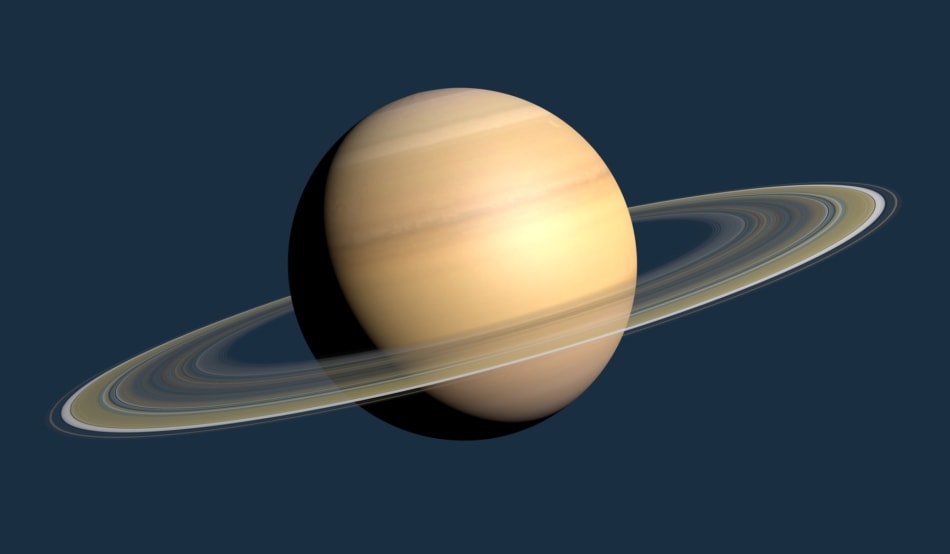 April 7—An even more slender lunar crescent is about 5° below and slightly to the right of Jupiter this morning. The largest of the planets currently rises about 2 hours before sunrise and by late April more than 3 hours before, but even at dawn it's still rather low in the southeast. Jupiter's big disk is always pleasing in telescopes, however. This is one of the infrequent years when we're near enough to Jupiter's equatorial plane to see the planet's Galilean moons eclipsing and occulting one another, though we won't get good views of them until later in the year, when this giant world has climbed out of the murk along the horizon.
April 11—New Moon at 10:30 p.m. In this phase, the Moon is not illuminated by direct sunlight and is completely invisible to the naked eye.
April 13—Mars is still prominent high in the west after dusk. It progresses from Taurus into the feet of Gemini during April, fading from about the intensity of Deneb to that of Castor. But even by month's end, Mars doesn't set until after midnight (local time). This evening it will appear directly between Beta (β) and Zeta (ζ) Tauri, the moderately bright stars that mark the horn tips of Taurus, the Bull. The golden orange planet moves on, reaching its most northerly point in the heavens on April 22nd. Mars, already tiny, shrinks even smaller in telescopes week by week.
April 18—Mercury stands at superior conjunction today. Approaching perihelion (on the 27th), it will quickly enter the evening sky, becoming an easy naked-eye sight by month's end.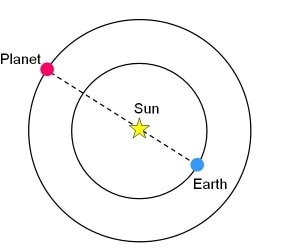 April 17 – This evening, you'll see a 28% illuminated waxing crescent Moon positioned 5½° to the upper left of Mars.
April 20—First Quarter Moon at 2:59 a.m. In this phase, the Moon looks like a half-Moon in the sky. One-half of the Moon is illuminated by direct sunlight while the illuminated part is increasing, on its way to becoming a full Moon.
April 22—Also look for Lyrid meteor shower activity. The Lyrid meteor shower has been observed for more than 2,000 years, producing in most years just 10 to 20 Lyrids per hour. But there have been some remarkable exceptions. In 1982 the rate unexpectedly reached 90 for a single hour and 180 to 300 for a few minutes. And on April 20, 1803, the residents of Richmond, Virginia, upon being rousted out of bed by a fire bell, were startled to see great numbers of meteors in all parts of the sky. This year's prime viewing time is before dawn this morning. Once the waxing gibbous Mon sets around 4 a.m. daylight saving time, the sky should be fairly dark for an hour or so until morning twilight seriously interferes.
April 26—A special treat awaits skywatchers this evening, when binoculars and small telescopes show Mars only ½° from the center of the sprawling star cluster M35, itself ½° across.
April 26—April's Full Pink Moon at 11:32 p.m. In this phase, the Moon's disc is fully immersed in sunlight and will appear full for a few days before and after it's 100% full. This full Moon will also be one of two Supermoons for 2021!
April 27—This evening, Mercury will attain an elongation of 10° east of the sun and sets about 55 minutes after it. At magnitude -1.5 (a trifle brighter than Sirius, the brightest star), Mercury should be readily visible in binoculars about 12° to the southwest of (below) the Pleiades. Greatest elongation will occur on May 17th.
April 30—Venus was in superior conjunction on the far side of the Sun on March 26th, so it is hidden by the sun's glare in early April. By April 30th, however, Venus should be visible very low near the horizon about 20 degrees north of due west about 15 to perhaps 20 minutes after sunset and about 4½° directly below Mercury. It appears faint in such bright twilight despite shining at magnitude -3.9; bring binoculars.
By Farmers' Almanac Astronomer Joe Rao. Our schedule is adapted from "Skylog," a regular feature appearing in Natural History magazine written by Mr. Rao since 1995.