Paneer (Indian Cheese)
Paneer is an Indian cheese similar to farmer's cheese. It is one of the simplest types of unripened cheeses to make.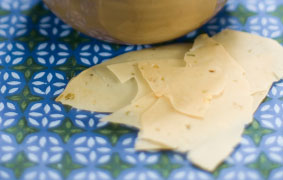 Paneer is a firm Indian cheese similar to farmer's cheese. It is one of the simplest types of unripened cheeses to make. It is mild and readily absorbs the flavors of the herbs and spices used with it in cooking. Paneer is great to add to curry sauces or enjoy on crackers.
Ingredients:
1 gallon whole milk
8 tablespoons lemon juice or 2 teaspoons citric acid dissolved in ¾ cups hot water (9 tablespoons of vinegar will also work)
1-2 cups of hot water or cream (optional)
Directions:
In a large pot, directly heat the milk to a gentle rolling boil, stirring often to prevent scorching. Reduce the heat to low and, before the foam subsides, drizzle in the lemon juice. Cook for 10-15 seconds on low. Remove from the heat and continue to stir gently until large curds form. If the whey is still milky instead of clear, return it to the heat and increase the temperature a bit or add more lemon juice. Once you obtain a clear separation of curds and whey, let it set for 10 minutes. When the curds have settled below the whey, they are ready to drain. Ladle the curds into a colander lined with butter muslin or another finely woven cloth. Tie the corners of the muslin into a knot and hold the bag under a gentle stream of lukewarm water for 5-10 seconds to rinse off the coagulating agent. Gently twist the top of the muslin to squeeze out the extra whey. Open again and add salt and herbs to taste. At this point, either hang the bag of curds to drain for 2-3 hours or return the muslin-covered curd mass to the colander and place a bowl of water, a brick, or some other weight (about five pounds) on top and press for 2 hours. Unwrap the cheese and eat it right away or store in the refrigerator for up to 2 weeks. Yield: 1 3/4 -2 pounds.
Don't miss our story on basic cheese making.

Denise Dill is a co-op livin', garden diggin', homegrown cookin' fool who creates soups of song out of local ingredients. She's currently working as a baker and soup maker while she completes culinary school. In the past, she worked as an urban gardener and community cooking educator. She has also toured the country as a folk musician, opening for such acts as Pamela Means and Hamell on Trial.