Perk Up Your Patio With Strawberries!
Learn how you can brighten up any small outdoor space with bountiful, colorful, and fast-growing strawberries!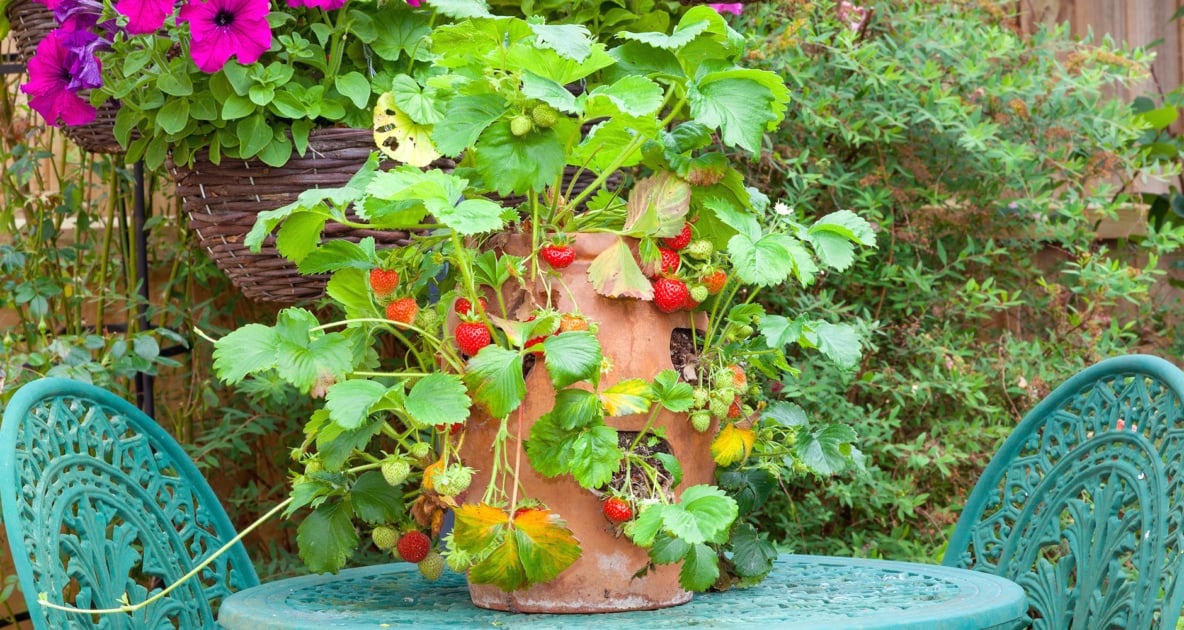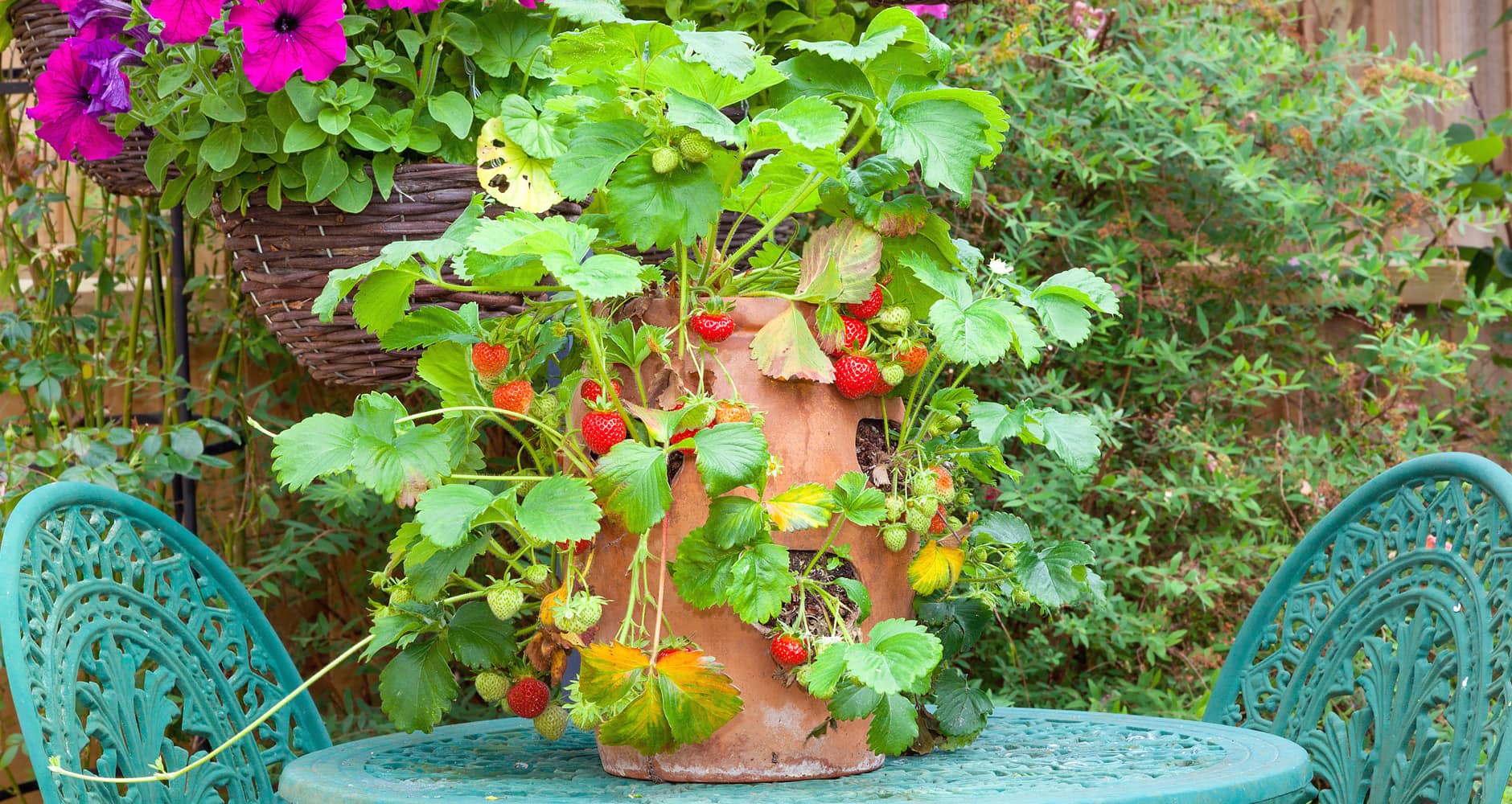 Why not perk up your patio with colorful plants? Strawberries are an attractive container plant that yield lovely, pale pink or white apple-blossom-like flowers and of course, delicious red berries for you to pick and enjoy. Strawberries are the quickest plant to bear fruit and the first fruit to ripen. It's no wonder that this delicious berry is grown in every state in the U.S. and in many countries around the world.
How To Get Started Growing Strawberries
To grow strawberries you have the option of purchasing seeds, bare-root plants, or plugs (young plants, planted in small containers with potting soil). Follow the seed company's directions for planting/growing strawberries from seeds. Bare-root plants should be planted right away. If this isn't possible, moisten the roots with water and store in the refrigerator until you are ready to pot. Plugs are the easiest to grow as they transfer well to containers.
What Type of Container is Best for Growing Strawberries?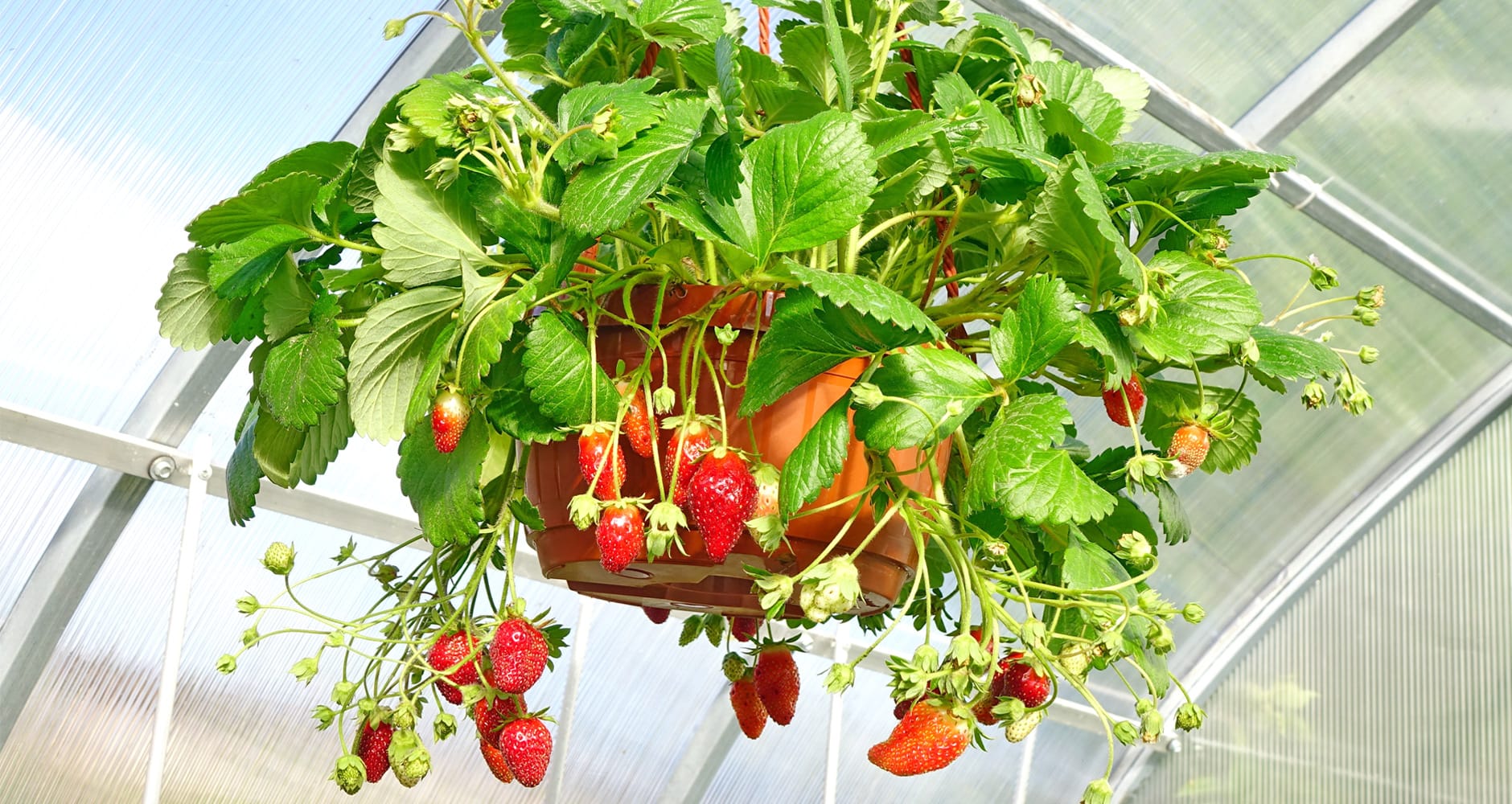 There are many ornamental yet functional pots, barrels, jars and hanging baskets that are well suited for growing strawberries, and look great on your deck, porch or patio. Strawberry plants have small root balls which extend in every direction, instead of deep into the soil, so large or deep containers aren't a necessity, but adequate drainage is a must.
To avoid heat damage to plant roots, do not use dark colored containers to grow strawberries outdoors.
A 3" to 4" pot will hold one strawberry plant. An 8" pot or hanging basket can hold three to five strawberry plants.
An important note: We recommend that when planting strawberries in hanging baskets, to not use coco fiber baskets. The roots grow into the coir basket, and are unable to receive moisture from the soil. It's best to use plastic containers or liners if using hanging baskets.
Strawberry Varieties
The Alpine strawberry produces a tiny berry that is intensely sweet, making it an ideal variety for container planting. This variety is drought-tolerant and easy to grow. It picks easily when ripe.
Roman is a variety that grows best in containers and hanging baskets, making it a favorite edible, ornamental fruit.
There are many varieties of strawberries available. For gardening success, select one that performs well in containers and is suited to your growing zone (also known as plant hardiness zone).
General Strawberry Planting and Care Instructions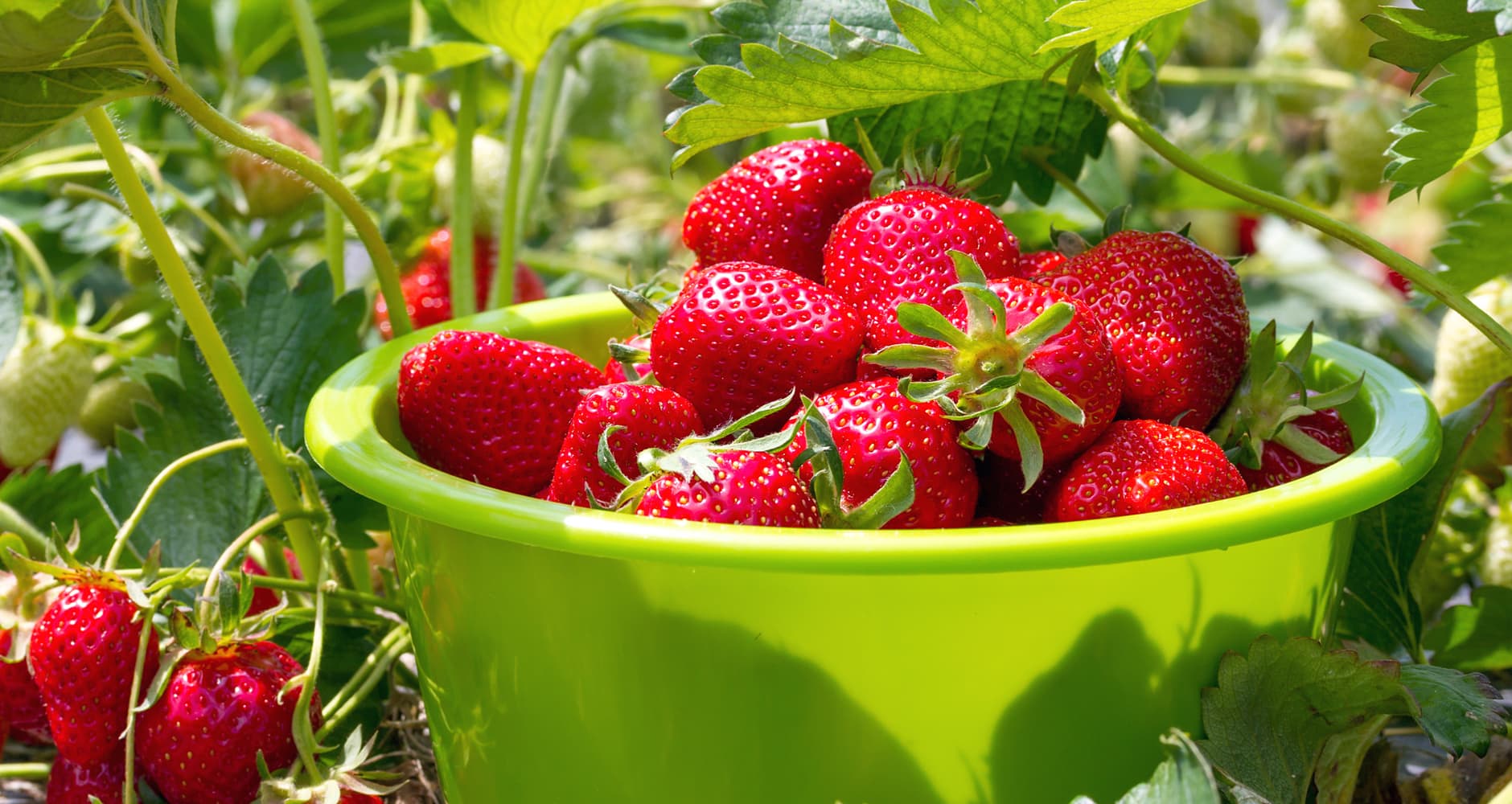 Strawberries grow best in a sunny location, in a well-drained, loamy potting soil mix, with a pH of 5.5 to 6.5. Potted strawberries can also be grown indoors with adequate sunlight.
Add potting soil to a pot with good drainage. Use a trowel to make a hole, 5" to 7" wide and as deep as the plant and its roots in the potting mix. Set the plant in the hole with the roots straight down. Place the plant in the soil so that the top of the crown is just above ground level. The roots should be completely buried. Water well. Strawberries don't like soggy soil. Small containers will require more frequent watering than large ones. Water once the soil is dry, one inch beneath the surface. Strawberries require 1" to 2" of water per week. Fertilize according to nursery recommendations. Do not fertilize plants after August.
Strawberry plants must be protected from late spring frosts. When freezing temperatures are forecasted, cover the plants with plastic sheeting, or a cardboard box.
Read about the 5 health benefits of strawberries!
How to Construct A Stacked Strawberry Tower
Select three attractive plastic or resin pots in graduated sizes. Place the largest plastic pot with drainage holes, in desired location. Fill three-quarters full with potting mix and level the soil. Place the next to the largest pot on top, leaving a ring between the first and second pots for planting strawberries. Add potting mix to the second pot to three-quarters full. Top it with the smaller pot and fill with potting mix, as with other layers. Plant strawberry plugs or root-bare plants as directed above.
Planting A Terracotta Strawberry Jar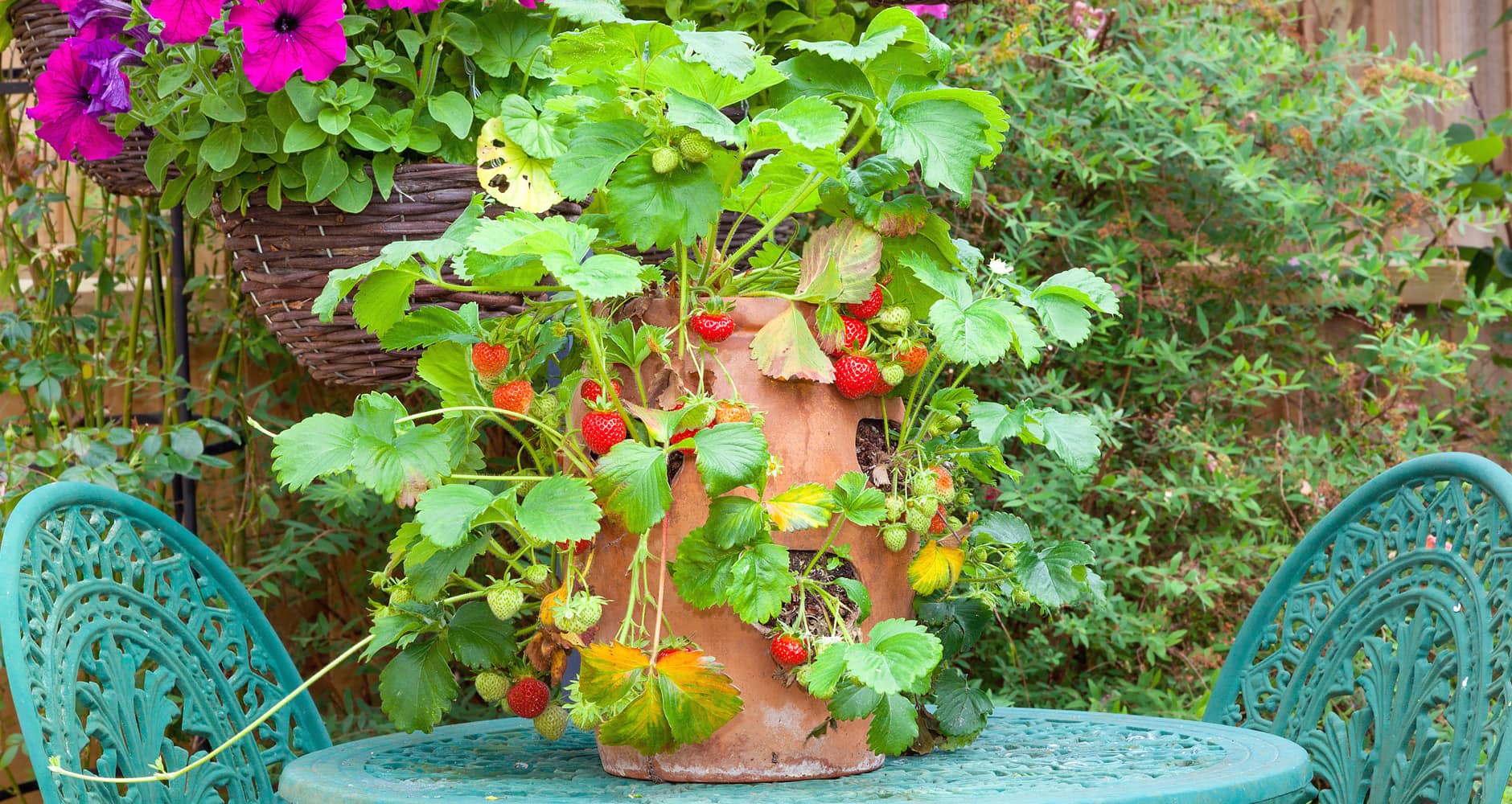 Place potting soil mix into a plastic tub, such as a dishwashing pan and add enough water to thoroughly moisten the mix. Add damp potting mix to the jar until you've reached the bottom layer of pockets on the jar. Put a strawberry plug or bare-root plant into the soil, positioning the roots beneath the soil and the crown just above. Continue this process. Once the lower pockets are planted, add more potting soil to the jar and plant the next jar pocket. Continue filling and planting process until all the side pockets have been planted. Add more potting soil to the top of the terra cotta jar, leaving two inches of headspace. Plant 3 to 4 strawberry plants in the soil at the top.
We'd love to see your final project! Post your pictures on our Facebook page!

Deborah Tukua is a natural living, healthy lifestyle writer and author of 7 non-fiction books, including Pearls of Garden Wisdom: Time-Saving Tips and Techniques from a Country Home, Pearls of Country Wisdom: Hints from a Small Town on Keeping Garden and Home, and Naturally Sweet Blender Treats. Tukua has been a writer for the Farmers' Almanac since 2004.