Set a Nature-Inspired Thanksgiving Table This Year
The guests at your holiday table will feel special when their place settings are appointed with these lovely, natural touches.
We gather around a table beautifully dressed at Thanksgiving to relax, enjoy, and share in the goodness of the season. While the table is filled with the fabulous flavors of fall, we can also bring the simple yet attractive elements of nature to the table to visually enhance your appreciation of all that this season offers. After the stressful year we've all had, this Thanksgiving is a great time to reconnect with Nature and appreciate its beauty.
The guests at your dinner table will feel special when their place settings are appointed with any of these nature-inspired elements. Choose a napkin ring, placemat and place card holder from the following ideas to decorate your table this Thanksgiving!
Placemat and Charger Ideas
Burlap compliments a rustic, nature-themed Thanksgiving table. Cut placemats from burlap material to the desired size. Slightly fringe the edges. To embellish, hand-stitch yellow, orange or red yarn around the perimeter of the placemat.
Wood Slabs add a woodland theme to a nature-inspired tablescape. You can purchase or make one for each place setting. Or, if you prefer, group several rustic wood slabs in the center of the dining table or buffet to handsomely display your roasted turkey and food entrees.
Leaf Silverware Rest
Autumn leaves can be used at each place setting for displaying silverware. Find large, flat leaves of assorted colors. Tie utensils and leaf stems together with twine or a raffia bow and place in the center of, or beside, guest's dinner plates.
Circle of Flame Autumn Leaf Charger Autumn leaves lend a lovely burst of color and rustic beauty to your Thanksgiving table. Create a large charger to accentuate your turkey platter, or round chargers, made from cardboard circles, can be adorned to go under each guest's dinner plate. These circles are available in various sizes and can be purchased in the cake decorating section of craft and hobby stores, or from your local pizza restaurant. Or you can cut your own square chargers from cardboard, then decorate. Try this easy idea:
Directions:
1. Cut each cardboard round about 4" larger in diameter than the dinner plate or platter that will sit on top.
2. Arrange the colorful leaves around the outer perimeter of each cardboard round, overlapping slightly.
3, Tape the stems of each leaf in place at the top. Tape a second row of leaves to the charger, just above the first to conceal any cardboard showing beneath the dinner plate or platter.
4. Spray the leaves with a thin coat of clear acrylic spray and allow it to dry before using.
Dinner Place Card Holder Ideas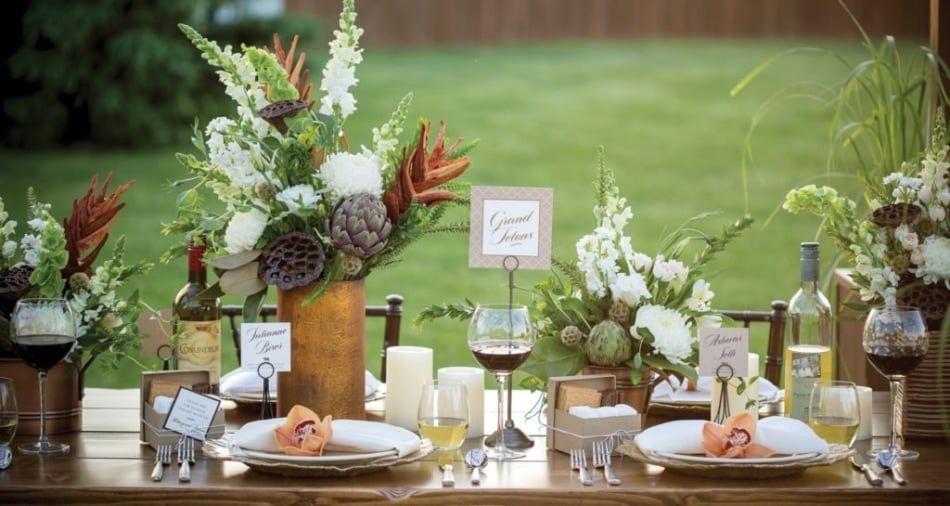 There are lots of options to make attractive placeholders for each guest at your Thanksgiving table:
Insert a feather into the top of a cork. Write the name of each table guest on a wine cork with a fine tip marker or make a slit in the side of the cork and insert a place card.
A large leaf makes a lovely placecard. Collect one for each place setting at your table. Inscribe each guest's name across a leaf using a metallic pen in your color choice. Tie a tiny sprig of wildflowers to the stem of every leaf with a long satin ribbon. Place one in each dinner plate on the table.
A bundle of tiny twigs compliments a woodland look. Cut the stems from fallen leaves and tie a tiny bundle of leaf twigs together using yarn, raffia, ribbon, or twine. Loop the string of a merchandise tag around the ribbon with the name of your guest penned on each.
A pinecone can serve as a placecard holder when you stand one beside each place setting on the table. Write each guest's name on a placecard in calligraphy and insert one card in each pinecone.
Fresh pears, apples, gourds, and mini pumpkins can be used to attractively mark each place setting. Write the names of each guest on small gift or merchandise tags. Tie a tag around the fruit stem and place at each table setting.
Fill mini glass bottles with fresh-cut mums. Write the names of each guest on tiny merchandise tags. Attach the string of each name tag to a decorative ribbon and tie it around each bottle. Place the mini vase of flowers at each place setting as a gift your guests can take home.
A wood slice makes a great placecard. Just etch a cut in the center to hold a paper card.

Deborah Tukua is a natural living, healthy lifestyle writer and author of 7 non-fiction books, including Pearls of Garden Wisdom: Time-Saving Tips and Techniques from a Country Home, Pearls of Country Wisdom: Hints from a Small Town on Keeping Garden and Home, and Naturally Sweet Blender Treats. Tukua has been a writer for the Farmers' Almanac since 2004.