Sweet and Salty Strawberry Pretzel Salad
Strawberry Pretzel Salad is not a salad at all but an iconic layered dessert that marries salty and sweet, creamy and crunchy. You'll get rave reviews any time of year!
Here at Farmers' Almanac, we love exploring many of the different regional foods enjoyed by our readers and learning about their history and origin. Recently, we asked what your favorite go-to pot luck treat was, and Strawberry Pretzel Salad was mentioned over and over. So, we decided to do some culinary digging to learn about this sweet and salty favorite (which is ours now, too!).
What is Strawberry Pretzel Salad?
Strawberry Pretzel Salad is not a salad at all, but a light dessert that resembles a cheesecake with a sweet-salty pretzel crust made with pretzels, butter, and brown sugar, and a fruit topping. For many, this dish is a staple at the holiday dinner table but can be found at potlucks and barbecues all throughout the year. Second, pretzel crust is so delicious, we think it should be the base of every dessert! Lastly, the recipe is said to have originated in a 1960s cookbook called The Joys of Jell-O™. From there, it took off and became an iconic southern tradition, but it's catching on in all parts of the country.
With its pretty red and white layers, this dessert definitely looks festive enough for the holidays, but it's light and airy enough to serve in warm weather months as well.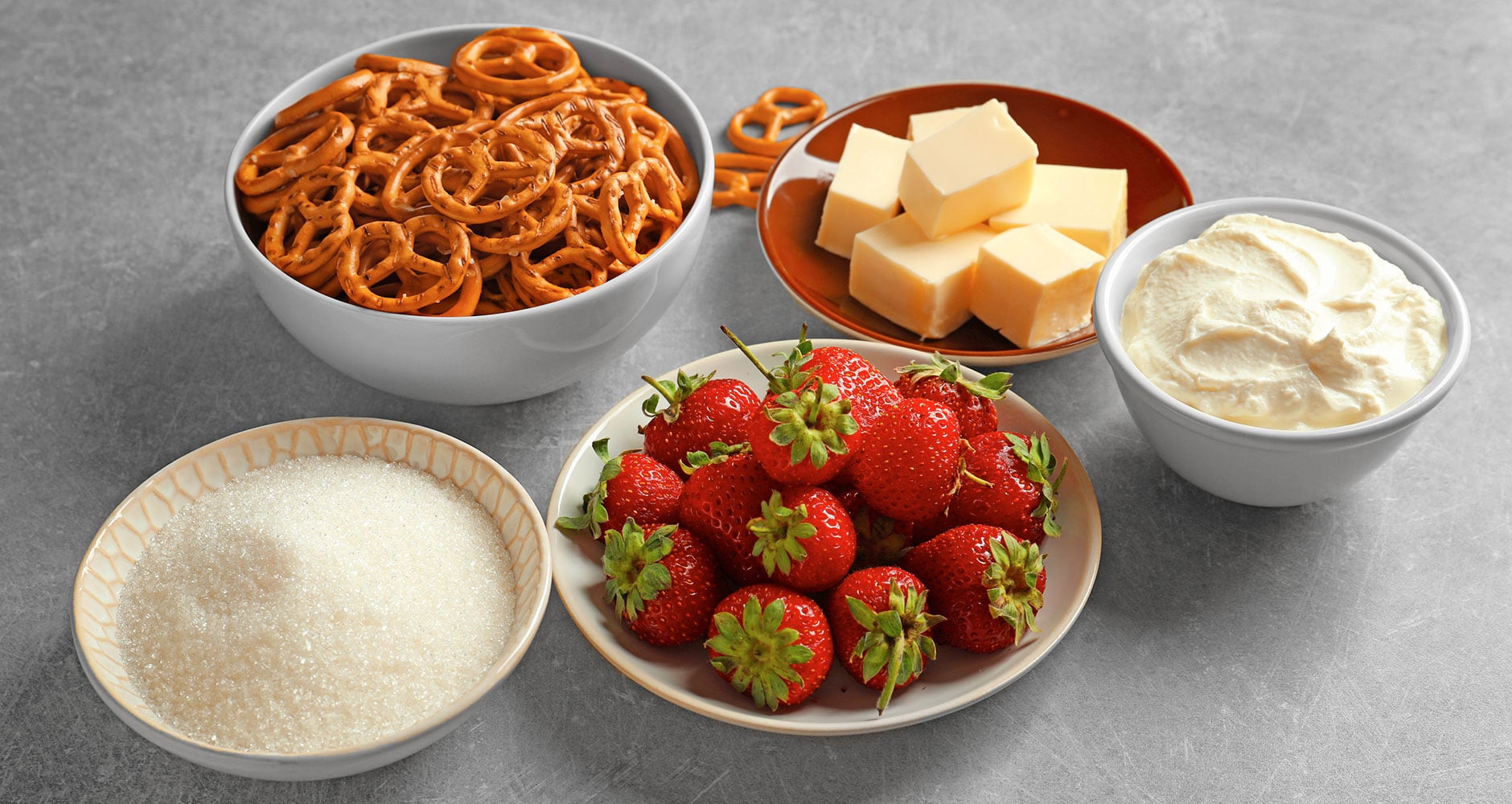 Strawberry Pretzel Salad Recipe
Strawberry Pretzel Salad Recipe
Ingredients
2

cups

pretzels, crushed (small pretzel sticks or mini twists work best)

3

tablespoons

brown sugar

3/4

cup

butter, melted
For the Filling:
12

ounces

cream cheese, softened

12

ounce

tub of whipped topping, such as Cool Whip®, thawed

1

cup

white granulated sugar
For the Topping:
2 3

ounce

packages of strawberry gelatin dessert

2

cups

water, boiling

2

cups

sliced strawberries, fresh (in summer) or frozen (in winter, no sugar added)
Instructions
Crust
Place the pretzels in a resealable bag and crush them with a rolling pin. Make sure to crush the pretzels until they're still a little bit coarse. Pour into a large bowl. Stir in the brown sugar to coat the pretzels and then pour the melted butter over the top, making sure to mix well.

Press the crust mixture into a lightly greased 9×13 baking pan and bake for 8 to 10 minutes, or until it is lightly toasted and firm. Cool completely before adding the filling. This is very important!
Filling
Beat the cream cheese and sugar until the mixture is smooth and creamy. Fold in the whipped topping and spread the mixture over the cooled crust, ensuring to cover the pretzel crust completely to seal out the gelatin layer. Allow cream cheese mixture to chill and set up in the refrigerator for at least 30 minutes before adding the topping.

As the crust and filling are chilling, slice strawberries (if you're using pre-sliced frozen strawberries, simply add them directly to the dissolved gelatin. Just be sure they are not in sweetened liquid).
Topping
Dissolve the strawberry gelatin in the boiling water. When dissolved and it has reached room temperature, add the strawberries and coat completely in the liquid (note: if using frozen strawberries, reduce boiling water by 1/4 cup). Chill briefly for about 10 minutes until partially set but still runny. 
Assembly
Once the crust and filling are chilled, pour the strawberry topping over the cream cheese mixture and refrigerate until completely set, about 2 hours, or overnight. Slice into squares, garnish with sliced strawberries and mint sprigs, if desired and serve! Makes 12 servings.
Note: Refrigerate any uneaten portion, however, this recipe does not keep for very long and should be consumed within 24 hours for best flavor.
Weigh In:
Do you serve this iconic dish as an Easter dessert, summer treat or Christmas delight? Tell us in the comments below!

Amber Kanuckel is a freelance writer from rural Ohio who loves all things outdoors. She specializes in home, garden, environmental, and green living topics.