Summer Vegetable Gratin
Professional Chef Chris Styler shares the perfect side dish for when your garden is overrun with zucchini and other yummy veggies. Start cooking!
If your garden—or the farmers' market—is overrun with zucchini, yellow squash, eggplant, and tomatoes, this summer vegetable gratin is just the side dish you're looking for! It may look like a long, involved recipe, but the parts that go on to make the whole are very easy to put together, and the rewards are delicious!
Summer Vegetable Gratin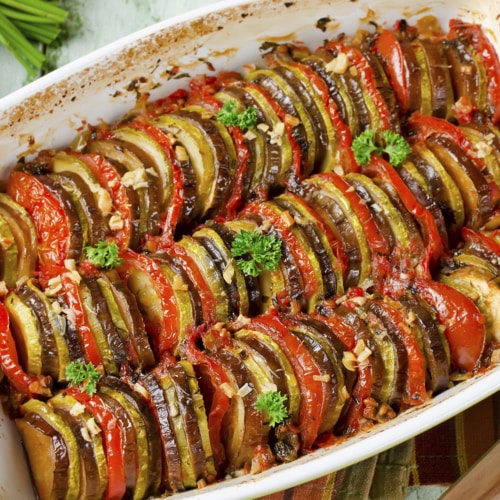 Summer Vegetable Gratin
Ingredients
1

tablespoon

olive oil

1

medium

onion, finely diced

2

teaspoon

minced garlic
Tomato-Herb Broth
1/2

cup

water

1

tablespoon

tomato paste

¼

cup

assorted herb sprigs, coarsely chopped
Topping
1/3

cup

shredded Parmesan cheese

1/3

cup

shredded mozzarella or Gruyere cheese

1/3

cup

panko or other coarse bread crumbs
Vegetables
1

tablespoon

olive oil, plus a little more for greasing the baking dish

1

medium

zucchini (about 8 ounces)

2

medium

yellow squash (about 8 ounces)

2

small

Japanese eggplants (about 12 ounces), sliced; or 1 large regular eggplant, with slices halved

1

large

ripe tomato

1

teaspoon

kosher salt

½

teaspoon

black pepper Fresh chopped parsley and/or chopped basil
Instructions
Preheat the oven to 400° F.

Heat 1 tablespoon of the olive oil in a medium skillet over medium heat. Add the onion and garlic and cook, stirring, until the onion is tender and lightly browned, about 8 minutes.

Stir the water and tomato paste together in a small saucepan and add the herbs. Bring to a boil. Cover the pan and lower the heat to low, simmer for 10 minutes.

While the onion and broth are going, wash the vegetables and cut them on a slight diagonal into ½-inch or so rounds.

Using your fingertips, rub the panko, Gruyere, Parmesan and the remaining tablespoon of oil together in a small bowl until the oil is absorbed.

Grease an 8 x 8-inch square baking dish with olive oil. Spread the softened onion and garlic in the bottom of the dish. Make a row of eggplant slices, slightly overlapping them.

Repeat with zucchini, yellow squash, and tomatoes. Keep making alternating rows of vegetables until the dish is full. The vegetables should be fairly snug but not crammed into the dish. Strain the herb broth over the vegetables. Season the vegetables with salt and pepper. Cover the dish with aluminum foil and bake until the vegetables are tender, about 40 minutes.

Remove the foil, crumble the topping over the vegetables and bake, uncovered, until the topping is golden brown and the vegetables are very tender, about 20 minutes. Let sit at least 10 minutes before cutting and serving (good at room temperature, too). To make nice, neat slices of the gratin, make sure to cut the layers of vegetables all the way down to the bottom and sides of the dish before trying to lift them out.
Serves 6, as a side dish.
Christopher Styler is an experienced chef, teacher, culinary producer, and author, with over 35 years of experience in the food world. A graduate from the Culinary Division of Johnson & Wales University, he is currently working on a cookbook as well as keeping active in television production. His website, Freelance Food LLC, is at ChrisStyler.com