What the Heck Are Chia Seeds?
Chia seeds are all the rage among health food aficionados, but what the heck are they? Do they come from Chia Pets? And what can you do with them? We have the answers.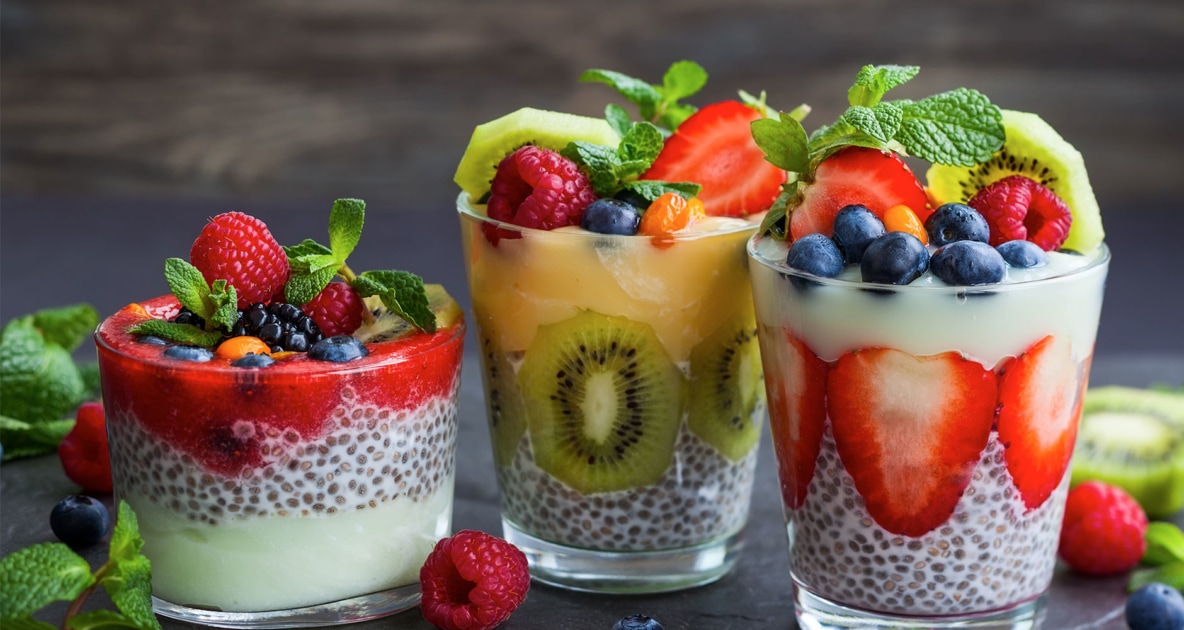 If your only exposure to chia seeds is spreading them onto a Chia Pet™, you're not alone. The earliest export of chia seeds in the United States was for use in growing decorative houseplants, but these little seeds, originally from Central and South America, are also a rich source of nutrients, as a growing number of people in the U.S. are beginning to learn.
What Are Chia Seeds?
The little mottled seeds are from the Salvia hispanica plant, a flowering member of the mint family. The seeds themselves have long been a food staple in Mexico and along portions of the southwestern U.S. border.
Health Benefits of Chia Seeds
These little miracle seeds can be eaten raw, but are generally consumed by adding them to recipes, such as smoothies, puddings, oatmeal, or muffins. Chia seeds are rich in omega-3 fatty acids, which promote heart health, supple joints, and good brain function, among other things. In addition, chia seeds are a good source of dietary fiber, protein, calcium, phosphorus, and manganese. When you add water to chia seeds, they form a gel-like substance. It's quite miraculous! In fact, this enables chia to be used as a gelatin or egg substitute in certain recipes.
Here are a few recipes to help you get to know this healthy little treat:
Chia Wheat Pancakes
Ingredients
1

egg

1

cup

milk

1

tablespoon

canola oil

1

cup

whole wheat flour

1/2

cup

oats

1/2

teaspoon

pumpkin pie spice

1 1/2

teaspoons

baking powder

1/4

teaspoon

salt

2

tablespoons

honey

1

tablespoon

chia seeds

Maple Syrup to top
Instructions
Spray a frying pan with cooking spray and place over medium heat.

Beat together egg, milk, and oil.

In a separate bowl, combine flour, oats, pumpkin pie spice, baking powder. and salt. Slowly stir the flour mixture into the egg mixture. Add honey and stir until combined. Stir in chia seeds.

Pour batter into the pan using a 1/4 cup scoop and cook until golden brown. Flip and cook until centers are completely done. Top with maple syrup.
Chia Pudding
Ingredients
2

cups

vanilla almond milk

(sweetened or unsweetened)

1/2

cup

chia seeds

1

tablespoon

maple syrup or honey, or more to taste

fruits, nuts, or any other ingredients of your choice
Instructions
Add ingredients to a food processor or blender and mix well.

Pour into serving dishes and place covered in the refrigerator for 1-2 hours, or until set, mixing once midway through so the seeds don't settle to the bottom.

Keep refrigerated. Pudding will last 3-4 days.

Jaime McLeod is a longtime journalist who has written for a wide variety of newspapers, magazines, and websites, including MTV.com. She enjoys the outdoors, growing and eating organic food, and is interested in all aspects of natural wellness.