What the Heck Is Arugula?
You may know it as arugula or rocket, but his peppery salad green is taking off. Learn more!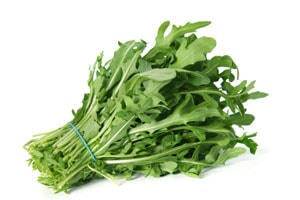 Arugula is a dark green leafy vegetable closely related to broccoli, cauliflower, Brussels sprouts, and other members of the Brassicaceae, or cruciferous, family. It is slightly bitter and spicy, with a flavor often described as "peppery" or "mustardy." Baby arugula, which is picked when still young, is milder more tender than mature greens.
Also known as rocket, roquette, and eruca, arugula resembles dandelion greens, with an oak-like shape. It is native to the Mediterranean region, and has long been a staple of Italian and French cuisine. Arugula has increased in popularity in North America over the last few decades, and is now a commonly used salad green. Its tangy, spicy flavor makes it a desirable addition to standard mesclun mixes, bringing a little kick to the mix.
Like other dark, leafy cruciferous greens, arugula is incredibly nutritious. It is loaded with vitamins and minerals, including vitamins A, C, K, folic acid, calcium, iron, manganese, copper, and potassium. It is also filled with helpful phytochemicals, which researchers have linked to a decreased risk of cancer.
Arugula is most commonly eaten raw, as a salad green or sandwich topping, but also works well sautéed, or added to soups, stews, pasta, or pizza.
Try one of these recipes to enjoy this popular and peppy green today!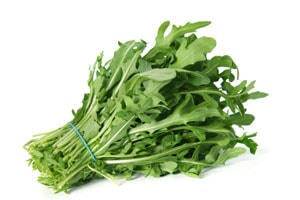 Arugula Potato Salad
Ingredients
1 1/2

pounds

red potatoes, cubed

3

tablespoons

white vinegar

2

cloves garlic, minced

1/2

teaspoon

salt

1/4

teaspoon

black pepper

1/4

cup

olive oil

1

bunch

arugula, shredded
Instructions
Directions:

Bring a large pot of salted water to a boil. Add potatoes and cook until tender but still firm, about 15 minutes. Drain, and cool. Transfer to a large bowl. Meanwhile, mix vinegar, garlic, salt, and pepper in a mixing bowl. Drizzle in olive oil, whisking until the mixture thickens. Toss potatoes with vinegar and oil mixture and arugula. Serve at room temperature.
Goat Cheese Penne with Arugula
Ingredients
5

1/2-oz. goat cheese

2

cups

arugula, coarsely chopped

1

cup

cherry tomatoes, quartered

1/4

cup

olive oil

2

teaspoons

garlic, minced

1/2

teaspoon

ground black pepper

1/2

teaspoon

salt

8-oz. penne pasta
Instructions
Directions:

Cook pasta in a large pot of boiling salted water until al dente. Crumble goat cheese into a large serving bowl. Add arugula, cherry tomatoes, olive oil, garlic, salt, and pepper. Drain pasta, and toss with goat cheese mixture.
Arugula, Pear, and Asiago Salad
Ingredients
3

tablespoons

walnuts or pecans, coarsely-chopped

12

cups

arugula

3

tablespoons

extra-virgin olive oil

Coarse salt

Freshly-ground black pepper

4

pears, peeled, cored and sliced

6-oz.

Asiago cheese, grated
Instructions
Directions:

Preheat oven to 500° F. Spread the walnuts or pecans on a baking sheet and toast until golden brown. Remove from oven, transfer onto a plate and allow to cool. In a large bowl, add arugula leaves and drizzle with olive oil to lightly coat. On individual salad plates, place the tossed arugula; season with salt and pepper to taste. Arrange pear slices along the side of each serving plate and top with Asiago cheese and toasted walnuts or pecans. Top lightly with your favorite dressing and serve.

Jaime McLeod is a longtime journalist who has written for a wide variety of newspapers, magazines, and websites, including MTV.com. She enjoys the outdoors, growing and eating organic food, and is interested in all aspects of natural wellness.