What the Heck Is Kale?
Kale is a type of cabbage with firm, curly leaves that do not form a head. Learn more!
Kale is a type of cabbage with firm, curly leaves that do not form a head. It is usually deep green or purple, and is more closely related to wild cabbage than other popular varieties.
Through much of history, kale was among the most commonly grown vegetables throughout Europe. Because it was highly nutritious and easy to grow, the British government encouraged citizens to grow kale during World War II to make up for nutrients potentially lost due to rationing because of rationing.
Kale is a rich source of beta carotene, vitamin K, vitamin C, lutein, and calcium. It has also been shown to have antioxidant and anti-inflammatory properties.
The leaves, with stems removed, can be used in the same way as other leafy greens, such as cabbage or spinach, including in salads, soups, stir-fries, or pasta dishes. Because kale is firmer in texture than most other greens, it can add much-needed texture to some recipes, even when cooked.
Kale can simply be thrown into a freezer bag in-season for use throughout the year. In fact, some say freezing enhances the plant's flavor.
Try one of these tasty kale recipes tonight, or experiment with it on your own. It can easily be substituted into recipes that call for spinach or other greens.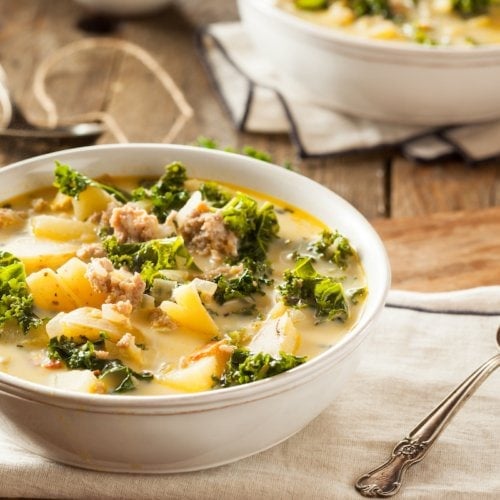 Potato Kale Soup
Ingredients
1

medium

onion, chopped

4

cloves garlic, chopped

5

cups

chicken or vegetable broth

1

medium

carrot, sliced

1

cup

diced celery

2

red potatoes, diced into 1/2-inch cubes

3

cups

kale

2

teaspoons

dried thyme

2

teaspoons

dried sage

salt and pepper to taste
Instructions
Rinse kale, remove stems, and chop into fine pieces.

Heat 1 tablespoon broth in a medium soup pot. Sauté onion in broth over medium heat for about 5 minutes, stirring frequently.

Add garlic and continue to sauté for another minute.

Add the rest of the broth, carrots, and celery and bring to a boil on high heat.

Reduce heat to a simmer and cook for another 5 minutes.

Add potatoes and kale, and cook until potatoes are tender, about 15 more minutes.

Add remaining ingredients and cook another 5 minutes.
Sautéed Kale
Ingredients
1 1/2

pounds

young kale, stems and leaves coarsely chopped

3

tablespoons

olive oil

2

cloves garlic, thinly sliced

1/2

cup

vegetable broth Salt and pepper

2

tablespoons

red wine vinegar
Instructions
Directions:

Heat olive oil in a large saucepan over medium-high heat. Add garlic and cook until soft. Raise heat to high, add the broth and kale and toss to combine. Cover and cook for 5 minutes. Remove cover and continue to cook, stirring until all the liquid has evaporated. Season with salt and pepper to taste and add vinegar.
Baked Kale Chips
Ingredients
1

bunch

of kale

1

tablespoon

olive oil

1

teaspoon

seasoned salt
Instructions
Directions:

Preheat oven to 350° F. Line a non-insulated cookie sheet with parchment paper. Remove the leaves from the stems and tear into bite size pieces. Wash and thoroughly dry kale. Drizzle kale with olive oil and sprinkle with seasoning salt. Bake until the edges brown, 10 to 15 minutes.

Jaime McLeod is a longtime journalist who has written for a wide variety of newspapers, magazines, and websites, including MTV.com. She enjoys the outdoors, growing and eating organic food, and is interested in all aspects of natural wellness.
Keep Exploring