Refreshing Watermelon Recipes You'll Crave All Summer
Love watermelon? You'll love it even more when you see its many health benefits! Then sink your teeth into these unusual recipes!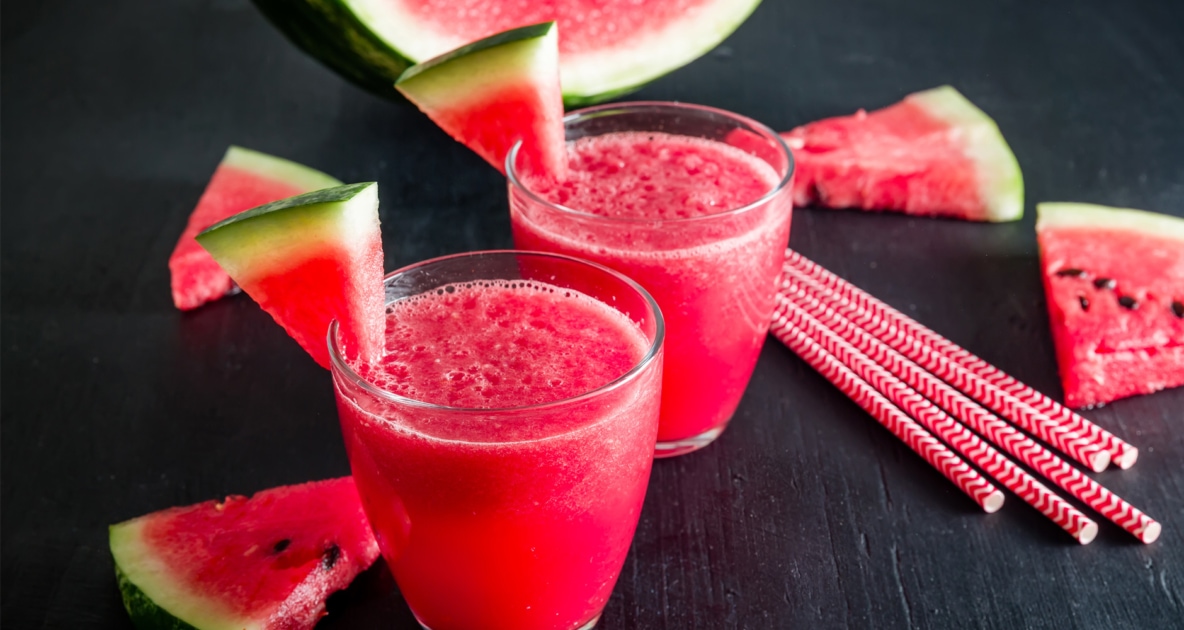 Love watermelon? Then you'll love not only these fun facts but these tasty watermelon recipes that use this summertime favorite in new and unusual ways!
Celebrate National Watermelon Day on August 3rd!
Watermelon's Origins
From the Latin Citrullus lanatis, the watermelon–which is 92% water–is said to have originated in South Africa where it grows wild. Its fruit is called pepo by botanists, which means a berry with a thick rind or exocarp. There are 1,200 varieties of watermelon in the world (flesh colors can be red, orange or yellow) with China today the largest producer of the much-beloved and versatile fruit. In that country, its rinds are commonly stewed, pickled or stir-fried in olive oil, garlic, chili peppers, scallions, sugar, and rum.
Fun Fact: In parts of Japan, farmers grow cube-shaped watermelon by placing seeds in square forms where the fruit grows into that shape. This is done for easier stacking and storage.
Throughout the U.S., pickled watermelon rind is also fairly common, with wine made from watermelon juice a refreshing treat when you can find it. Forty-four states grow watermelon with Georgia, Florida, Texas, California, and Arizona leading producers. Considered a mild diuretic, watermelon contains the chemical cucurbocitrin, said to increase the permeability of the small blood vessels in the kidneys. This allows more water to enter the urine to eliminate bloating.
5 Health Benefits of Watermelon
A source of Vitamin C and antioxidants, watermelon is high in beta carotene and potassium.
Its red flesh is also a source of lycopene (more so than tomatoes) which some research says is a component in the prevention of various cancers—mostly prostate cancer.
Some individuals claim watermelon can heal migraines by eating the flesh and holding the rind against their foreheads, though it must reach both temples.
Natural remedy sources say it can be used to heal poison ivy by rubbing the rind all over the rash and allowing it to dry (takes about a day to see results).
If you're feeling bloated, try a slice of cool watermelon! Watermelon is a great diuretic, but it doesn't tax the kidneys.
Whatever your intention, there's no denying the versatile watermelon's appeal. Gastronomic opportunities abound and even number in the thousands, with soups, salads, main dishes, drinks, and desserts just waiting to sweeten and refresh those long, hot summer days.
Tips for selecting the right watermelon.
Try these cool and Unusual watermelon recipes
Watermelon Cooler
Ingredients
8 

cups 

small watermelon cubes

1 ½

cups 

gingerale

⅓

cup 

water

1

(6-oz.)

can frozen limeade concentrate
Instructions
Place watermelon cubes in a single layer in an extra-large zip-top plastic freezer bag, and freeze 8 hours. Let stand at room temperature 15 minutes.

Process half each of watermelon, gingerale, water, and limeade concentrate in a blender until smooth; pour mixture into a pitcher. Repeat procedure with remaining half of ingredients; stir into the pitcher, and serve immediately.
Watermelon Pudding
Ingredients
6

cups

coarsely chopped seeded watermelon.

¼

cup

cornstarch

½

cup

plus 1 teaspoon sugar

1

teaspoon

anise seeds

2

teaspoons

fresh lemon juice, or to taste

⅓

cup

heavy cream
Instructions
Purée watermelon in a blender until smooth, then pour through a fine-mesh sieve into a 2-quart saucepan, pressing on pulp and then discarding any remaining solids.

Ladle about 1/4 cup watermelon juice into a small bowl and stir in cornstarch until smooth.

Bring remaining watermelon juice to a boil with 1/2 cup sugar and anise seeds, stirring until sugar is dissolved. Stir cornstarch mixture again, then whisk into boiling juice. Reduce heat and simmer, whisking occasionally, 3 minutes. Whisk in lemon juice.

Pour pudding through cleaned sieve into a bowl, then transfer to a wide 1-quart serving dish or 6 (2/3-cup) ramekins and chill, uncovered, until cold, about 30 minutes. Cover loosely and chill until set, at least 3 hours.

Just before serving, beat cream with the remaining 1 teaspoon sugar in another bowl with an electric mixer until it just holds stiff peaks. Top pudding with whipped cream.
Fish Tacos with Watermelon Salsa
Ingredients
4

cups

seedless watermelon, diced

½

small

red onion, finely diced

½

cup

fresh cilantro, roughly chopped

1

jalapeno pepper, seeded and finely diced

1

pound

skinless wild striped bass fillets

1

teaspoon

chipotle chili powder

1

romaine lettuce heart, thinly sliced

8

corn or flour tortillas

1

avocado, sliced

juice of 2 limes, plus lime wedges for serving

Kosher salt, to taste

3

tablespoons

extra-virgin olive oil, plus more for brushing
Instructions
Watermelon Salsa: Combine watermelon, red onion, cilantro, lime juice, and jalapeno in a bowl. Toss with 1 tablespoon olive oil and 1/2 teaspoon salt. Set aside.

Preheat a grill to high. Sprinkle fish with the chili powder and 1/2 teaspoon salt on both sides. Drizzle remaining 2 teaspoons olive oil. Brush grill with olive oil, then add the fish and grill until marked and cooked through, 4-5 minutes per side. Transfer the fish to a plate and break into bite-size pieces.

Meanwhile, toss lettuce with 2 tablespoons of the juices from watermelon salsa and a pinch of salt. Warm the tortillas on the grill and fill with the fish, watermelon salsa, avocado, and lettuce. Serve with lime wedges.
Watermelon Granitas
Ingredients
⅓

cup

sugar

2

limes, juiced

8

cups

seeded watermelon chunks
Instructions
Place all ingredients in a blender or food processor and pulse on low until blended and smooth.

Pour mixture into a 9″ x 13″ glass dish, cover with plastic wrap, and place in freezer for 3 hours.

Remove from freezer and using a fork, scrape the top layer of the mixture, and around the sides, working toward the center, to loosen it from the pan. The mixture will not be completely frozen. Return to the freezer for another 2 hours.

Repeat the scraping process again. Then repeat the freeze-scrape process until all parts of the remaining mixture has been frozen and scraped into flaky crystals.

Serve or store in a tightly sealed container in the freezer for up to 1 day.

Spoon into ice cream dishes, martini glasses or other stemware. Add a garnish of your choice. Eat with a spoon like Italian ice. (Serves 8.)
Beth Herman is a freelance writer with interests in healthy living and food, family, animal welfare, architecture and design, religion, and yoga. She writes for a variety of national and regional publications, institutions, and websites.
Keep Exploring