Yogurt: It's Not Just For Eating!
The health benefits of yogurt go beyond digestive ones. Check out how and why you may want to use yogurt in your beauty routine.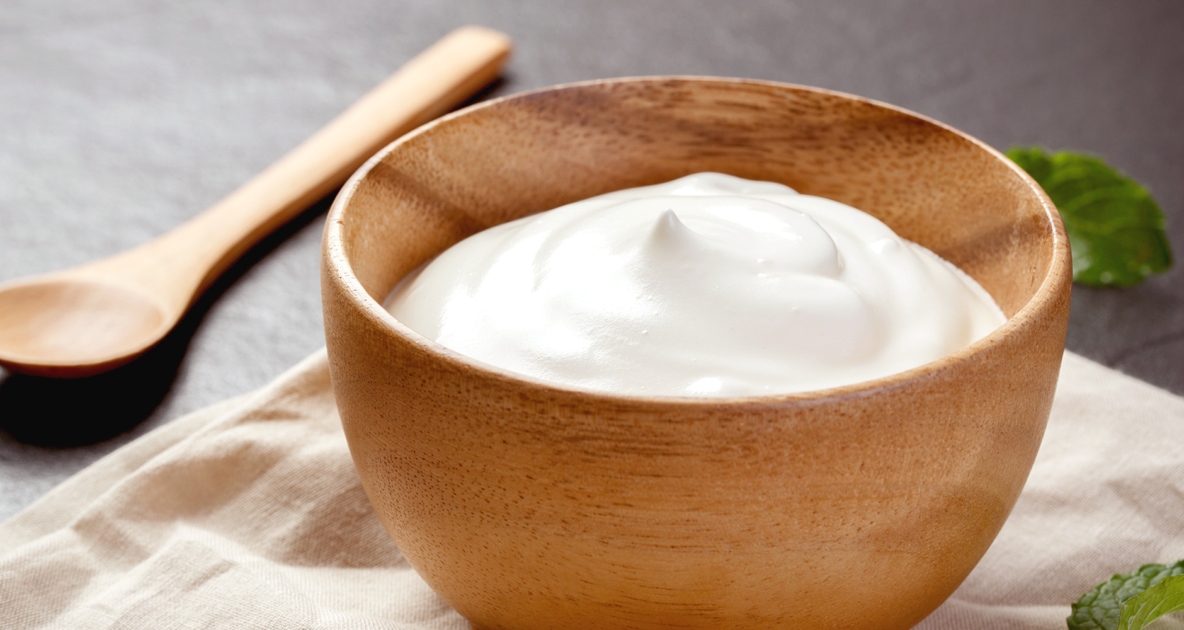 Sure, we can't learn enough about the health and digestive benefits of eating yogurt, and who doesn't covet a giant bowl of thick, protein-rich Greek yogurt topped with cool, fresh fruit and sprinkled with chopped walnuts or granola. But what about yogurt on the outside? Turns out, it's got a ton of uses.
Because it contains an ample supply of lactic acid, which is a natural hydroxy acid, yogurt can be a key ingredient in exfoliating, smoothing, soothing, and moisturizing skin — practiced in India for centuries. See how many uses for yogurt there are!
8 Uses For Yogurt
1. Yogurt Facial
It couldn't be simpler! Thoroughly cleanse your face, leaving it damp. Apply a masque of plain yogurt which will lock in the moisture. Leave on for 10 minutes and gently wash off. Skin will be soft and supple.
2. Acne Fighter
Yogurt is packed with zinc and has anti-bacterial and anti-fungal properties. Rub into blemishes or acne-prone areas and leave on for 30 minutes. In addition to helping combat breakouts, skin will be less irritated as zinc is anti-inflammatory. Zinc also helps regulate oil production in sebaceous glands.
3. Curb Premature Aging
Yogurt's lactic acid can help reduce emerging fine lines and wrinkles. It helps exfoliate dead skin and tightens pores. Add one part olive oil to four parts yogurt. Leave on face for 30 minutes three times a week for best results.
4. Soothe Sunburned Skin
With anti-inflammatory zinc, yogurt is known to cool minor burns. A few drops of calming chamomile oil added to yogurt makes an effective antidote to too much fun in the sun!
5. Breath Freshener
Eating plain yogurt regularly (no fruited or flavored kinds, as they contain sugar) can reduce levels of hydrogen sulfide in the mouth and bacteria on the tongue that lead to bad breath. It is also said to reduce plaque build-up and help prevent cavities and gingivitis.
6. Hair Moisturizer and Shine Agent
A weekly (or more, if you have the time) yogurt hair masque can help revitalize dry, dull, brittle hair and split ends, leaving it soft and shiny. Yogurt contains protein (more in Greek yogurt) which is said to strengthen follicles. Yogurt's enzymes have also been known to eliminate dandruff and calm an itchy scalp. Before washing, apply to ends and work back to the scalp, leaving on for about 10 to 15 minutes. Shampoo and condition hair as usual.
7. Hair Lightener
Add 2 tablespoons lemon juice to a cup of yogurt. Apply to hair and leave on for 30 minutes. Shampoo.
8. Foot Smoothie
Add a cup of lemon juice, two tablespoons olive oil, a handful of coarse sea salt, and a cup of yogurt to some warm water for a refreshing, exfoliating, softening foot soak. Be sure to scrub feet. (Add an essential oil of your choice for scent, if desired.)
Beth Herman is a freelance writer with interests in healthy living and food, family, animal welfare, architecture and design, religion, and yoga. She writes for a variety of national and regional publications, institutions, and websites.