Here at the Farmers' Almanac, we do amazing things. We predict the weather for up to a year in advance. We alert people to when there will be an amazing alignment of planets, a meteor shower, full Moon, or eclipse.

We tell people how to grow their own food, when to drop a fishing line in the water, share camping and hiking tips, suggest where to plant flowers and herbs, and so much more.

We appeal to an amazing community of people who want to do amazing things.

We know you do amazing things as well. Let us help you advertise and market your amazing products, services, and offers. Here's what we can do:
510,000+
Copies in Circulation
1,200,00+
Total Readership
16,000,000+
Annual Web Visitors
Align Your Brand with Centuries of Wisdom
Let our timeless, trusted brand help your brand increase sales, generate awareness, build traffic, deliver an offer, and promote brand loyalty to a growing audience of 27 million people annually. Our integrated approach offers you cross-channel marketing opportunities to reach more people, more times, in print and online.
Print Options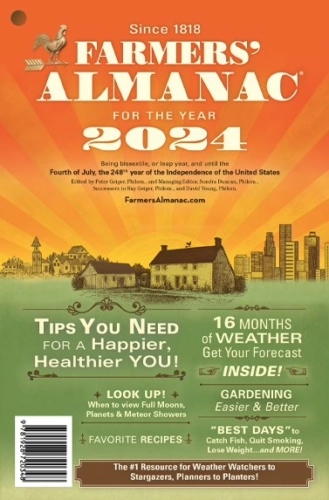 Retail/Bookstore Edition
An annual best seller since 1818, the Farmers' Almanac helps you reach your customers in a targeted, trusted, and timely manner. Each edition contains more than a year's worth of Fishing, Gardening, Best Days, Holidays, Moon Phases, and Weather Forecasts which mean your ad gains repeat exposures throughout the year.
Farmers' Almanac print advertising cut-off date is May 5, 2023.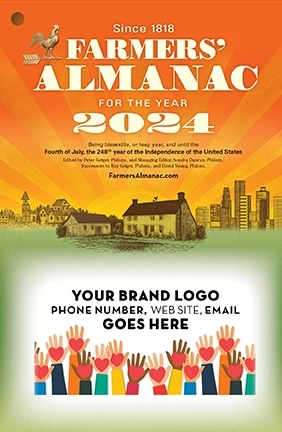 Business Edition
We wrap your branding and message on our covers (front bottom and entire back), your customers get access to the valuable articles and calendars inside, and you get a long-lasting and appreciated way to reach your target audience in their homes, for a year or more! You control the distribution. Farmers' Almanac Business Editions makes an amazing holiday gift or card, tradeshow giveaway, invitation to grand opening or special event, purchase incentive, employee appreciation gift, and much more.
Online Options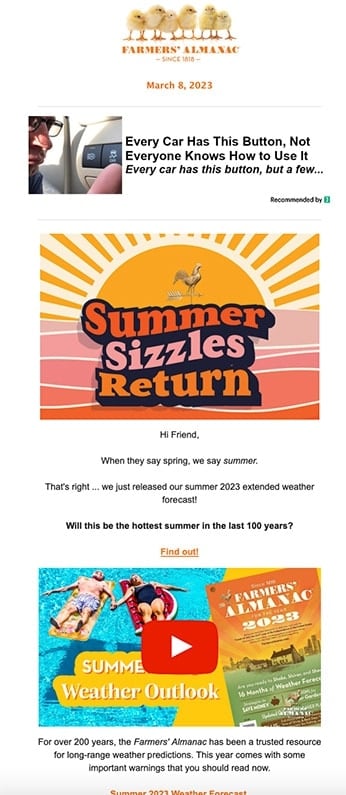 Weekly Newsletter
You pick the week(s) and the time of the year that works best for your offer and we'll surround your Newsletter ad with timely, unique, attention-grabbing content on topics such as: Four Seasons Weather Predictions • Life-Hacks • Favorite Recipes • Holiday Ideas • Best Days to Fish, Gardening Tips & More!
Current Opt-In Subscribers: 153,000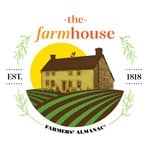 Farmhouse Membership
Our website visitors are so amazing, many are part of our growing Farmhouse Community. Here members gain access to member-only content, discounts, and communication with our amazing staff.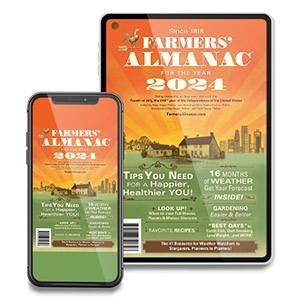 FarmersAlmanac.com
A trusted source for generations, FarmersAlmanac.com is one of the most popular and trusted sites for people to access long-range weather predictions, best days for gardening and fishing, helpful hints and natural remedies, and to learn about the night sky. Online advertising on FarmersAlmanac.com puts your brand in front of millions of people!
---
Social Media:
Choose one or all of these channels! We a have a tier approach that mixes them all for an amazing outcome. Hybrid, customized approaches are available. Tell us your goals, target audience and budget and let us create a custom omnichannel advertising program that converts our Visitors to YOUR Customers.
Let us help you gain amazing results. Email our amazing team –
OR fill out the form below and we'll be in touch!
Advertising Inquiry
Interested in advertising with the Farmers' Almanac? We offer both online and printed advertising for companies and brands who align with our own trusted, timeless, true Farmers' Almanac brand.
"*" indicates required fields