2024 Farmers' Almanac – Buy Your Copy Today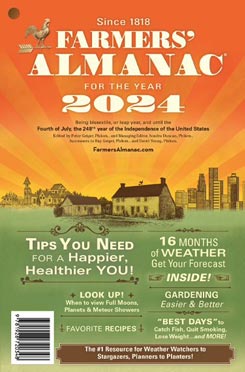 Your Year-Long Guide to Great Living
Farmers' Almanac 2024 contains everything you need to plan for the year ahead—extended weather forecasts (16 months in total), full Moon and stargazing charts, holidays, award-winning recipes, gardening solutions, fishing calendars, exclusive Best Days calendars, strategies to help save you money, folklore, hints, and tons of entertaining and informative articles that help you live a healthier, happier, and more self-sustained lifestyle.
Sign-up for "All-Access" and get FREE SHIPPING!
Find out what stores in your area sell the Farmers' Almanac.
---
Attention Canadian Readers!
You can continue to get Canadian Weather Forecasts by signing up for an online membership.
Disclosure: We are a participant in the Amazon Services LLC Associates Program, an affiliate advertising program designed to provide a means for us to earn fees by linking to Amazon.com and affiliated sites.