Cashews: The Nut That's Not A Nut
Everyone's favorite nut has a few secrets. Not only are cashews not officially "nuts," but you'll be amazed to see how they grow!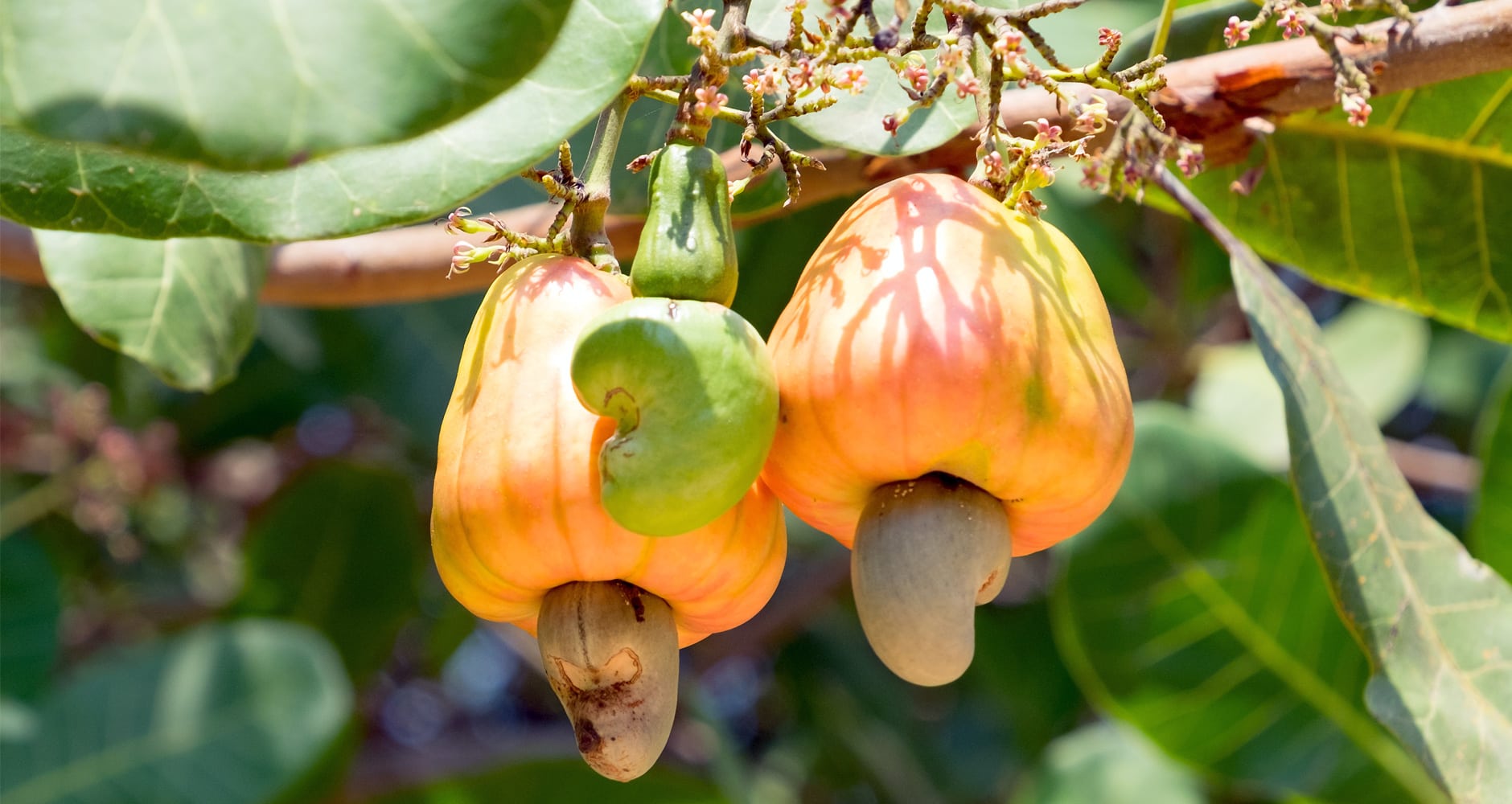 A handful of cashews may be a nutrition-packed snack food, but did you know the popular kidney-shaped nut doubles as a dairy substitute in a variety of scrumptious recipes? They also grow in the most unusual way!
Cashews: A Nut or a Seed?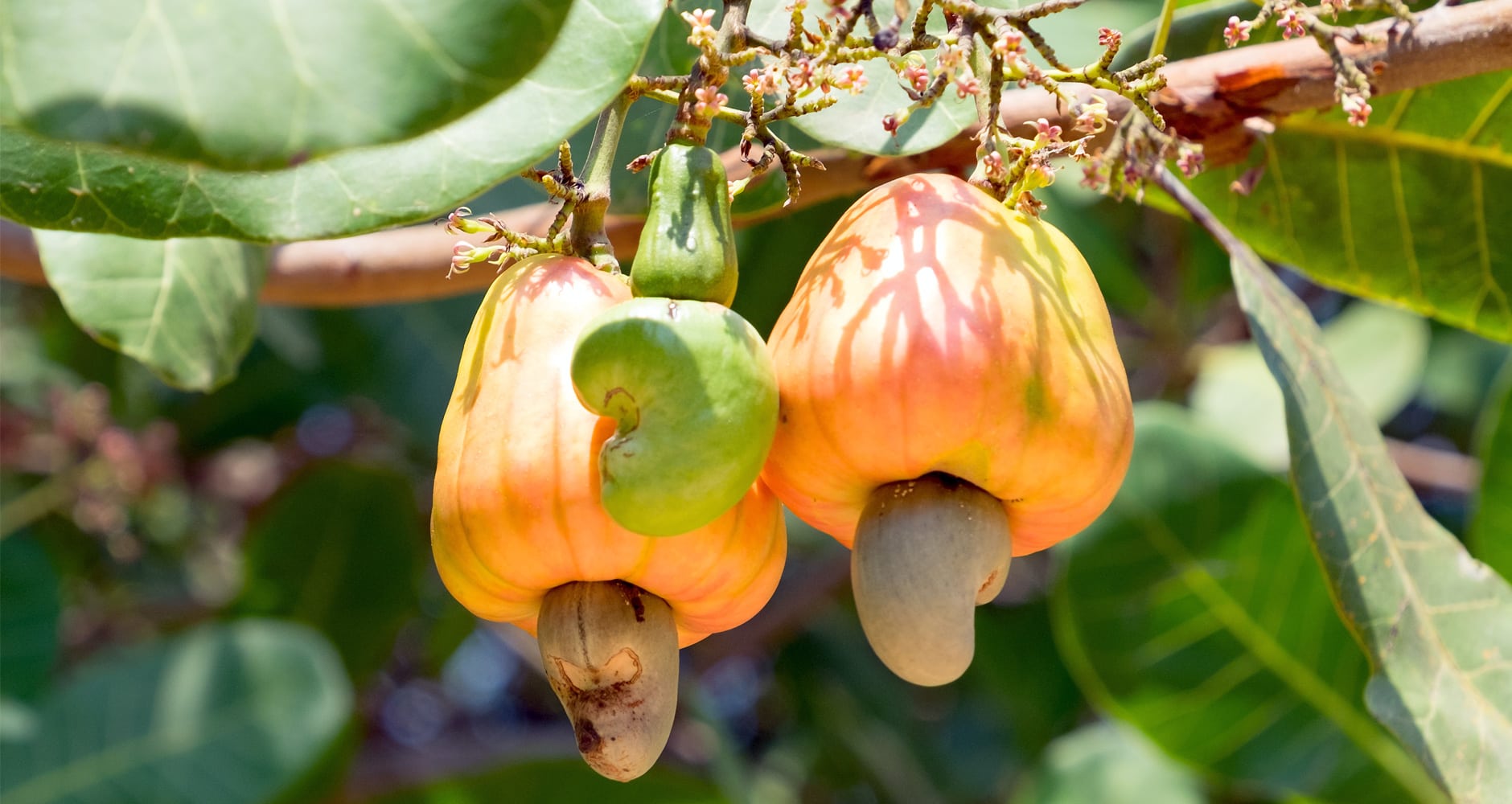 Cashews are derived from a tropical evergreen tree originally native to Brazil. The top cashew producing countries today include Vietnam, Peru, India, Nigeria, and Côte d'Ivoire. What is strange about the cashew is how it grows. Although the cashew is considered a culinary nut, botanically it is actually a seed. The cashew (seed) comes from the cashew apple. The apple is yellow and bell-shaped and slightly resembles a bell pepper.
The cashew is encased in a crescent-shaped shell which grows from the bottom of the cashew apple on the tropical cashew tree. Wonder why you haven't heard of the cashew apple before? The juice within the cashew apple is used locally when harvested, as a fruit drink. The exterior of the fruit, however, is very fragile and not able to withstand shipping. So, until you travel to a cashew orchard, there is the tasty cashew nut to enjoy. This delicious nut is rich in vitamins and minerals: potassium, manganese, phosphorus, magnesium, protein, iron, copper, vitamins K, and B-6, dietary fiber and healthy fats. Cashews contain no cholesterol.
In the tropical regions of the world, the cashew is used extensively and is served in a wide range of culinary dishes such as stir-fry, meat stews, soups, savory sauces, and milk-based desserts. Cashews are extremely versatile and have unlimited potential of recipe applications, including cheese spread, ice cream, nut butter, cashew milk, cashew cream, cheesecake, vegetable lasagna, and the list goes on!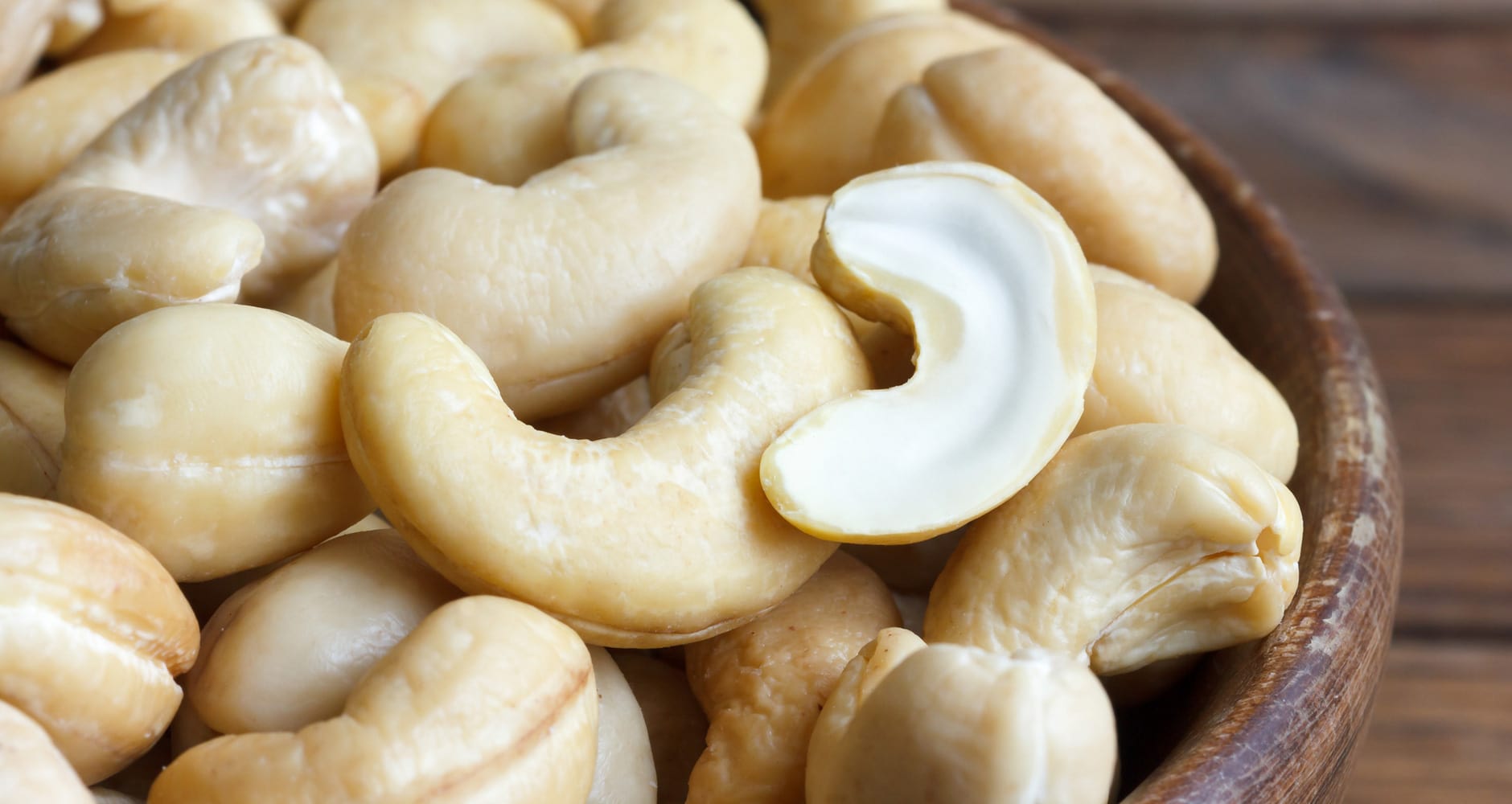 Cashews as a Dairy Substitute
So what makes the cashew so creamy and the perfect dairy substitute?
High in Fat. The cashew's high-fat content makes it the perfect cheese, peanut butter, milk, and cream alternative.
High in Starch. The second quality that makes the cashew especially versatile in preparing dairy-like foods is its high starch content. Cashews contain more starch than other oily tree nuts, up to 10% of their weight. The starch in cashews makes it superior to other nuts and seeds as a thickening agent in water or milk-based soups, beverages, or desserts.
Subtle Flavor. Cashew's mild, buttery flavor complements and blends well with other ingredients, instead of masking them. Cashews taste great when paired with fresh basil in pesto recipes, layered as a cheese replacement in vegetable lasagna, and when combined with fresh fruits in ice cream making.
Cashews as a Dairy Substitute
If you haven't added cashews to your diet beyond fancy mixed nuts or trail mix, here are three yummy recipes featuring cashews used in place of dairy products.
Cashew and Sun-Dried Tomato "Cheese" Spread
Once you taste this scrumptious spread, you'll never go back to traditional cheese spreads.
Yield: 2 cups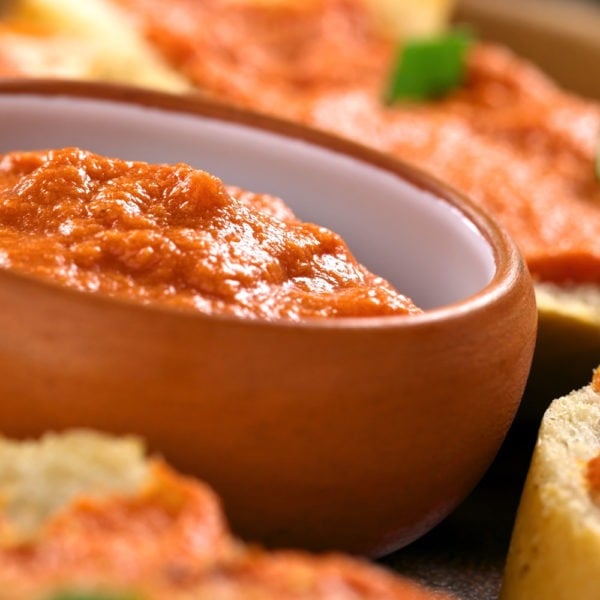 Cashew and Sun-Dried Tomato "Cheese" Spread
Ingredients
1 ½

cups

cashews

1 to 2

cloves garlic

¼

cup

water

2

tablespoons

lemon juice

1 

tablespoon

sun-dried tomatoes in olive oil with Italian seasonings

½

teaspoon

Himalayan sea salt

½

teaspoon

Italian seasonings

A squirt of Liquid Aminos, optional (available where health foods are sold)
Instructions
Directions:

 Place cashews and garlic cloves in the small bowl of a food processor and mix until cashews are ground. Add remaining ingredients and pulse until mixture is smooth and thoroughly combined.

Serving Suggestions:

For a delicious appetizer fill decapped and hollowed cherry tomatoes with this cashew and sundried tomato mixture, or spread on celery sticks. This spread also tastes great as a topping on baked portabella mushroom caps or eggplant.
Cashew Ricotta 
This is a perfect substitute for ricotta in lasagna without the dairy. Also makes a perfect dip or spread!
Yield: approx. 2 cups.
Cashew Ricotta
Ingredients
1 1/2

cup

raw, unsalted cashews

1/2

cup

water

Juice of 1 large lemon or 1 tablespoon apple cider vinegar

1

tablespoon

nutritional yeast (not baking yeast)

1

small garlic clove

1/2

teaspoon

Sea salt

Cracked pepper, to taste
Instructions
Directions:

Soak the cashews for at least two hours in a bowl of water. Drain and place all remaining ingredients into a blender or food processor, scraping down sides as needed until a creamy consistency. Test for flavor, adding any additional ingredients to taste.

Store in refrigerator in an airtight container for an hour or two, this will stiffen the mixture a bit.  Keeps in the refrigerator for up to a week. (Note: When using as ricotta in lasagna, do not mix with eggs. Use as is).

Deborah Tukua is a natural living, healthy lifestyle writer and author of 7 non-fiction books, including Pearls of Garden Wisdom: Time-Saving Tips and Techniques from a Country Home, Pearls of Country Wisdom: Hints from a Small Town on Keeping Garden and Home, and Naturally Sweet Blender Treats. Tukua has been a writer for the Farmers' Almanac since 2004.