One of the oldest known crops to mankind is squash. Squash gets its name from the Narragansett Native American word askutasquah, which means "eaten raw or uncooked." Technically, squash is a fruit, but for cooking purposes it's considered a vegetable. There are many types of squash, which typically fall into two categories: summer squash and winter squash.
What's The Difference Between Summer and Winter Squash?
Summer squashes are immature fruits with soft, edible rinds. They do not store well and must be refrigerated and eaten within a few days. Summer squashes require short cooking times or may be eaten raw. Varieties include yellow summer, cousa, pattypan or "scallop," yellow crookneck, and zucchini.
Winter squashes are harvested after the fruit and seeds have matured and the rind has hardened. Winter varieties are typically cooked before eating. Unlike summer squashes, winter squashes are best kept at room temperature and may be stored for long periods of time.
8 Winter Squash Varieties To Try
Winter squashes include Butternut, Acorn, Spaghetti, Buttercup, Kabocha, Delicata, Hubbard, and Turban.
While many people consider winter squash to be a starchy, high-carb vegetable, you'd be remiss if you avoided these nutrition powerhouses. Even though winter squash are higher in carbohydrates than summer squash varieties, recent studies have shown they actually help steady blood sugar. And their vivid orange color due to their high concentration of carotenoids like beta-carotene, alpha-carotene, make them a great source of vitamin A. Winter squash varieties are also high in pectin, a fiber that helps aid digestion, and loaded with B vitamins.
With autumn in full force and the holidays on their way, why not take advantage of the abundance of winter squash, and try these tempting seasonal recipes?
Butternut Squash Bake with Cinnamon Brown Sugar Crumb Topping
Ingredients:
Butter for greasing pan
1 medium (about 2 1/2 pounds) butternut squash
2/3 cup light brown sugar, packed
1/2 teaspoon ground cinnamon
1 scant teaspoon salt
1 tablespoon flour
2 tablespoons rolled oats (quick or old-fashioned)
3 tablespoons cold butter
Directions:
Quarter butternut squash lengthwise and cut off ends. Peel and scoop seeds out. Slice thinly and place in large bowl. In another bowl, combine brown sugar, cinnamon, nutmeg, and salt. Sprinkle 3 tablespoons of brown sugar mixture over squash slices; toss to coat, then place into a greased 11 x 7-inch baking dish or shallow 2-quart casserole dish. Add flour and oats to remaining brown sugar mixture; cut in cold butter until well combined. Sprinkle crumb mixture over squash. Cover tightly with aluminum foil and bake at 350ºF for 45 to 55 minutes or until squash is fork tender. Remove foil and bake an additional 10 minutes. Serves 6 to 8.
Roasted Delicata Squash Rings Recipe
Crispy on the outside and creamy on the inside, this simple side dish will win anyone over with its simple and delicate flavors.
Ingredients:
1 delicata squash, any size
Coconut oil or olive oil spray
Sea salt
Directions:
Wash squash and dry. Slice into ¼-inch-thick rings (no need to peel) using a mandolin or a large, sharp chef knife, and remove seeds.
Place rings in a single layer on a lined cookie sheet. Spray rings with oil and sprinkle with sea salt. Broil on low until golden brown freckles appear. Flip over and let cook until golden brown freckles appear. Remove, slather with butter, and serve immediately.
Stuffed Turban Squash
Ingredients:
One (3-pound) turban squash
2 tablespoons butter
1/4 small onion, chopped
1 stalk celery, chopped
1 carrot, finely diced
1/2 pound pork sausage
1/4 cup soft breadcrumbs
2 tablespoons light brown sugar
1 teaspoon salt
1/2 teaspoon black pepper
Directions:
Cut the top off turban squash (cutting a lid as you would for a jack o'lantern). Remove seeds and pulp. Place squash, cut side down, on oiled or foil-lined baking sheet. Cover squash with foil. Roast 50 to 60 minutes or until tender. Scoop out cooked pulp and save squash cavity for serving. In a saucepan, sauté onions, celery, sausage, and carrot in butter until meat is done and vegetables are tender. Drain grease. Stir in brown sugar, breadcrumbs, salt, pepper, and cooked squash. Spoon mixture into the cavity of turban squash and cover with squash lid. Bake squash with filling at 350ºF for 20 to 25 minutes or until heated through. Serve hot.
Baked Spaghetti Squash
Ingredients:
1 spaghetti squash, halved lengthwise and seeded
2 tablespoons vegetable oil
1 onion, chopped
1 clove garlic, minced
1 1/2 cups chopped tomatoes
3/4 cup crumbled feta cheese
3 tablespoons sliced black olives
2 tablespoons chopped fresh basil
Directions:
Cut spaghetti squash in half and remove seeds and pulp. Place squash, cut sides down, onto a lightly greased baking sheet. Bake at350ºF for 30 minutes or until a sharp knife can be inserted with only slight resistance. Allow to cool slightly for handling. Heat oil in a skillet over medium heat. Sauté onion until tender. Add garlic and sauté an additional 2 to 3 minutes. Stir in tomatoes and cook just until warm. Using a large spoon, scoop out stringy pulp from squash; place in the bowl. Toss with sautéed vegetables, feta cheese, olives, and basil. Serve warm. Makes 6 servings.

Acorn Squash with Apple Cranberry Stuffing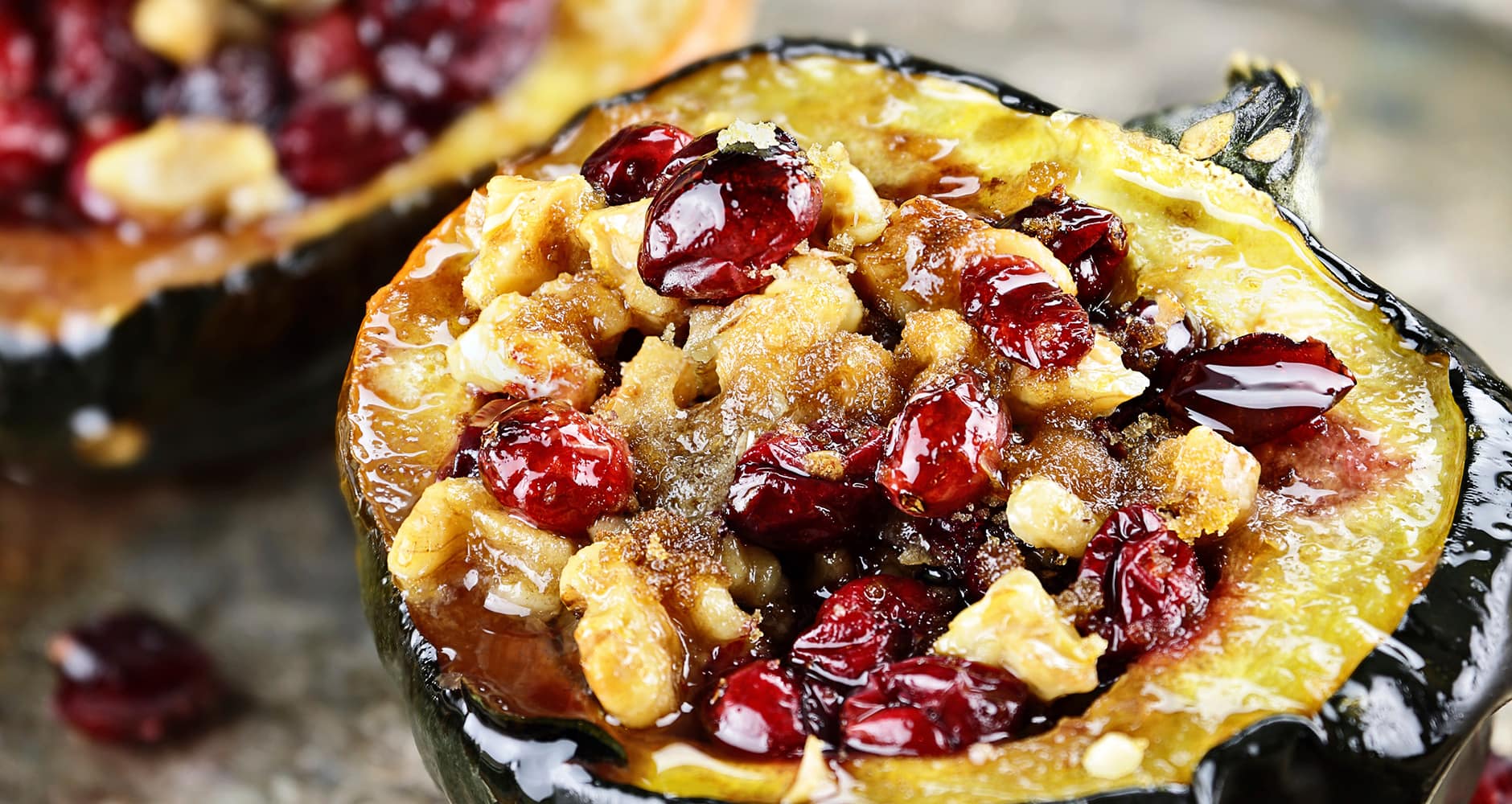 Ingredients:
Boiling water
2 acorn squash
2 large cooking apples, peeled, cored, chopped
2 to 4 tablespoons coarsely chopped dried cranberries or raisins
3 to 4 tablespoons butter, melted
1/2 teaspoon cinnamon
4 tablespoons brown sugar
Directions:
In a large baking dish or jelly roll pan, pour in around ¼-inch of boiling water. Cut squash in half lengthwise and remove seeds and pulp. Place squash halves, cut sides down, in baking dish. Bake at 375ºF for 30 minutes. Combine remaining ingredients. Stuff center of each squash half with apple mixture. Bake 30 to 35 minutes or until apples and squash are tender. Stir each squash center lightly before serving. Makes 4 servings.