October's Gardening Chores
Time to get to your fall chores! Here is a list of some tasks you can and should tackle this month.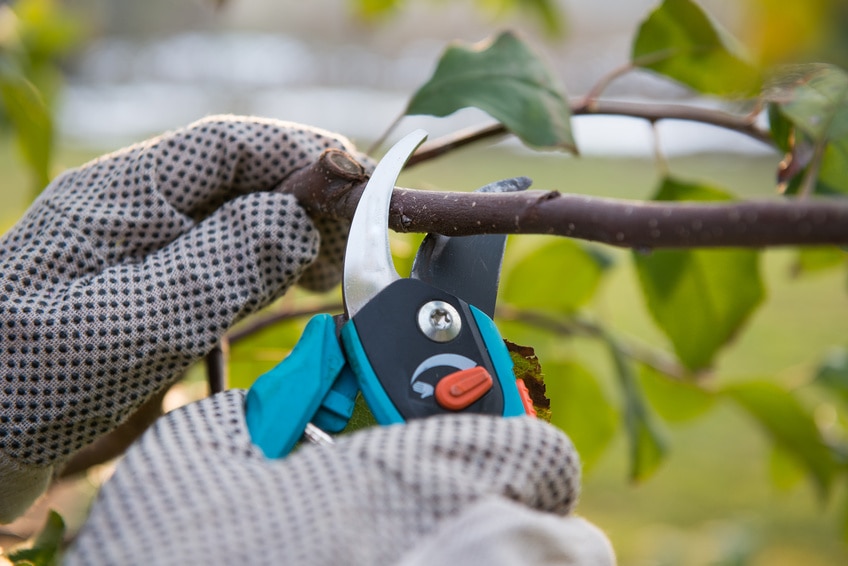 Here is a list of some October gardening chores and tasks you can and should tackle this month:
October's Gardening Chores
In The Garden
Potted plants need to be re-potted especially the tropicals in outdoor containers. Add new potting mix and increase the pot by one size to keep them happy all winter. This will be the last feeding until March. Make sure to check for any critters and pests before bringing anything inside, and consider applying an insecticidal soap to the soil after re-potting so it leaches down into the new pot.
Lawns are hungry as well. October is the time for your second application of fertilizer with a "winterizer" type on the label, one with an NPK (nitrogen/phosphorous/potassium) of around 28-0-14. New lawns, after you have cut them three times, can be treated for weeds, and yes, you are feeding the weeds too, so just be patient.
Bulbs. It's also time to plant those spring-blooming bulbs. Pay attention to the planting depth as listed on the packages. Dividing

perennials

is a great way to make your beds fuller and, if you have too many of one thing, seek out another neighborhood gardener and swap — another great way to extend those beds, and make new garden buddies.
Pest Control. This is the time when grubs are hatching, and moles are getting active. With moles, you also most likely have voles, another garden pest. Remember:

m

oles are the meat-eaters, where

v

oles are the

v

egetarians. Treating for grubs now will eliminate future root destruction by the voles.
Vegetable Plants. Keep pulling up the summer veggies as they ripen, and make room for fall crops as they die off. Composting those "spent" plants will help your success next spring.
Frosts. Some areas have had some early frosts and freezes, even snow (hello, Montana!). If you still have tender plants in the ground producing for you be prepared to cover them on those nights you have a hard freeze. Usually, if you water them, and cover in the evening, the humidity inside will prevent frost burn on the leaves. See our average frost dates.
Gardening your soil is a must. After pulling out all the spent plants, add some amendments such as compost or manure along with mulched leaves and grass clippings. Let it all "cook" over the winter. And if you need to plant a cover crop, now is the time. A favorite is clover, as it helps correct any nitrogen issues.
Mulch. As leaves start falling, simply mulch them in place—the composting leaf litter will benefit your soil greatly. As leaves start to accumulate, and bagging is a must, use those shredded leaves in your beds, which gives you free soil and nutrients!
Pruning. October is good for pruning most deciduous trees (trees whose leaves fall off). After the leaves have dropped, pruning is easier, because you can see the "skeleton" of the tree, and they are in a dormancy period. Wait on the Crape Myrtles until March, and roses until February. Evergreens can be pruned now, and most folks feed them lightly after pruning, as well as in the late winter (around March). Camelias, Daphne, Sarcacocca, and any other winter bloomers, should wait until after bloom, but you can feed them now, to give them a boost.
In The Shed
Garden tool maintenance is a must. Sanding, sharpening, and oiling will preserve your tools for many seasons. Make sure to dip tools in a bleach/water solution (one-part bleach to three parts water) if you had fungus issues, otherwise, you will still have those issues next season. Let them dry, then spray with oil. Which oil to use? Boiled linseed oil, tung oil, motor oil, lamp oil, or cooking oil. Boiled linseed and tung oil are probably the best choices, but you can use whatever you have available.
Power equipment. It's important to get those tools cleaned up and oil and filters changed, blades sharpened, add fuel additives, check pull chords, tires, lights, etc., before putting them away. When the seed catalogs start hitting the mailbox in February, you won't have time to worry about your tools!
Other Maintenance Tasks
October is also a good time to check on your winter prep home maintenance, as well. Caulking, testing the heat systems, roofing repairs, checking gutters, pruning limbs away from doors and windows, testing and servicing generators, repairing cracks in sidewalks and driveways, just to name a few.
The great thing about getting these fall chores done early is it allows you to get out and enjoy the autumn leaves and any warmer temperatures of an Indian Summer.

Kevin Cutlip has been a Personal Garden Coach for over 25 years. He owns KevinsGarden.com, and is known nationwide through his gardening advice in his monthly newsletter, TV appearances and speaking engagements throughout the southeast.
Keep Exploring