What The Heck Is Tourtière?
For some, it's not Christmas without this French-Canadian pork pie, or tourtière. Learn how it's made the authentic way. It may just become your new favorite holiday tradition!
Everyone loves pie, right? But don't limit yourself to just the sweet variety. You haven't lived until you've tried rich, savory tourtière (pronounced "toor-tee-AIR"), also known as "pork pie," a traditional French-Canadian meat pie usually served around the Christmas holidays. It's filled with cooked ground pork and warm spices all wrapped in a flaky, buttery crust.
So What Makes This Pie So Popular?
Meat pies have been around in one form or another since at least 1600 B.C. It's thought that the original tourtière was a dish called "patina," which was a meat pastry served around 400 A.D. in Europe. Centuries later, when the first French settlers came to Canada, they brought meat pie recipes with them, including tourtière.
The name comes from the word tourte, which has two translations: pie and passenger pigeon. Perhaps the name is in part a reference to the pigeons that were plentiful and easily trapped by Canadian settlers, who then made the meat into pies.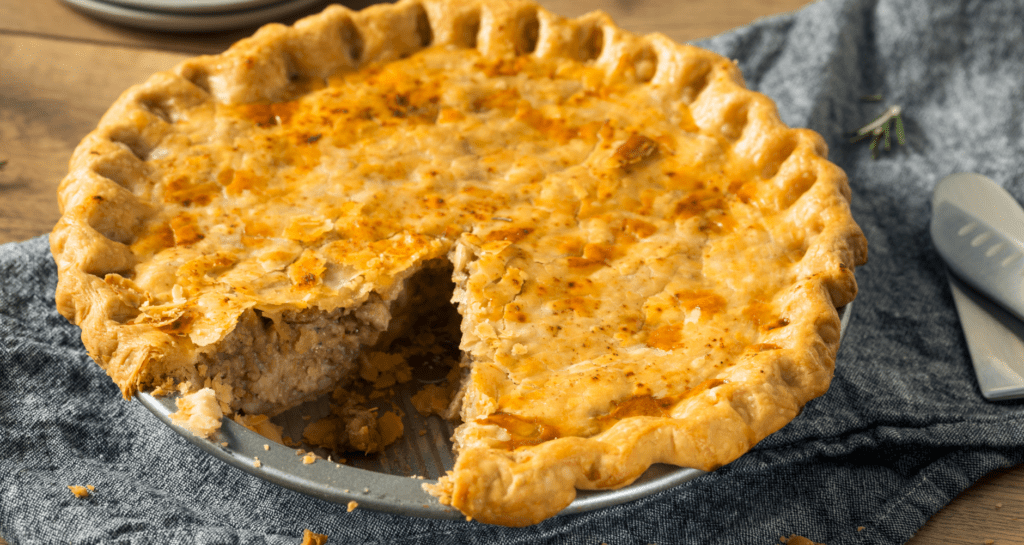 Regardless, the tourtière that we know today was first written about in the 1840 French-Canadian cookbook, La Cuisiniere Canadienne. Historians believe that this was the first French cookbook published in Canada, and it described the tourtière as "a meat pie made with pork, veal, mutton, chicken and potatoes, each cooked in their own spices before being chopped into tiny pieces and baked in a double-crusted pie."
From there, the tourtière became a cultural phenomenon, with regions of Canada each boasting their own versions of the pie. There are many variations—as one French baker says, "there are as many recipes for tourtière as there are cooks in Quebec." Families have their own "secret ingredients," and cooking methods. For instance, the Montreal tourtière features pork only, while the Manitoban version can have a variety of meats, including wild game. In Acadia, tourtière can have beef, chicken, and rabbit.
Make Your Own Pork Pie Tourtière
You can make your own flaky pie crust or use a shortcut and purchase crust for a deep-dish double-crust pie. But if you are making your own pork pie, a tourtière crust should be rich and buttery, which is why the traditional recipe calls for both butter and lard — butter to add richness and lard because historically, butter was hard to come by in large quantities.
Make Your Own Pork Pie Tourtière
Ingredients
Crust:
To make the crust, sift together 2 ½ cups of flour and ½ teaspoon salt. Cut 10 tablespoons of chilled butter and 10 tablespoons of chilled lard into cubes and blend them into the flour mixture until crumbly. As you mix the dough, add up to four tablespoons of water, one tablespoon at a time, until the mixture comes together as a smooth, just-moistened dough
Divide the dough into two balls, then roll one ball out on a floured board to fit a 9-inch deep dish pie pan.
Filling:
1

large

potato, boiled, peeled and mashed (or 1 cup leftover mashed potatoes)

1.5

lbs

ground organic pastured pork (or half pork and half ground beef)

1

tablespoon

oil

1

large

onion, minced

1/8

teaspoon

nutmeg

1/8

teaspoon

allspice

1/2

teaspoon

pepper

1/2

teaspoon

salt

1/4

cup

water
For the egg wash:
1

egg mixed with 1 tablespoon water (optional)
Instructions
In a large frying pan, add oil and pork.

Cook on medium-high heat until the pork is cooked through, then add onion and spices, continuing to cook until the onion turns translucent.

Lower heat to medium-low, add the water and simmer to deglaze the pan.

Once the caramelization is removed from the bottom of the pan, add the mashed potato, a little at a time, and simmer the mixture until it is nice and thick.

Remove from heat and let the filling cool before pouring it into the pie crust.

When the tourtière is filled, roll out the top crust, making sure to crimp the crust to seal the edges.

Brush with egg wash, if desired.

Cut a hole in the center of the crust so that steam can vent, then bake at 425º F in the center of the oven for 40 minutes, or until the crust is golden brown. Cover edges with foil if they're browning too quickly. Makes 1 pie that serves 6-8.

Serve hot or cold.

These pies also freeze well. Let thaw completely before baking.
We want to know: How do you serve and eat your tourtière? Any condiments? Tell us in the comments below.

Amber Kanuckel is a freelance writer from rural Ohio who loves all things outdoors. She specializes in home, garden, environmental, and green living topics.