5 Summer Mocktail Recipes!
You won't even miss the alcohol when you serve up these deliciously creative summer mocktails. They get an additional "wow" factor from fresh garden herbs. Cheers!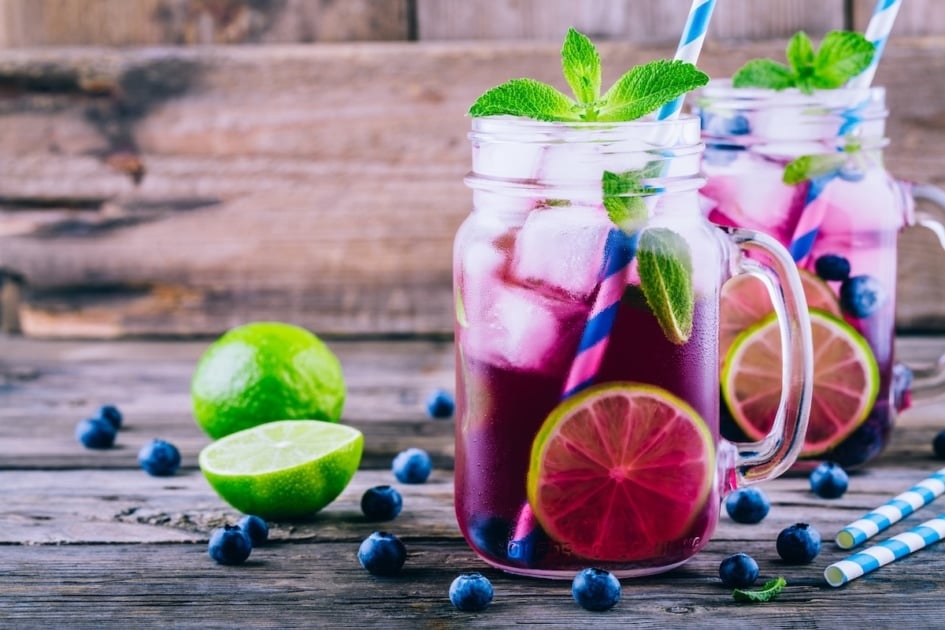 Enjoy refreshing drinks on the patio or deck with Mom. But you don't need alcohol to make them delicious! Mocktails are ingenious concoctions sans booze. These mocktail recipes are so creative and delicious, you won't miss it!
Here's a selection of a few of our favorite mocktail recipes to get you started. Some even use fresh herbs and veggies straight from the garden for a "wow" factor that will impress your guests!
1. Virgin Watermelon Mint Margarita
Virgin Watermelon Mint Margarita
Ingredients
One medium seedless watermelon that has been chilled

1/2

cup

fresh lime juice

4

teaspoons

agave nectar

Sparkling water

Mint from your garden for garnish
Instructions
Chunk the chilled watermelon, then use a blender to puree it to make four cups of watermelon purée.

Add the lime juice and agave, and pour into four chilled margarita glasses that have been rimmed with sugar, if desired.

Top each glass with sparkling water.

Add a sprig of mint and a piece of watermelon garnish. Perfecto!
2. Blueberry Mojito Mocktail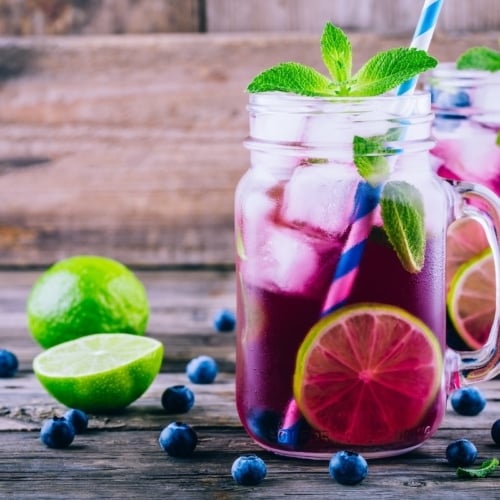 Blueberry Mojito Mocktail
Ingredients
1/4

cup

fresh blueberries

1

tablespoon 

sugar

3

mint leaves

1

lime wedge

Ginger ale
Instructions
Muddle the blueberries, sugar, mint leaves, and lime wedge in a large cup, then remove the lime wedge.

Pour the mixture into a separate cup and top it with crushed ice and ginger ale.

Serve with fresh mint leaves and frozen blueberries.

Makes a single serving. Dee-lightful!
3. Watermelon "Nojitos"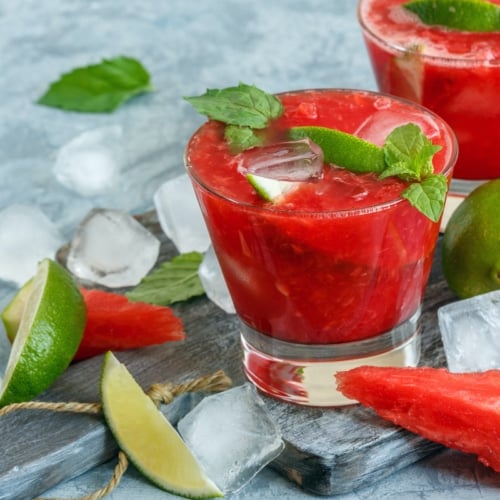 Watermelon "Nojitos"
Ingredients
1/2

cup

superfine sugar

3 to 3 1/2

cups

chopped watermelon

two limes, sliced

2

cups

chilled soda water

1/3

cup

lime juice

1

bunch fresh mint sprigs

2

 tablespoons

finely grated lime zest

ice cubes
Instructions
First, make a simple syrup by placing the sugar in one cup of water in a small saucepan on medium heat. Cook it while stirring constantly until it dissolves. Let the syrup come to a boil for five minutes, then remove it from the heat and let it cool completely.

In the meantime, blend the watermelon until it's smooth. Muddle the limes in a pitcher, then add the pureed watermelon, soda water, lime juice, and simple syrup. Mix well, then add the mint.

To make sugar to rim the glass, mix the two reserved tablespoons with the lime zest on a small plate. Place 1/4 cup water in a separate bowl, then dip the rims of your serving glasses in the water, then in the sugar.

To serve, pour the watermelon mixture over ice cubes.
Here's a different take on the mojito from Taste.com:
4. Virgin White Peach Sangria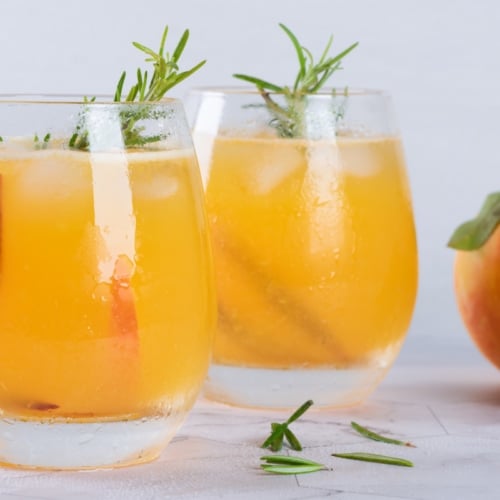 Virgin White Peach Sangria
Ingredients
1

quart white grape juice

1/2

 cup

orange juice

12

ounces peach nectar

1

cup

sliced fresh peaches

12

ounces sparkling water, mineral water, or club soda
Instructions
Put the peaches in a large pitcher and add grape juice, orange juice, and nectar.

When ready to serve, add the sparkling water.

Pour over ice and garnish with a sprig of your garden rosemary. Delicious and eye-catching!
5. Honeydew, Cucumber, And Mint Soda
Honeydew, Cucumber, And Mint Soda
Ingredients
2 1/2

pounds honeydew melon, cut into 1-inch pieces (about six cups)

2

medium cucumbers (if you didn't grow any cukes, use 1 English cucumber) peeled and coarsely chopped

1/3

cup

packed mint leaves plus extra for garnishes

pinch of kosher salt

3

tablespoons fresh lime juice

club soda or sparkling water
Instructions
In a blender, puree honeydew, cucumbers, mint, and salt until smooth.

Strain the pulp through a fine-mesh sieve into a large bowl.

To keep the juice clear instead of cloudy, avoid pressing on the solids as you strain.

Stir in the lime juice and let the mixture chill.

When you're ready to serve, pour the honeydew mixture over ice in four glasses and top each with sparkling water or club soda.

Garnish with mint sprigs and serve. Makes 4 servings.
If you've got cucumbers in the garden, this mocktail, adapted from a Bon Appetit recipe, is a must-try!
Creative Garnishes
Mint is the most popular garnish, but it's not the only one you can try. Any of these herbs or flowers will spruce up your summer drinks— in the recipes above, or in a simple glass of old-fashioned lemonade!
Lavender
Rosemary
Mint
Basil
Oregano
Thyme
Lemon Verbena
Cilantro
Edible flowers also make great mocktail and cocktail garnishes. Consider flowers that enhance or complement the flavors of your mocktail, or just choose something that brightens up the beverage. If you didn't grow the flowers yourself, though, be careful and make sure you get them from a reputable source, such as a farmers' market.
Watermelon Ice Cubes – Two Ways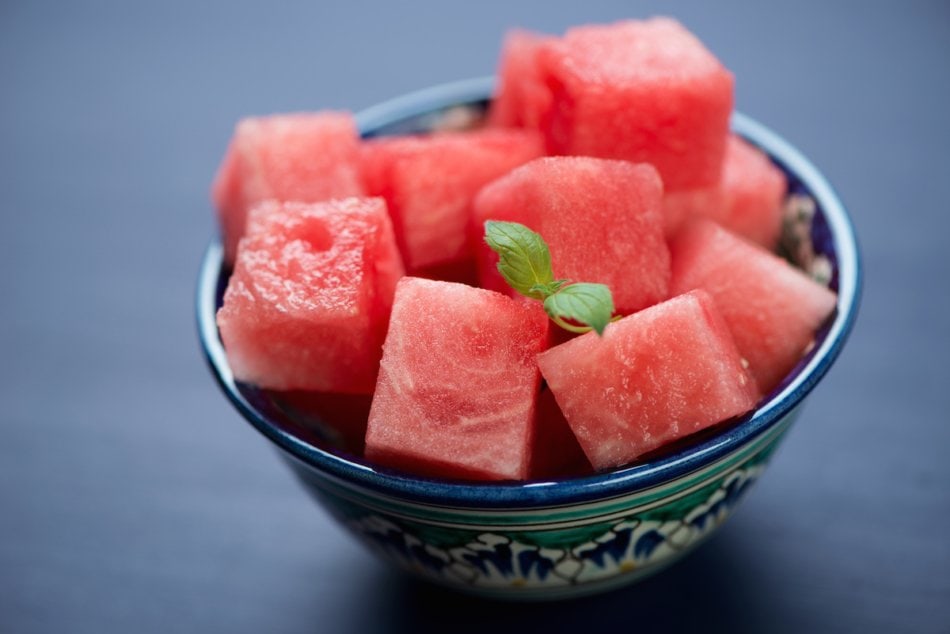 You need something to chill those fruity mocktails, and here are a couple of creative twists on plain ice cubes—plus they're so easy to make, and it's a way to use watermelons from the garden.
Chunk and Freeze Method. Simply chunk watermelon into ice cube-sized squares and freeze the chunks on a tray lined with wax paper or parchment paper. Once frozen, transfer them to freezer bags. When you need to chill a drink, grab a few and pour the drink over them. Then you've got a tasty snack in your drink afterward!
Purée and Freeze Method. Chunk watermelon and drop into int a blender or food processor. Pour the liquid into ice cube trays and freeze. You can also add a sprig of mint to each cube for a lovely visual effect. Use the cubes for any of your summer cocktails!
These are some mocktail ideas that will get you started, but check around for other recipes because there are many out there that will make use of your garden harvest!
Freeze 'em!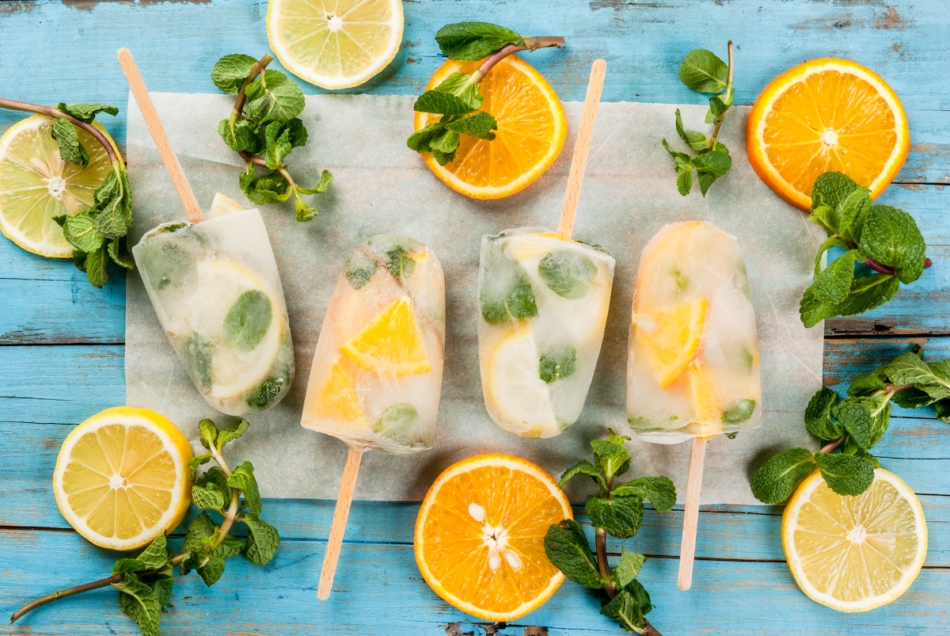 Don't feel like having a mocktail to drink? Invite friends over for Mocktail Pops! Freeze any one of the mocktails above in molds. Because there's no alcohol, they'll freeze properly.
Cheers!

Amber Kanuckel is a freelance writer from rural Ohio who loves all things outdoors. She specializes in home, garden, environmental, and green living topics.
Keep Exploring