Can You Really Recycle Clothes?
The average person throws away 70 pounds of clothing per year, all of which end up in landfills. There is a better way: recycle clothes! Learn how it's done. Includes helpful links.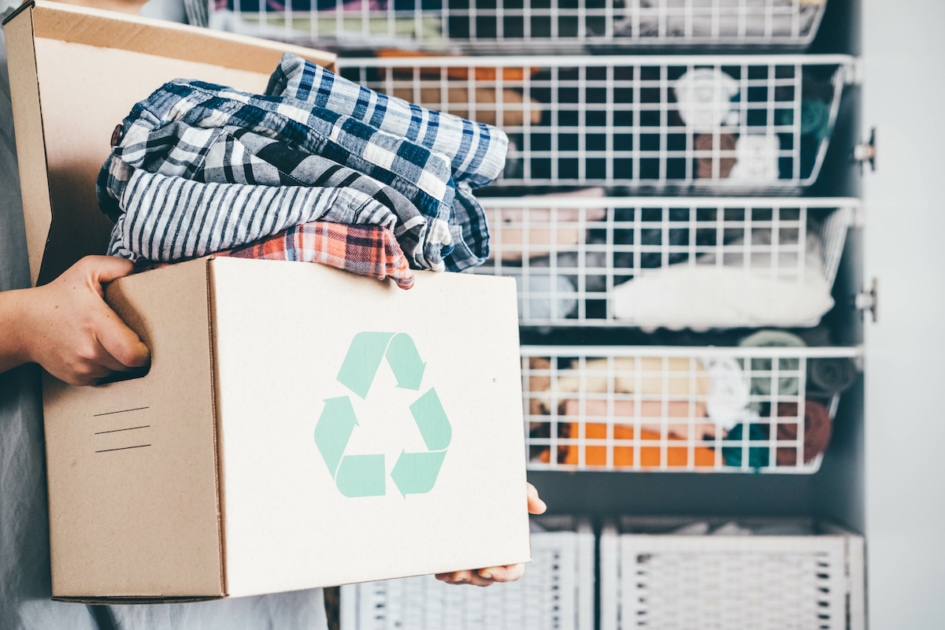 Uh oh. You spilled red wine on your favorite white linen pants and no matter what tricks you try, they're ruined. Might as well throw them out, right? Wait! Before tossing any clothes in the trash, consider these statistics:
On the average, consumers throw away 70 pounds of clothing per household per year.
Nearly 13 million tons of clothes are dumped in U.S. landfills annually.
Despite the fact that about 4 billion pounds of clothes and textiles are recycled annually, 85% are not recycled, and end up in landfills.
Recycle Clothes? Yes!
Clothing and textiles are 100% recyclable.
You may already donate your gently worn clothes to local nonprofits, take them a consignment store for resale, or participate in online garage sales, but some of your items with rips or stains may not be suitable for donation.
What do you do with items that you doubt anyone would want? You know, the jeans with the broken zippers, the belt with no buckle, the dress with the rip down the side? Any clothes, shoes, accessories or household textiles that don't sell at thrift stores are sold in bulk as salvage to recyclers. And these recyclers sort the used textiles for further distribution and repurposing. All but about 5% of your old clothes can be completely transformed.
How Your Clothing Is Recycled
Clothing can be converted into fiber and used to manufacture all sorts of products, including carpet padding, rubberized playgrounds, and materials for the automotive industry. Organizations like Blue Jeans Go Green even recycle your unwanted blue jeans into housing insulation!
Here's a sample list of items that can be recycled, no matter what the condition (they just need to be clean and dry) according to SMART®:
Bedding: comforters, sheets, pillow cases, blankets
Belts
Boots
Bras
Coats
Curtains / Draperies
Dresses
Flip flops
Halloween costumes
Hats
Jackets
Jeans
Jerseys (sports)
Napkins (cloth)
Pajamas
Pants
Pet beds & clothing
Pillows
Purses
Scarves
Shirts
Shoes (single or in pairs)
Skirts
Slippers
Socks (single or in pairs)
Stuffed animals
Suits
Sweaters
Sweatpants / Sweatshirts
Table linens
Ties
Towels
T‐shirts
Undergarments
Where Do I Bring My Unwanted Clothing and Textiles For Recycling?
Use the recycling locator to find out where to bring your unwanted materials.
Are There Tax Write Offs When Recycling Clothes?
Unfortunately, since you're donating for scrap, these items don't carry a value, therefore, you can't write them off on your tax returns. But if the condition of the items is such that the thrift stores won't take them, recycling clothes is a great option.
How Can We Keep Discarded Clothing and Textiles Out of Landfills?
Never throw any clothing or fabric household items in the trash.
Donate unwanted clothing to friends, charities, or thrift stores.
Never donate wet or moldy items to charities or thrift stores. They will not clean or dry them, and they'll end up in a landfill.
Repurpose with Purpose
Check out these clever ways to repurpose and recycle clothes and textiles at home to reduce waste:
Cotton shirts and socks make great dusting cloths.
Use worn bath towels to line a pet kennel, and to dry pets and cars after washing.
Repurpose old mattress pads and blankets as bedding in the dog's kennel or house.
Turn jean or pant legs into throw pillows. Cut off legs of jeans, khakis pants, etc. Sew one end closed. Stuff with discarded, clean clothes or fiberfill and sew other end to secure.
Cut fabric swatches from your shirts, dresses, sweaters, scarves, etc. to use in craft and sewing projects.
Check out these clever ideas from Good Housekeeping!
Join The Discussion
What resourceful or creative ways have you found to recycle clothes and accessories?
Share your experience with your community here in the comments below!

Deborah Tukua is a natural living, healthy lifestyle writer and author of 7 non-fiction books, including Pearls of Garden Wisdom: Time-Saving Tips and Techniques from a Country Home, Pearls of Country Wisdom: Hints from a Small Town on Keeping Garden and Home, and Naturally Sweet Blender Treats. Tukua has been a writer for the Farmers' Almanac since 2004.