What The Heck Are Garlic Scapes?
Garlic scapes are only available for a short time in late spring and early summer. Learn when to harvest your own, and enjoy these 3 delicious recipes!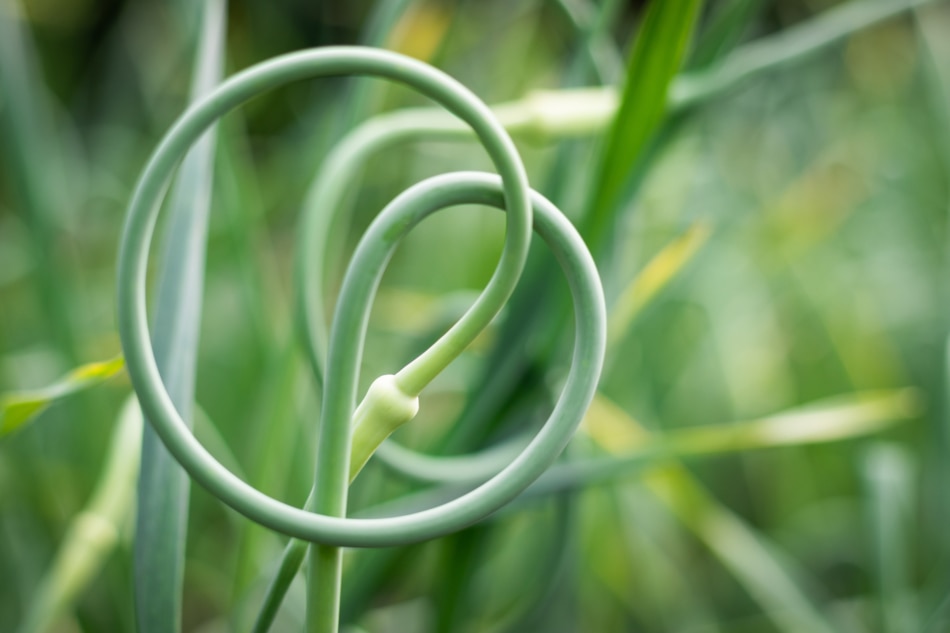 Used to add flavor to a wide variety of dishes, garlic is one of the most popular flavors on the culinary scene. But did you know that the bulbous garlic root isn't the only edible part of the plant? The green shoots, or stems, that grow from those roots—more properly known as garlic scapes—are also edible, and are a staple on the tables of backyard gardeners and farmers' market shoppers.
What Are Garlic Scapes?
Sprouting out of the ground in late spring, garlic scapes are thin, curly, green stems, resembling grass or wild onions. Growers cut them off to allow more of the plant's resources to stay focused within the bulb. Young ones are tender and delicious. They generally have a milder taste than the cloves, similar to shallots or chives. They can be diced up finely and added to various dishes for extra flavor, or sautéed in olive oil and enjoyed on their own.
Curling garlic scape tendrils often include a bulge in the middle. This is the unopened flower of the plant. It is also edible, though not as tender as the rest of the stem. Some people cut it off and discard it, while others simply eat it.
Are There Health Benefits in Garlic Scapes?
Garlic scapes are a good source of protein, vitamin C, and calcium and, like garlic cloves, can help to prevent heart disease, high cholesterol, high blood pressure, and cancer. They can also provide immune system support and reduce inflammation.
Where Can You Get Garlic Scapes?
Garlic scapes are only available for a short window of time in late spring and early summer, available at most farmers' markets. You can even buy them online. It's OK to store your garlic scapes in the fridge, where they'll stay fresh for up to 3 weeks. They can also be frozen.
Harvesting Your Own
If you are growing garlic and you want big, flavorful bulbs, you'll want to cut off the scapes as they emerge in early summer, before the plant flowers. The reason for this is so that the plant can put its energy in the bulb rather than the flowers that will emerge.
Here are a few tasty ways to enjoy this flavorful garlicky treat:
Sautéed Garlic Scapes
Ingredients
Garlic ScapesOlive oil Salt and Pepper to taste
Instructions
Place as many garlic scapes as you have, or will fit, into a large frying pan.

Drizzle with olive oil — just enough to coat each scape without pooling at the bottom of the pan.

Cook over medium heat, until the scapes start to brown.

Add salt and pepper to taste.
Garlic Scape Pesto
Ingredients
1

cup

diced garlic scapes

1/3

cup

pine nuts

3/4

cup

olive oil

3/4

cup

olive oil

1/2

teaspoon

salt and black pepper to taste
Instructions
Blend all ingredients together with a food processor or high-speed blender.
Garlic Scape Pizza
Ingredients
1

lb.

whole-wheat pizza dough

1

cup

pizza sauce

1

cup

mozzarella cheese

6

garlic scapes

olive oil
Instructions
Allow pizza dough to sit and rise until it stretches easily.

Preheat your oven to 450° F.

Brush a large cookie sheet with olive oil and fit the dough to the pan.

Cover the dough with pizza sauce and top with cheese.

Cut the garlic scapes into 3" segments and place evenly over the cheese.

Bake for 15-18 minutes, until the crust is golden brown and the cheese is bubbly.

Jaime McLeod is a longtime journalist who has written for a wide variety of newspapers, magazines, and websites, including MTV.com. She enjoys the outdoors, growing and eating organic food, and is interested in all aspects of natural wellness.