What the Heck Is a Pomelo?
A pomelo is a citrus fruit native to several countries in Southeastern Asia. Learn more.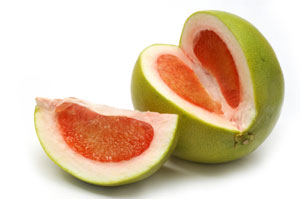 A pomelo, sometimes spelled pommelo or pummelo, is a citrus fruit native to several countries in Southeastern Asia, including Thailand, Malaysia, Indonesia, and Vietnam. It is also known as a Chinese grapefruit.
The largest fruit in the citrus family, pomelos can grow to be up to 10 inches in diameter and can weigh more than four pounds. The peels of ripe pomelos are generally pale green or yellow in color and very bitter. The sweet, mild inner fruit is usually white, but can also be pinkish or even red. The rinds are very thick and puffy, and are often candied or made into marmalade.
The flavor of pomelos is often likened to a less bitter version of grapefruit. This makes sense, because grapefruits are actually a hybrid of pomelos and Jamaican sweet oranges. Even oranges, themselves, are believed to be descended from pomelos.
Pomelos are usually eaten on their own, or added to salads. Here are a few pomelo recipes for your eating pleasure:
Yam Som O (Thai Pomelo Salad)
Ingredients
2

pomelos

medium pomelos, peeled

2

vegetable

tablespoons vegetable oil

1

shallot,

large shallot, thinly sliced

3

sliced

Thai chilies, thinly sliced

1

sauce

tablespoon fish sauce

1

teaspoon

teaspoon sugar

6

shrimp

oz. cooked shrimp

¼

basil

cup chopped basil

¼

cilantro

cup chopped cilantro

¼

Sesame

cup roasted and unsalted peanuts, chopped Sesame seeds
Notes
Directions:
Separate the pomelos into sections and remove the thin membrane from the juicy pulp. Use a fork to break each section into smaller pieces. Place these in a bowl and set aside. Heat oil in a small saucepan. Add shallot rings and cook over moderate heat, stirring occasionally, until browned. Use a slotted spoon to transfer the shallots onto paper towels to drain. In a small bowl, combine chilies, fish sauce, and sugar. In a separate bowl, combine the pomelo pieces with the shrimp, basil, cilantro, peanuts, shallots and chile dressing and toss to coat. Sprinkle with sesame seeds and serve.
Pomelo Marmalade
Ingredients
1

large

pomelo

1

large

Juice of lemon

2 1/2

cups

water

3

pounds

sugar
Instructions
Directions:

Sterilize and dry enough mason jars to store five pints of marmalade, and set aside. Wash the pomelos, cut them in half and squeeze out the juice. Place the pith and pips (the white part of the fruit) into a muslin bag. Shred the peel and soak it in the water overnight, along with the muslin bag. Place the peel, muslin bag, and water into a pressure cooker and bring it up to 15 pounds of pressure. Cook for about 15 minutes. Reduce the pressure once the water reaches room temperature. Test the peel for tenderness by pinching a cooled piece between your thumb and forefinger. If the peel is soft, remove the muslin bag from the water and wring it out into the cooker. Then add the sugar. Stir over gentle heat until the sugar is dissolved, then boil it rapidly in the open cooker until it reaches 221° F. Skim away any foam that forms, and allow the marmalade to cool until a skin starts to form. Pour it into warm, dry jars. Cover each jar with a waxed disc until cool, then replace the discs with permanent lids.
Candied Pomelo Peel
Candied Pomelo Peel
Ingredients
1

large

pomelo

1 1/2

cup

sugar

1 1/2

cup

water

1/4

cup

corn syrup
Instructions
Directions:

Peel pomelo by scoring it with a knife and pulling the peel off in quarters. Slice the peel 1⁄4″ wide strips. Place the peel slices into a large pot, fill it with water and bring to a boil. Blanch the slices for approximately two minutes, then remove and drain. Place slices back into the pot, fill it with cold water, and bring to boil a second time for about five minutes. Drain the slices, refill the pot with cold water and bring back to a boil once again, this time, simmering the slices of peel for 20 minutes. Drain the slices and rinse. In a large pot, dissolve one cup of sugar in 1 1/2 cups water and 1/4 cup corn syrup. Bring to a boil for one minute, then add the pomelo peel slices. Simmer the peel on low heat, gently stirring from time to time until most of the liquid is gone, about 30-40 minutes. Sprinkle a cookies sheet with sugar. Remove strips from pot, place them on the cookie sheet, and sprinkle them with sugar. Dry slices in a dehydrator or in an oven on very low heat, being careful not to burn them.

Jaime McLeod is a longtime journalist who has written for a wide variety of newspapers, magazines, and websites, including MTV.com. She enjoys the outdoors, growing and eating organic food, and is interested in all aspects of natural wellness.
Keep Exploring