10 Clever Ways To Use Coffee Filters
Coffee filters can tackle many household tasks in a pinch. Try one or all of these clever ideas!
Even if you aren't a coffee drinker, you might want to pick up a pack of "basket-style" paper coffee filters on your next trip to the grocery store. Not only are they inexpensive (a standard pack of 100 basket filters is about $2.00, and even more economical in larger quantities; unbleached can cost a little more), but they can tackle many household tasks and perform double duty in a pinch. Try any or all of these clever ideas:
10 Clever Ways To Use Coffee Filters
Make your own dryer sheets. Add a few drops of your favorite essential oil, such as lavender, to a coffee filter to make an economical dryer sheet. Your clothes will smell great, and your homemade dryer sheets will even reduce static.
Spice bundle for soups or stews. Placing whole spices and/or herbs in a coffee filter, then tie into a little pouch with a piece of kitchen string and you have an easy way to flavor soups or stews without having to fish out bay leaves, cloves, stems, etc.
Polish shoes. Coffee filters are great for applying shoe polish, or leather conditioners, as well as buffing shoes to a high shine.
Odor-fighting sachet. Tie 1/3 cup baking soda in a coffee filter and secure with a piece of string or a twist tie, and you have a deodorizing sachet to place in your fridge or freezer. It works better than leaving the whole box in there because the air circulates all around the filter.
Wrap delicate items. Filters are an inexpensive way to protect fine china (place one between each plate before stacking), glassware, and fragile items like Christmas ornaments.
Filter cooking oil. Remove impurities from used cooking oil after deep frying by straining the oil through a coffee filter.
Instant drink coaster. Protect your furniture from rings by using coffee filters as coasters. Condensation wicks rapidly into the filter paper and away from your table tops.
Wipes to clean mirrors, car windshields, etc. The absorbent paper of coffee filters is great for lint-free windows, windshields, and mirrors. Use with or after your favorite glass cleaner. Can be cheaper than paper towels.
Cast Iron Care. Use a couple of coffee filters as padding between cast iron skillets, delicate plates, or anything you don't want to be scratched.
Whiteboard or blackboard erasers. Coffee filters are great at cleaning dry marker ink off of whiteboards, or when dampened, chalk from chalkboards.
Do you have a clever way to use paper coffee filters? Tell us in the comments below!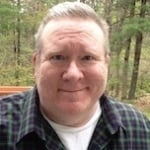 Edward Higgins is a freelance writer, artist, home chef, and avid fly fisherman who lives outside of Portland, Maine. He studied at Skidmore College and Harvard University. His article 10 Best Edible Insects appears in the 2020 Farmers' Almanac.