St. Paddy's Day Leftovers? Whip Up Some Corned Beef Hash!
Have leftover corned beef and cabbage? Make corned beef hash! We've got the perfect fool-proof method for the crispiest, most delicious hash around!
Have leftovers from your St. Patrick's Day celebrations? Corned beef hash is a traditional and delicious way to use up that extra corned beef and cabbage, making it the centerpiece for a fabulous meal, for breakfast or any time!
Hashing Out History
The popular breakfast dish, usually served with eggs, has been around since the 1800s but gained popularity during WWII as a result of the rationing of fresh meat. Canned, or "tinned" corned beef was an important protein source in Europe and the US during the war. In the postwar era, canned hash grew in popularity, especially in the United States. Most of the hash served at your local diner is likely to be of the canned variety, but for many, the consistency is not terribly pleasing to the palate. If you want truly superior corned beef hash, it's best to make it yourself.
While National Corned Beef Hash Day is September 27, it would seem that the day ay after St. Patrick's Day would have been a better choice. So let's call March 18th the unofficial National Corned Beef Hash Day!
Making The Perfect Corned Beef Hash
Corned beef hash has three essential components. Here they are in order of importance:
Corned Beef
Potatoes
Onions
You can also add any leftovers from the St. Paddy's Day meal, which can give extra flavor and texture to the hash, not to mention help you use them up:
Cabbage
Rutabaga
Carrots
A good ratio for the hash is 2:1 meat to potatoes. As for any additional ingredients, less is more.
The magic of a great hash is balance and browning. It's important to note that if your leftovers are very wet, they could make your hash mushy or gloppy. If the vegetables seem overcooked and mushy, you may want to omit.
Use the Right Cookware
A flat top grill would give you the best results. Unfortunately, most people don't have flat tops in their homes. Any skillet will work: cast iron, non-stick, you can even make terrific hash in your wok, especially if you're feeding a crowd. Or try crisping up your hash in a waffle iron!
Don't Crowd the Pan
Don't try to cook too much hash for your pan, so you can get more browning. It's better to spread the hash out and cook it in a thin layer (think "hash pancake"), to maximize crispness.
Aeration
Great hash needs a bit of aeration. Air pockets between the ingredients. This comes from tossing the ingredients together lightly, not mashing or compressing.
Corned Beef Hash Recipe
Ingredients:
2 cups leftover corned beef, coarsely chopped
2 tablespoons vegetable oil or butter, for the pan (add more as needed)
1 cup leftover boiled potatoes, diced
1 small onion, finely chopped
¼ cup leftover cabbage, finely chopped (optional)
¼ cup leftover rutabaga, diced (optional)
¼ cup leftover carrot, diced (optional)
Salt and Pepper to taste.
4 large eggs, poached (or any style).
Approximate cooking time: 20-30 minutes.
Instructions:
Melt butter or oil a large nonstick skillet over medium-high heat and add onions (and other leftover vegetables, if using), cooking until soft and translucent. Meanwhile, in a large bowl, toss potatoes and corned beef together lightly with a fork or your hands. Keep the mixture "fluffy." Add the mixture to the onions, incorporating until just mixed and using a spatula, shape into a large "pancake." Add more butter or oil if needed.
Reduce the heat to medium and let mixture brown on one side. Resist the impulse to fiddle with the hash, or toss it around prematurely. You don't want it to burn, so you can lift gently with a spatula to take a peek, but you are looking for golden brown and crisp.
Flip the hash using a spatula, and let it brown on the other side. You may have to do this in sections, as the hash will break apart a bit. Shake the pan briskly to even out the layer of hash as best you can. Brown the second side to desired crispiness.
Slide onto a plate, top with poached eggs, and serve immediately. Serves 2.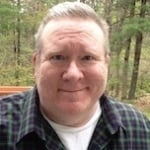 Edward Higgins is a freelance writer, artist, home chef, and avid fly fisherman who lives outside of Portland, Maine. He studied at Skidmore College and Harvard University. His article 10 Best Edible Insects appears in the 2020 Farmers' Almanac.