French Toast and Other Yummy Slow Cooker Meals
Your favorite appliance does more than soups and stews. Put it to work in a new way with these easy and delicious slow cooker meals!
For busy families, there's nothing like the convenience of placing ingredients for tonight's dinner in a single pot, setting the dial, and coming home hours later from school or work to a fragrant, nutritious, easy meal that may require only a fresh salad to round it out.
Many cooks only associate slow cookers with tried-and-true stews, soups, and roasts, but how about using your slow cooker for breakfasts, or even dessert? Try these non-traditional slow cooker meals that allow you to use your favorite appliance in a whole new way, making life easier in the long run!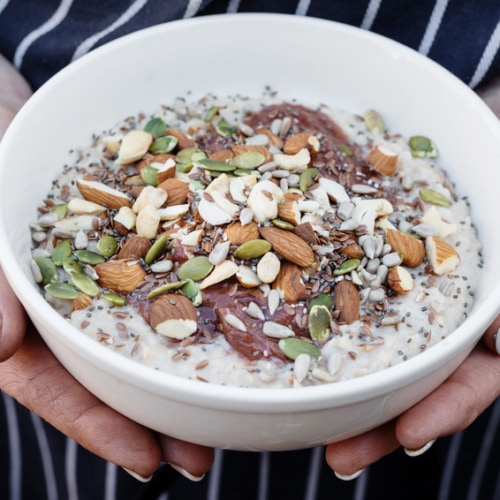 Steelcut Oats with Coconut Milk
Ingredients
unsalted butter

8 ½

cups

water

2

cups

steel-cut oats

1

14-ounce

can unsweetened coconut milk or 1 ¾ cups whole milk

¼

cup

packed light brown sugar

½

teaspoon

fine salt

Nuts, dried fruit, honey or maple syrup – optional
Instructions
Before bed, coat the inside of the slow cooker with butter to keep the oatmeal from sticking, then add in the oats, water, coconut or whole milk, brown sugar, and salt, enough for eight servings.

Stir well and set the cooker to low.

In the morning, embellish with dried fruit, nuts, chia seeds, honey or maple syrup.

Pack them up and store in the fridge so you have ready-to-go breakfasts all week!
Chocolate Cherry Crock Pot Cake
Ingredients
1

18.25-ounce pkg.

chocolate cake mix

1

cup

1 sour cream

1/2

cup

vegetable oil

1

cup

water

4

eggs

1

5.9-oz.

package instant chocolate pudding mix

1

11.5-oz

bag milk chocolate chips

1

cup

Bing cherries, chopped and pits removed Ice cream or whipped cream – optional
Instructions
Generously spray the inside of a crockpot with cooking spray.

In a large mixing bowl, mix together cake mix, sour cream, vegetable oil, water, and eggs with a hand-held mixer until just combined.

Stir in the pudding mix and chocolate chips with a spoon.

Pour mixture into prepared crockpot.

Sprinkle cherries over top.

Cook on high for 4 hours. Serve with ice cream or whipped cream.
Slow Cooker Barbecue Mac 'n Cheese
Ingredients
2, 12

-ounce

cans fat-free evaporated milk

2, 11

-ounce

cans condensed cheddar soup

2 1/2

cups 

water, plus additional if needed

1

teaspoon 

dry mustard

1/2

teaspoon 

cayenne pepper

4

cups 

shredded cheese

1

pound 

pasta (small, such as shells)

2

teaspoons 

Tabasco sauce

1 14

-ounce 

can kidney beans, rinsed and drained

3

cups 

shredded barbecue-style pork, heated through

Salt and pepper to taste
Instructions
Grease the inside of slow cooker with cooking spray.

In a large pot, heat evaporated milk, soup, water, mustard, and cayenne pepper to a simmer.

Add cheese and stir until melted.

Pour in macaroni and stir to coat.

Cover the slow cooker and cook for 1 1/2 hours on high.

Stir in the Tabasco sauce, pork, and beans.

Cook for another 30 minutes until the pasta is tender.

Season with salt and pepper.

Makes enough for a crowd—good for potluck suppers or game day!
Easy Baked Potatoes
Ingredients
4 

baking

potatoes, scrubbed Kosher salt

1

tablespoon

olive oil

4

sheets

aluminum foil
Instructions
Dry the potatoes and prick a few times with a fork.

Coat each one lightly with olive oil and sprinkle with the coarse salt.

Wrap in the foil and arrange in the Crock Pot.

Cover and cook on high for 4 hours or on low for 8 hours.
Apple Cinnamon Crock Pot French Toast
Ingredients
6

eggs

2

cups

milk

1/4

teaspoon

vanilla extractTopping:

1/2

teaspoon

cinnamon

1

loaf

crusty Italian bread, diced (can be stale or day old)

1/2

stick

butter, softened

1/2

cup

packed brown sugar

1/2

cup

chopped pecans (optional)

1

teaspoon

cinnamon

2

apples

any variety, peeled, cored and thinly sliced
Instructions
Whisk together egg, milk, vanilla and cinnamon. Pour over bread and let soak for several minutes.

Meanwhile, make the topping by mixing the butter, brown sugar, pecans and 1 ts cinnamon in a small bowl. Set aside.

Spray the inside of the slow cooker with cooking spray and add the soaked bread.

Top with apple slices, arranging evenly.

Crumble the topping over the apples and bread mixture.

Cover and cook on HIGH for 2.5 hours or on LOW for 4.5 hours.

Serve warm with butter and syrup, if desired. Feeds 6-8.
Slow Cooker Zucchini Lasagna? Yes! Try this yummy recipe!
What's your favorite meal to make in a slow cooker? Tell us in the comments below!
Beth Herman is a freelance writer with interests in healthy living and food, family, animal welfare, architecture and design, religion, and yoga. She writes for a variety of national and regional publications, institutions, and websites.