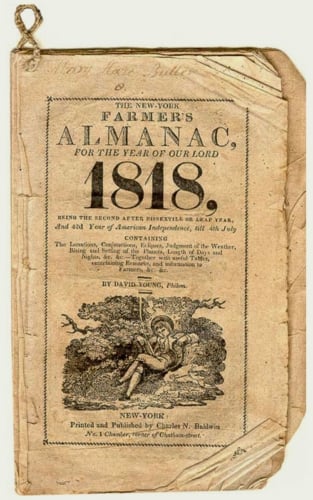 Founded in 1818, the Farmers' Almanac's timeless appeal has spanned three centuries, offering readers a trademark blend of long-range weather predictions, humor, fun facts, and valuable advice on gardening, cooking, fishing, conservation, and much more.
The Farmers' Almanac has had seven editors. Poet, astronomer, and teacher David Young, Philom., held the post for 34 years from the day he and publisher Jacob Mann first founded The Almanac Publishing Company in Morristown, New Jersey. Following Young's death in 1852, a string of successors took the helm, beginning with astronomer Samuel Hart Wright.
In 1933 Ray Geiger took over as the sixth editor of the Farmers' Almanac and began what became the longest-running and most colorful editorship in Farmers' Almanac history. Ray assumed the editor's job with such dedication and enthusiasm that he even found a way to do his editorial work through the war years, while he was stationed in the Philippine Islands, New Guinea, and Australia.
In addition to editing the Farmers' Almanac, Ray also proved to be its champion promoter. He traveled the country going from radio to TV, including seven appearances on the Today Show, Mike Douglas, Art Linkletter's House Party, The David Lettermen Show, Good Morning America, and many, many more. Art Linkletter called Ray Geiger "The most interviewed man in America," which, in effect, increased the circulation of the Farmers' Almanac from 85,000 to over six million.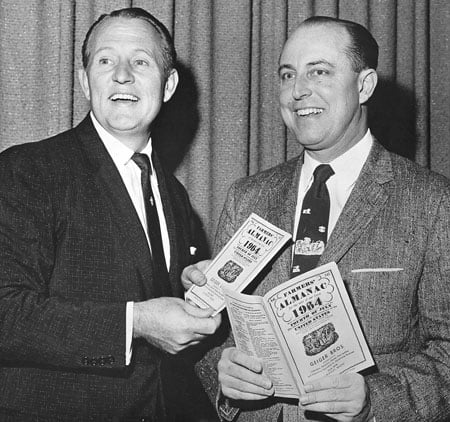 In 1949, the rights to the Farmers' Almanac and Almanac Publishing Company were purchased by Ann and Ray Geiger, who maintained the editorial and publishing responsibilities, but had Geiger Bros, the nation's largest family-owned and managed promotional products distributor, do the production. In 1955, the Almanac Publishing Company moved from Newark, New Jersey, to its current office in Lewiston, Maine.
In 1994, upon completion of his 60th consecutive edition, Ray passed the editorial reins onto his son, Peter, who had been serving as Associate Editor for 15 years. Peter, who also serves as Executive Vice President of Geiger, hired Sandi Duncan to serve as Managing Editor with him. Sandi was the first woman editor in 178 years to hold an editorial position. Peter, now Editor Emeritus and Sandi, now Editor, continue to edit the Farmers' Almanac in a manner that continues to make this publication a timeless, trusted, and treasured tradition.
Today there are three versions of the Farmers' Almanac — a retail version that is sold throughout the U.S. at supermarkets, retail outlets and bookstores, a promotional version which is sold as a cost-effective marketing vehicle for businesses, and a Canadian version which contains exclusive Canadian weather predictions, articles, and more.