Who isn't bananas about bananas? Not only are they healthy, but they're delicious and versatile. In our 2020 edition, we asked readers to submit their tastiest banana recipes. We were anxious to see what we'd get for submissions—only banana bread? The results were pretty amazing. Turns out bananas can be delicious in both sweet and savory dishes! Our judges agreed: they said the hardest part was selecting the top 3 (which we narrowed down from over 150 submissions). Below are their picks.
So congratulations to our winners! Do them the honor of giving these award-winning banana recipes a try and tell us what you think—we know you'll find them very a-peel-ing!
Banana-Macadamia Nut Tres Leches Cheesecake
1st Place Winner – $250 Cash Prize
Emily Hobbs
Springfield, Missouri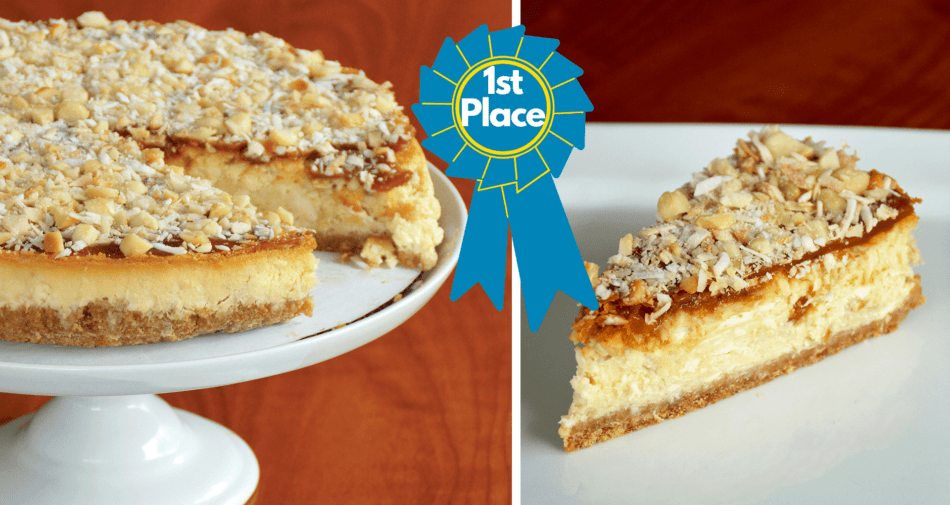 Ingredients:
1 ½ cups ground vanilla wafer cookies
¼ cup unsalted butter, melted
3 (8-ounce) packages cream cheese, softened
1 can sweetened condensed milk
¾ cup cream of coconut
¾ cup mashed ripe banana
4 large eggs
1/3 cup finely chopped macadamia nuts, toasted
1/3 cup sweetened flaked coconut, toasted
¾ cup dulce de leche, warmed
Directions:
Heat oven to 350ºF. Coat bottom and insides of a 10-inch springform pan with cooking spray. In a large bowl, stir together vanilla wafer crumbs and butter until well combined; pat crumbs into bottom of pan to form a crust. Bake 8-10 minutes or until light golden brown and set.
In a large mixing bowl, using a mixer on medium speed, beat cream cheese until creamy, about 1-2 minutes. Beat in sweetened condensed milk, cream of coconut and banana until well combined about 1 minute. Beat in eggs until well incorporated, about 2 minutes. Pour batter onto crust; bake 50 minutes.
Remove pan from oven and sprinkle macadamia nuts and coconut on top; evenly drizzle with warm dulce de leche. Return pan to oven and bake an additional 10 minutes, or until cheesecake is well-risen and barely wobbles. Cool cheesecake on a wire rack for 1 hour, before lightly covering and chilling 4 hours or until ready to serve. Makes 10 servings
Bananas Foster Dessert Burritos
2nd Place Winner – $150 Cash Prize
Gilda Lester
Millsboro, Delaware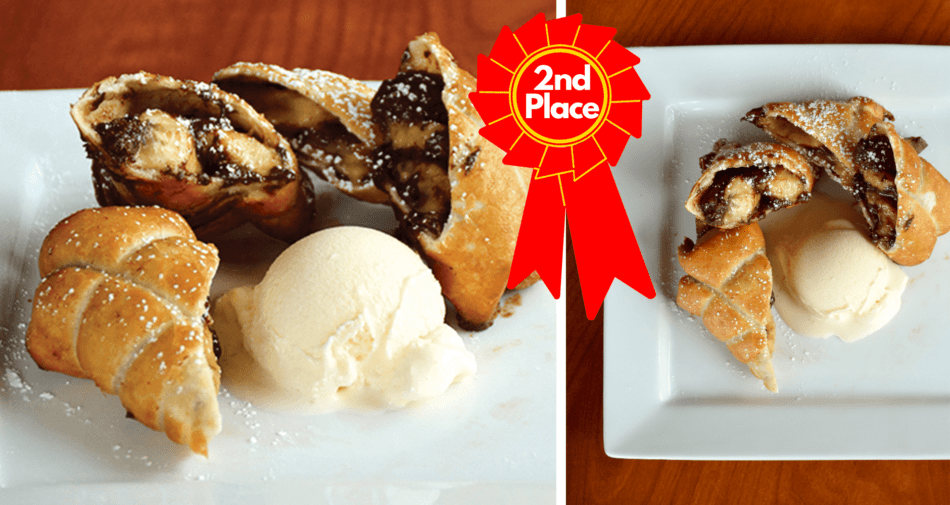 Ingredients:
4 bananas, peeled
3 tablespoons fresh lemon juice
¾ cup light brown sugar, packed
½ teaspoon cinnamon
3 tablespoons butter, room temperature
¾ cup dark semi-sweet chocolate chips, finely chopped
8 6-inch flour tortillas
1 cup (approx.) canola oil (for frying)
Powdered sugar
Vanilla ice cream (optional)
Mint sprig for garnish
Kitchen twine
Directions:
Split each banana in half lengthwise; then cut each half in half (you will have 16 banana pieces). Sprinkle banana pieces with lemon juice.
In a medium bowl, mix brown sugar and cinnamon. Add butter and work with fingertips until mixture is crumbly. Mix in chopped chocolate. Spread 1 heaping tablespoon of brown sugar mixture in the center of each tortilla. Top with two banana pieces, and sprinkle remaining brown sugar mixture on top.
Fold one end of each tortilla over bananas, then tuck in sides and roll up to completely enclose bananas. Tie each around center with kitchen twine.
Heat oil in a 10-inch skillet to 350ºF. Add 4 burritos and fry 3-4 minutes per side, or until crisp and golden. Remove, and place on a paper towel to absorb excess oil. Repeat with remaining burritos.
To serve: Remove twine. Cut each burrito diagonally. Place 2 burritos on a dessert plate and sprinkle lightly with powdered sugar. Do the same for the remaining burritos. Serve each with a scoop of vanilla ice cream. Garnish with mint, if desired. Makes 4 servings.
Maaaa-Nana Mini Tarts
3rd Place Winner – $100 Cash Prize
Satwinder Chahal
Surrey, British Columbia, Canada
Ingredients:
2 ripe bananas
1.75 ounces (50 grams) goat cheese
4 slices prosciutto
18 frozen mini tart shells
½ teaspoon allspice
Directions:
Preheat oven 375ºF. Allow mini tarts shells to thaw while oven heats up.
In a microwaveable bowl, place banana, goat cheese, and allspice. Microwave for 25 seconds. Mix all ingredients with fork until a smooth consistency. Set aside.
Line a baking sheet with parchment paper, and place prosciutto directly on it. Place mini tart shells on a separate baking sheet. Bake prosciutto and mini tart shells for 10 minutes in the middle of oven. Allow prosciutto to cool while you fill cooked tart shells to the top with banana goat cheese mixture.
Roughly chop the prosciutto into small bits and liberally sprinkle over the top of the filled tarts. Broil the tarts on high for 1 minute. Turn off oven and leave tarts in oven for another minute. Cool and serve. Makes 18 tarts.
A Special Thank You
We extend a special thanks to the Green Ladle Culinary Arts School of Lewiston, Maine, for lending us their aspiring student chefs to prepare each of the final recipes for judging. Each dish was expertly prepared by this dedicated staff.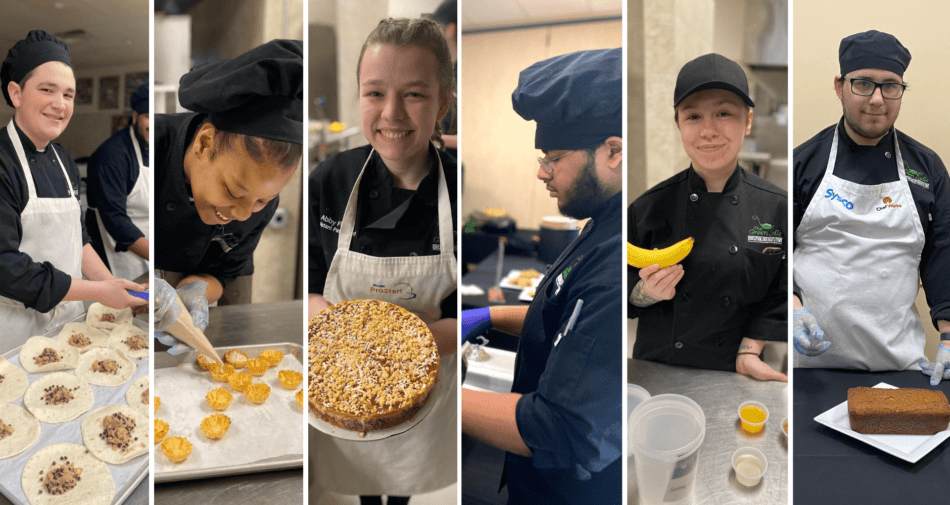 Calling All Home Cooks!
See the special ingredient we chose for our 2021 contest and submit your winning recipe today! You could win a cash prize!