Edible Flowers: Pretty Enough to Eat!
Salads, soups, drinks, syrups, jellies, ice cream, and main dishes will never be the same when you include edible flowers in your recipes. Learn more!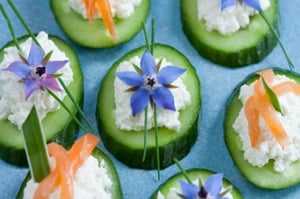 Candied Angelica, pickled Nasturtium, fresh English daisies …
Salads, soups, drinks, syrups, jellies, ice cream, and main dishes will never be the same when you include these and many other edible flowers in your recipes. Popular in cooking and baking throughout history, especially in Victorian times, many varieties are high in vitamins C and/or A, and may be dried or frozen for later use. And while not all flowers are edible — some may even be toxic — creative cooks can use the gifts from summer gardens and farmer's markets for more than just the usual bouquets and adornments. Roses, violets, lavender, geraniums, orange blossoms, hibiscus, and lemon verbena are more commonly used varieties in both sweet and savory recipes, and are used to color and flavor cocktails in some of the most exclusive bars and restaurants. Mixed with sugar and water and simmered for light syrups, or combined with butter for a fragrant surprise on muffins and scones, edible flowers are versatile and sure to intrigue guests at your most festive meals.
It's important to remember that even if they fall into the consumptive category, flowers should not be washed, so be sure to ascertain that the ones you select do not contain bugs or pesticides, and that they were not grown in soil with chemical additives. For this reason, flowers from the local flower shop, nursery or garden center may not be suitable. If you're not sure what to eat and where to shop for it, local greenhouse personnel can often steer you in the right direction, and many grocery stores stock edible flowers along with herbs, though prices can be high. Note that sold in this way, they are highly perishable, as are flowers in general, so be sure to check packages thoroughly.
Where taste is concerned, edible doesn't always mean delicious. Ranging from peppery (Nasturtiums) to minty (Pansies) to "perfumy" (rose petals), and everything in between, prepare your palate at first by experimenting with flowers to gently complement food, like salads, rather than focusing on them as mainstays of a meal. Also, be sure to consume only the petals and buds unless otherwise specified by the recipe you are preparing.
Try these recipes for a fragrant foray into the world of edible flowers:
Hibiscus Syrup
Ingredients
Petals from 10 large hibiscus flowers

1/4

cup

fresh-squeezed lemon juice

1

cup

boiling water

1

cup

sugar
Instructions
Directions:

Cover petals with lemon juice in a deep glass bowl. Microwave for two minutes on HIGH. Mix sugar and boiling water in a saucepan, heat over high heat on stove top until boiling and sugar is thoroughly dissolved. Add the petals and lemon juice mixture to the sugar water. Stir well. Simmer over medium heat until reduced by 1/3 volume (approximately one hour). Strain to remove petals, then store in a covered jar in refrigerator. Syrup keeps for a year and is delicious over fresh fruit, ice-cream, custard, pound cake, etc.
Rose Petal Omelet
Ingredients
Petals from one large, red, preferably fragrant rose; reserve a few for garnish

1

Tbsp.

butter

Salt and fresh clipped chives

Soft cheese, such as brie, Gouda or gruyere for filling
Instructions
Directions:

Melt butter in a nonstick pan or omelet pan over medium low heat. Add all but a few rose petals, the eggs and seasonings to a blender. Process on low until petals are very fine. Pour into pan, reduce heat a little, cover and cook until set. Add cheese to center, fold over and slide onto plate. Sprinkle with reserved petals and serve.
Lavender Shortbread
Ingredients
1 1/2

cups

(3/4 lb.) butter at room temperature (no substitutes)

2/3

cup

sugar

2 

Tbsp.

very finely chopped lavender florets (fresh or dried)

1

Tbsp.

chopped fresh mint

2 1/3

cups

flour

1/2 

cup

cornstarch

¼

tsp. 

salt
Instructions
Directions:

Preheat oven to 325°F. Cover bottoms of two baking sheets with parchment or brown paper. In a large bowl, cream together butter, sugar, lavender, and mint with an electric mixer. Mix until light and fluffy, about three minutes. Add flour, cornstarch, and salt and beat until incorporated. Divide dough in half. Flatten into squares and wrap in plastic. Chill until firm. On a floured board, roll or pat out each square to a thickness of 1/2 inch. Cut the dough into 1 1/2 -inch squares or rounds. Transfer to baking sheets, spacing cookies about one inch apart. Prick each cookie several times with a fork. Bake 20 to 25 minutes until pale golden (do not brown). Cool slightly, transferring to a rack. Sprinkle with lavender powdered sugar.* Makes about 4 dozen.

*Put four or five sprigs of lavender flowers in a sealed jar with powdered sugar for a day before using the sugar.
Beth Herman is a freelance writer with interests in healthy living and food, family, animal welfare, architecture and design, religion, and yoga. She writes for a variety of national and regional publications, institutions, and websites.
Keep Exploring