Grilled Cheese Day: The History of the Grilled Cheese Sandwich
April 12 is National Grilled Cheese Day! Learn the origins of this gooey, grilled cheesy masterpiece and sink your teeth into 3 yummy recipes.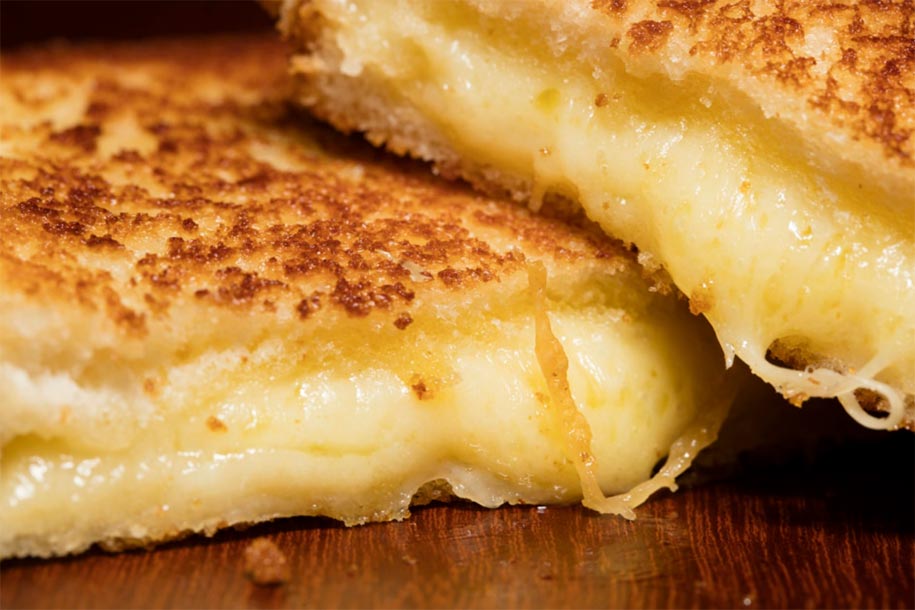 Does the mere suggestion of smooth, mild, patriotic American cheese, creamy Danish Havarti, buttery Norwegian Jarlsberg, or sharp Vermont cheddar—maybe even melded together in a crisp, four-cheese Panini sandwich—make your mouth water? Or how about a slice of mozzarella and some fragrant pesto, between thick slices of artisan bread, lightly grilled in salted butter? If cheese and its many manifestations are a big part of your DNA (card-carrying Wisconsin residents withstanding), you may be one of the millions likely to celebrate National Grilled Cheese Day on April 12th!
Grilled Cheese History
Though the history of "cooked bread and cheese" predates many records, the first U.S. modern accounts link an open-faced sandwich to the 1920s when inexpensive sliced bread and American cheese were readily available. Called a "cheese dream" during the Great Depression, the concept sometimes involved ham or bacon, or perhaps eggs, cayenne, mustard or mayonnaise, browned on both sides and served in tomato sauce at Sunday supper. In fact, a 1918 Good Housekeeping magazine also featured cheese dreams.
How Do You Like Your Grilled Cheese?
Maybe you're a purist and fancy your grilled cheese simple and straight up: American cheese with a little butter on grilled or toasted white, rye or pumpernickel, or you're something of a grilled cheese voyeur — inspired by the concept of salty Swiss and sliced Bartlett pears on grilled brioche, or maybe tangy goat cheese with roasted red peppers and spinach on grilled ciabatta bread. Whatever you like, and limited only by your culinary imagination, there's a great grilled cheese experience out there for everyone.
From easy and traditional to elaborate and exotic, these tasty variations of warm, toasty cheese sandwiches will make you melt and help you and your family celebrate Grilled Cheese Day in gooey, gastronomical style: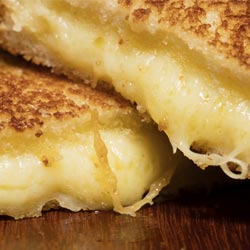 South of the Border Grilled Cheese
Ingredients
1/4

cup

tomato-based salsa

2 

tablespoons 

canned fire roasted diced green chilies, drained

1

teaspoon 

taco seasoning

2

tablespoons 

butter, softened

8

slices hearty artisan jalapeño bread

4

ounces (1 cup) queso quesadilla cheese,* shredded *Can substitute Monterey Jack, Asado, or other Mexican cheese.
Instructions
In a small bowl, combine salsa, chilies, and taco seasoning; let stand 5 minutes.

Butter one side of each slice of bread.

Spread salsa mixture on the non-buttered side of 4 slices of bread; top each slice with 1/4 cup cheese.

Cover with the remaining 4 slices of bread, buttered side out.

Place sandwiches on medium-heat electric griddle or in a preheated skillet over medium heat.

Cook 4 to 5 minutes per side, or until the bread is golden brown and the cheese is melted.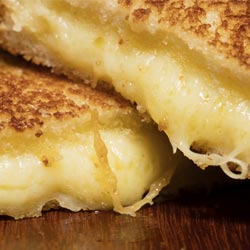 Sourdough, Swiss, and Mango Chutney Grilled Cheese
Ingredients
8

slices sourdough bread

8

slices Swiss cheese

1/2

cup

mango chutney (more or less, depending on taste)
Instructions
Butter both sides of bread, placing 2 slices of cheese and spreading a layer of mango chutney inside each sandwich.

Grill in skillet, on medium-heat electric griddle, or in Panini maker.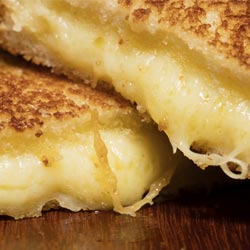 Grilled Cheese, Ham, and Jam on Brioche
Ingredients
One

8 1/2" thick slices brioche

2-3

tablespoons

butter, softened

8

slices Gruyere cheese

4

slices baked ham, thick cut

1/2

cup

strawberry or raspberry jam
Instructions
Spread four pieces of brioche with jam and a little butter.

Top each with ham and Gruyere and another slice of brioche.

Butter outside of sandwiches and grill.
Beth Herman is a freelance writer with interests in healthy living and food, family, animal welfare, architecture and design, religion, and yoga. She writes for a variety of national and regional publications, institutions, and websites.