5 Fascinating Facts About Ravens
The dark, mysterious raven has been depicted in literature and legends through the ages. Learn more about this fascinating and intelligent creature!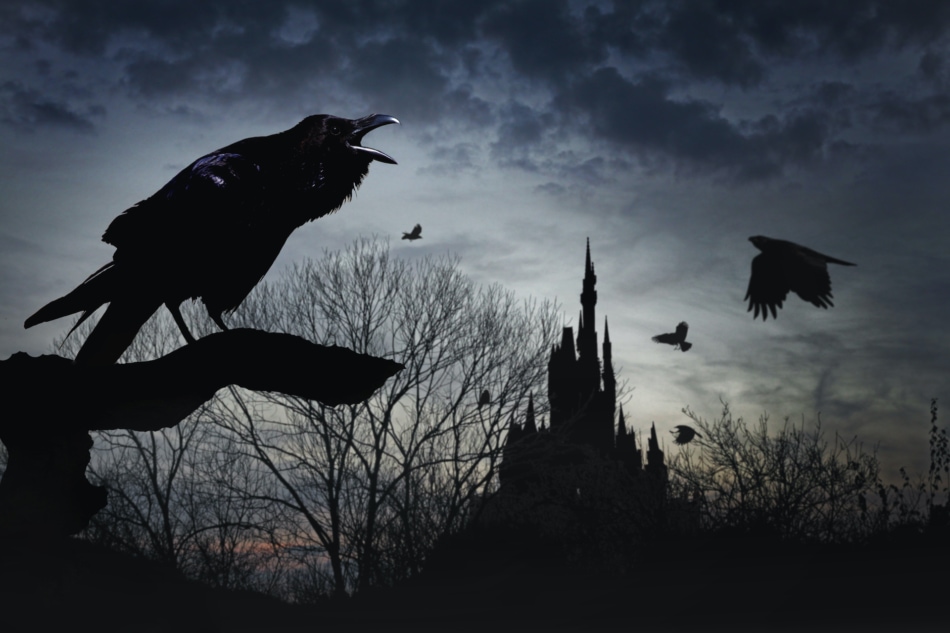 The dark, mysterious raven has been depicted in literature and legends through the ages. In some parts of the world, the raven is a sign of death or misfortune; to others its presence indicates good fortune. We shed some light on this mystifying creature and reveal some facts you may not have known.
5 Things You Probably Didn't Know About Ravens
1. Ravens are playful creatures
Ravens are acrobats in the sky. They surf updrafts, fly upside down and even turn somersaults, just because they can. Young ravens have been seen playing a fun game of catch by dropping sticks while in flight and then quickly swooping to catch it before it hits the ground.
2. Ravens can talk and sing
They have a vast repertoire of 100 or more vocalizations. With their deep voice, ravens can mimic human speech and singing and can imitate other bird sounds. They call to inform their mate to join them when food is found.
2. Ravens are clever and intelligent
These clever and cunning birds often work as a pair to acquire food. One raven will lure a parent bird away from its nest, while the other swoops in to feed on the eggs or hatchlings. Ravens have been known to call and lead wolves to a carcass to tear through the tough animal hide, so it can easily dine on the soft innards. These smart birds have been known to pull an ice fisherman's line up from the icy waters and dine on the caught fish.
4. Ravens eat anything they want
Being omnivores, ravens generally eat anything available. Ravens will dine on roadkill, or hunt their own prey for dinner. They also eat insects, eggs, seeds and berries, and even dung. These intelligent birds are known to store extra food away in secret hiding places for later. If a raven senses that another raven is watching where it is about to hide food, it will pretend to stash the food in one place, but will actually hide it in a different spot.
5. The Raven in Legend, Literature, and Lore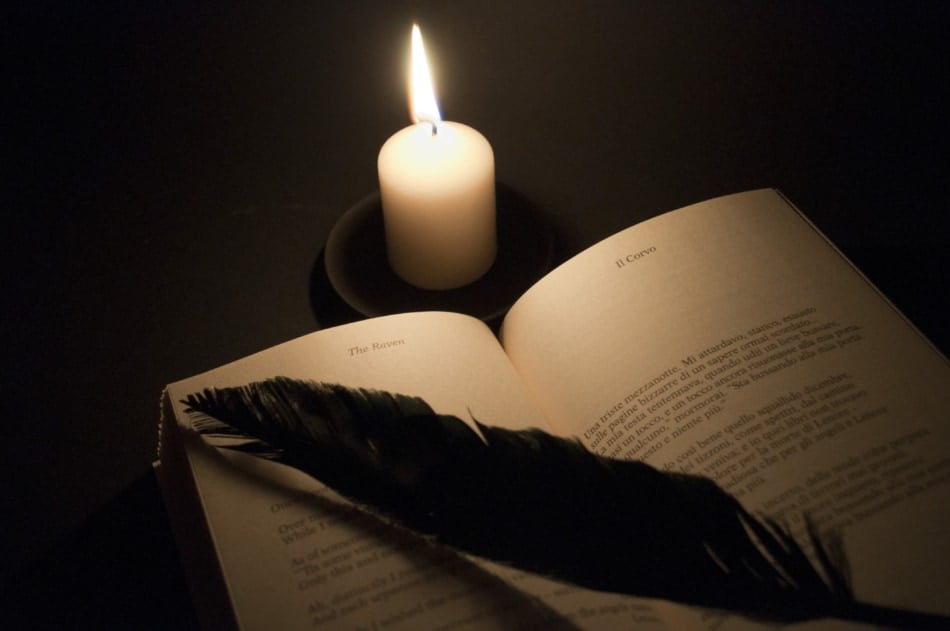 The raven has been symbolically depicted in literature and legends throughout history in cultures around the world. In the famous poem, The Raven, Edgar Allan Poe refers to the raven that taps on the narrator's chamber door on a dark December night as a "grim, ungainly, ghastly, gaunt, and ominous bird of yore." The bird's ability to speak is revealed throughout the poem as the raven says "nevermore." The raven's appearance at midnight symbolizes death and a painful reminder of the lonely and sorrowful state of the narrator.
Did You Know…
The raven is a symbolic figure in numerous Native American legends. In some indigenous groups, tales portray the raven as being mischievous and an evil omen. In the Pacific Northwest, Native American mythology depicts the raven in a positive light, as being the creator of the world.
What's the Difference Between Ravens and Crows?
Although both are members of the "Corvus" genus, and can be found throughout North America and other parts of the world, there are notable differences between ravens and crows:
Ravens are larger, about the size of a red-tailed hawk. Crows are similar in size to a dove.
Ravens have longer middle tail feathers. When extended for flight, the tail feathers appear to be wedge-shaped. A crow's tail feathers are all the same length, and tail feathers appear fan-shaped.
Ravens have larger, thicker, curved beaks.
They're entirely black, from head to toe. Including their beaks.
Ravens are often seen alone or in pairs, while crows often fly and feed in a group, referred to as a murder.
Unlike crows with their distinctive cawing sound, the raven's call is a deep, croaking sound. Listen to the raven's call here.
The raven's lifespan is between 25 and 30 years, but they have been known to live up to 45 years. Crows usually live to 8 years, but can live longer when raised in captivity.
For centuries, the Tower of London has been home to ravens whose mere presence is believed to bring good luck and ward off disaster. To ensure these majestic creatures don't fly away from their designated site, the appointed Ravenmaster hand raises young fledglings, taming and feeding them before clipping one of their wings.
In several passages of The Bible, ravens were specifically noted to perform important tasks. In the book of Genesis, Noah first sent a raven from the ark to determine if the floodwaters had receded. In the book of I Kings, ravens were commanded by God to bring bread and meat to the prophet Elijah twice a day during a time of drought.
All these things point to one fact, the raven is truly a remarkable bird.

Deborah Tukua is a natural living, healthy lifestyle writer and author of 7 non-fiction books, including Pearls of Garden Wisdom: Time-Saving Tips and Techniques from a Country Home, Pearls of Country Wisdom: Hints from a Small Town on Keeping Garden and Home, and Naturally Sweet Blender Treats. Tukua has been a writer for the Farmers' Almanac since 2004.