How To Grow Succulents And Create A Stunning Container Garden
Try our helpful tips for creating and maintaining a gorgeous container garden with these drought-resistant beauties—indoors and out.
You don't have to live in the desert to appreciate and grow potted succulents. Although cacti and other prickly botanicals may be the first plants that come to mind when someone mentions succulents, there are many more varieties that come in an array of shapes, sizes, and colors. And the best part—succulents are drought resistant and easy to grow in containers, so even those who don't have the greenest of thumbs have good luck with growing succulents.
What Are Succulents?
Succulents are a group of plants that store water in their leaves, although some, like cacti, store water only in their stem and have no leaves or very small leaves.
Succulents have plump leaves that can be clustered together like cabbages or rosettes, spiked or broad-leaved and be found in colors ranging from silver-gray, to orange, pink, blue-green, and even brown. Currently, there are 7,474 named species in the Encyclopedia of Succulents.
The most widely known and loved succulents are jade, agave, aloe vera, cactus, kalanchoe, sedum, hen and chicks, yucca, and even your prized Thanksgiving cactus or Christmas cactus. Once you explore all the other beautiful species on the market today, you'll want to create a fresh new twist on your grandmother's potted succulents.
Planting a Succulents Container Garden
The smaller varieties are ideal for creating an attractive centerpiece for your patio table. Since these plants require little watering, you can get creative in your choice of planter, as holes in the bottom are not required. Plant one in a conch shell, china teacup, or a combination of succulents in vintage milk glass containers, or a narrow, rustic, dough bowl. Fill a terracotta strawberry pot or a concrete planter with mini succulents and display it on your terrace. Get creative!
Materials
You'll need a wide bowl or container, succulent plants, potting mix, sand, gravel, and aquarium gravel.
Fill your container three-quarters full with a fast-draining, special soil mix for succulents, or prepare your own by mixing a ratio of 75% potting soil with 25% builders' sand or perlite. Cover with a layer of gravel. Using both hands mix all together and moisten with water.
If the container is large enough for multiple plants, remove the largest plant from its nursery pot first. To do so, turn it upside down in your hand, and give the bottom of the pot a pat to release the plant. Place it in the soil, off center. Repeat the planting process with other succulents, clustering similar colors or shapes together. Fill gaps with smaller plants to add interest to your dish garden.
Cover the soil mix with a layer of aquarium gravel.
Place container garden where it will receive at least 6 to 8 hours of sunlight a day.
Succulent Plant Care
Water lightly. Succulents should never be standing in water or the roots will be prone to rot. Allow soil mixture to dry between waterings. Like the native desert where succulents originated, they are able to handle cool night temperatures, ideally between 50° to 55°F, although they may thrive in low nighttime temperatures of 40°F. Optimal daytime temperatures for succulents to thrive are between 70°F and 85°F.
Tips for Growing (or Wintering) Succulents Indoors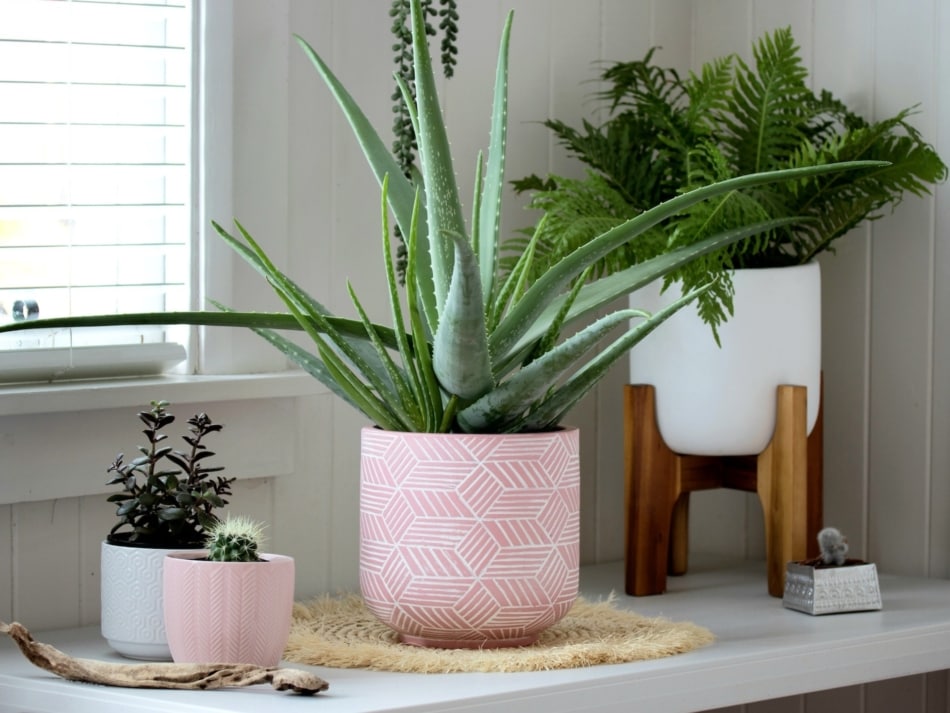 The best varieties for growing indoors are those with green leaves, such as jade or aloe plants. For best results, place potted succulents near a sunny window, preferably south-facing, or beneath a skylight. Do not overwater, and allow the soil to dry between waterings.

Deborah Tukua is a natural living, healthy lifestyle writer and author of 7 non-fiction books, including Naturally Sweet Blender Treats. She has been a writer for the Farmers' Almanac since 2004.
Keep Exploring