Make Your Own Dried Fruit Decorations And Gifts
Oranges, lemons, and limes add a natural touch to winter decorations. Here is our easy guide for how to dry fruit for garland, gifts, and drinks.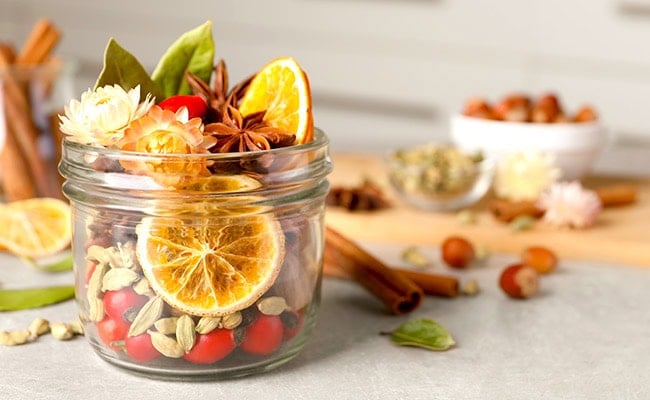 Oranges, lemons, and limes add a wonderfully warm and natural touch to winter decorations. Here is our step-by-step guide for how to dry fruit to make dried fruit garlands, tree ornaments, packaging, and more!
­How to Dry Fruit And Make A Garland – 3 Easy Steps!
With a few cra­ft supplies, like star anise, cinnamon sticks, cloves, wooden beads, wire, twine, and yarn, you can make a dried citrus wheel garland and ornaments to decorate your tree, wreath, or gi­ft packages.
1) Prepare Oranges, Lemons, And Limes for Drying 
Rinse and dry firm, unblemished citrus fruits of your choice. 
Slice one end off whole oranges, lemons, and/or limes.
Using a sharp knife or mandolin, cut fruit uniformly into one-quarter inch thick slices. Cut-off the other end and discard.
2) Choose A Drying Method For Your Fresh Fruit
You may hang to air dry but for faster results you may microwave, bake, or air fry your citrus to make dried fruit.
Microwave
Lay sliced citrus on a stack of three absorbent paper towels.
Cover with another paper towel and microwave using the defrost setting for 5-15 minutes.
Remove from microwave.
Flip slices onto new absorbent paper towels.
Cover with a new paper towel and microwave for another 5-15 minutes.
Carefully remove steaming-hot towels.
If needed, microwave on the defrost seing for another minute or two.
Check every minute to avoid burning.
Using a spatula, transfer citrus slices to a wire rack to cool. 
Put In The Oven
Preheat oven to 200°F.
Place citrus slices on a baking tray in the oven for about 3 hours.
Turn slices and check every hour.
Lemons and limes dry a lile faster than oranges.
Transfer dried slices to a wire rack to cool. 
Air Fryer Dehydrating
Using the dehydrate setting, most fruits can be dehydrated in 6-8 hours at 135°F.
Place orange slices into the air fryer basket or tray.
Check progress after six hours.
Orange slices will take a full 8 hours to dry.
Remove once dried, and cool on a wire rack. 
3) Assemble Your Dried Fruit Garland 
Tools Needed
A spool of waxed thread/string.
Instructions
Tie a bead onto one end of the waxed thread and cut the thread to desired length.
Thread citrus wheel through one side near the rind and out the other side.
Continue to string citrus wheels onto the garland. (Or you could string a decorative bead between each citrus wheel.)
Tie and knot a bead to the other end to secure.
Hang the garland on your Christmas tree, kitchen window, mirror, or mantle for the holidays.
More Ideas!
Tree Ornaments or Gift Wrapping Adornments
Poke a hole near the rind (with a toothpick, if needed) and thread twine through.
Tie a 2″-3″ cinnamon stick above the wheel and thread a wooden bead over the cinnamon stick.
Tie a loop to hang the ornament on a tree.
To embellish gift wrapping, tie twine around a gift box and affix the ornament to the twine.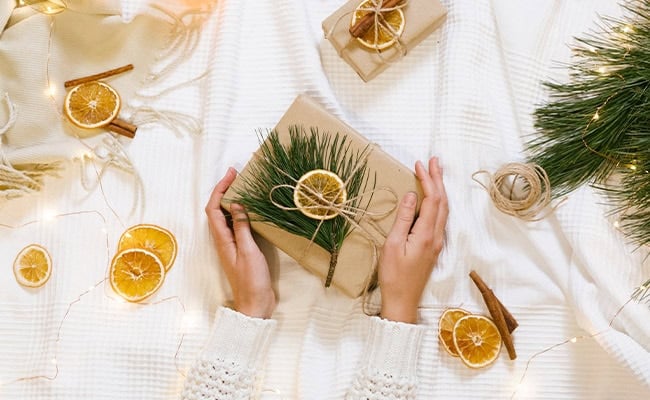 Add to Potpourri Or Existing Garlands And Wreaths
Dried fruit slices work well in potpourri. Add a drop of essential oil for special scents. You may also choose to add a few slices to an artificial (or real) evergreen garland or wreath to add a pop of color! Use craft glue or wire to attach.
RELATED: Top 5 fragrant Christmas trees
Think Drinks
Dried oranges add a touch of festivity to mulled cider and wine, tea, and cock- tails. Package as a "cocktail in a jar" by placing them in in a glass jar with other dried fruit and/or spices and a recipe card.
History Behind Dried Fruit And The Holidays
Orange may not be the first color that comes to mind when you think of Christmas, but oranges and the holiday have a distinct connection. Years ago, citrus fruit were more a luxury than an everyday snack. As a gift, citrus fruit were exotic and appreciated, as they came from far away tropical places.
During the Great Depression, receiving an orange or other citrus fruit was a special treat (so special that many people continue the tradition of putting an orange in holiday stockings).
RELATED: 11 Crazy Holiday Traditions
Join The Discussion
What are some of your favorite ways to use dried fruit as decorations?
Share your thoughts with your community here in the comments below!

Deborah Tukua is a natural living, healthy lifestyle writer and author of 7 non-fiction books, including Pearls of Garden Wisdom: Time-Saving Tips and Techniques from a Country Home, Pearls of Country Wisdom: Hints from a Small Town on Keeping Garden and Home, and Naturally Sweet Blender Treats. Tukua has been a writer for the Farmers' Almanac since 2004.