What The Heck Is Haggis?
Haggis, the national dish of Scotland, is a type of sausage, and a by-product of the need to be as efficient as possible when butchering meat. Read the history of this unusual dish - recipe included!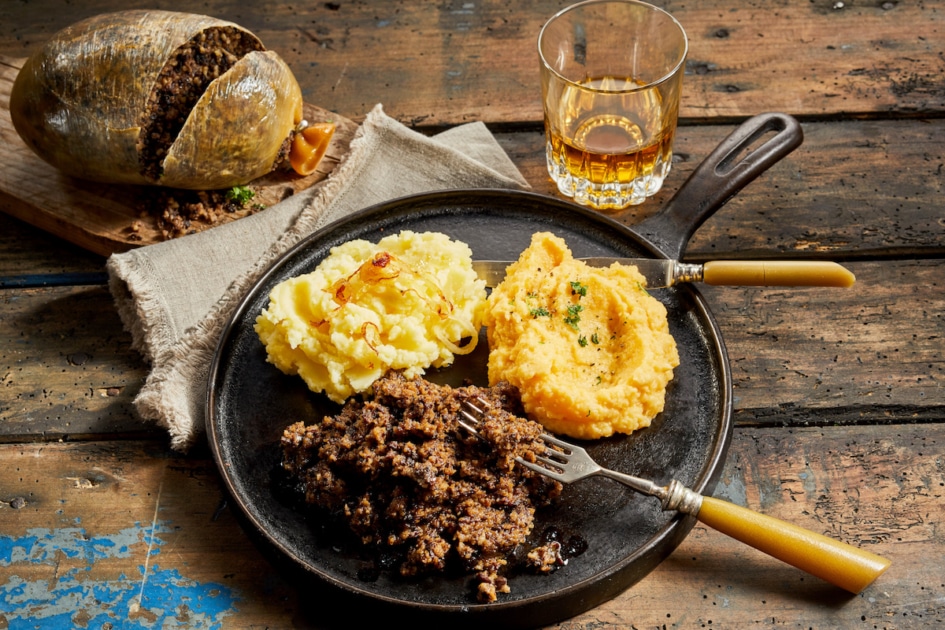 For dinner tonight, how about a sheep's heart, lungs, and liver, minced together with onions, oats, and suet, seasoned with salts and spices?
While the ingredients may sound less than appealing to most North American palates, that's the basic recipe for haggis, the national dish of Scotland. Haggis is really just a type of sausage, and, as such, not so different in composition from salami, hot dogs, pepperoni, or other foods many people on this side of the pond routinely enjoy.
Like most sausages, haggis was a byproduct of the need to be as efficient as possible when butchering meat. At a time in history when food was not easily produced, transported, or preserved, wasting potential sources of nutrients was simply not done. When an animal was slaughtered, great care was taken to capture every possible cut of meat, and whatever was left over was ground into sausage or, in this case, haggis.
Though today it is a celebrated dish, elegized in the poem Address to a Haggis by Scottish poet Robert Burns, haggis, like chitterlings and other foods comprised of offal, was once the provenance of peasants. Those of means enjoyed the choicer cuts of meat, while the less desirable parts were left to the servants.
Because these parts were tougher and less appealing, they were combined with other ingredients and prepared using a slow-cook method. A haggis is traditionally simmered in water for at least three hours before serving.
Haggis is widely available is Scotland, where you can buy one right off the shelf, but not in the United States, where it has been illegal to import since 1971 due to a ban on food containing sheep lung. Alternate recipes do exist, though, usually substituting tongue for the lungs and a sausage casing for the stomach. It's even possible to find vegetarian variants.
Haggis is traditionally served with mashed turnips and potatoes, or "neeps and tatties," and a glass of whiskey. January 25th, the birthday of Robert Burns, is the most popular time to eat the dish, but for a true connoisseur, any day will do.
Whether you're an expat Scot longing for the flavors of home, or simply an adventurous epicurean looking for a new thrill, here's a legal recipe for haggis you can make right at home (you may need to consult with your local butcher about where to obtain some of these ingredients):
Haggis at Home
Ingredients
1

beef bung sausage casing

1

sheep liver

1

sheep heart

1

sheep tongue

1/2

pound

suet, mashed

3

medium

onions, minced

1/2

pound

steel cut oats

1

teaspoon

salt

1

teaspoon

black pepper

1

teaspoon

cumin

1

teaspoon

nutmeg

1/2

teaspoon

rosemary

1/2

teaspoon

thyme

1

teaspoon

cayenne pepper
Instructions
Soak the sausage casing in salt water overnight.

Rinse the liver, heart, and tongue, and cook them over medium heat in a large pot of boiling, salted water for 2 hours.

Remove any gristle, skin, or blood vessels, then mince these organs into 1/2 inch pieces.

In a large bowl, combine the minced parts with the suet, onions, oats, and dry seasonings.

Remove the sausage casing from the water and fill with the mixture.

Tie the casing closed with butcher's twine, trim off any extra length from both sides, then pierce it several times with a fork.

Bring a large pot of water to a boil, then gently lower the haggis into the pot.

Reduce heat and simmer for 3 hours.

Jaime McLeod is a longtime journalist who has written for a wide variety of newspapers, magazines, and websites, including MTV.com. She enjoys the outdoors, growing and eating organic food, and is interested in all aspects of natural wellness.