Inspirational Ways to Repurpose Items In The Garden
Perk up your outdoor spaces with attractive garden décor you repurpose from items you may already have on hand. Here's how.
Tired of waiting for your spring garden to come alive? There are decorative ways you can add color, style and interest now. Perk up all your outdoor spaces with attractive garden décor you repurpose from items you may already have on hand. Whether you want to add a touch of whimsy, modernistic, or rustic casual style to your garden, we've got a creative DIY idea for you.
1.Transform a Bird Bath!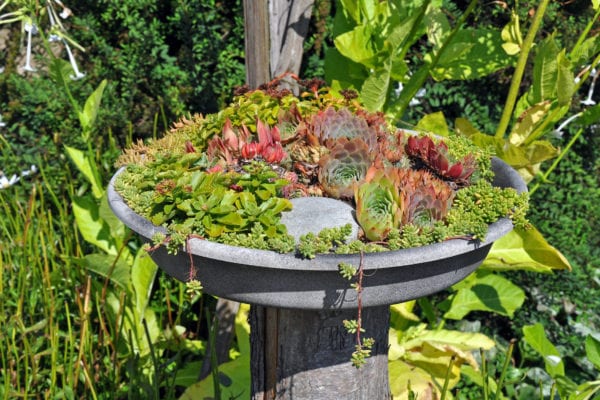 Instead of hauling a leaky concrete bird bath to the dump, try one of these repurpose ideas. Either choice will spruce up a sunroom or your outdoor garden and living spaces.
Bird Bath Table – Fill the cavity of a bird bath with seashells, or colorful flat glass marbles purchased from a craft store. Top with a round acrylic or glass table top. Place this useful and attractive table in a sunroom, on your patio, outdoor living spaces, or garden.
Succulent Planter – Transform a bird bath into a succulent planter. First, fill the bowl of the bird bath with a special succulents soil mix. To make your own special mix, combine 75% potting soil and 25% builders' sand or perlite. Then, plant several succulents in the bowl. Cover the soil with a layer of aquarium gravel. Place the bird bath planter where it will receive 6 to 8 hours of sunlight. Allow the soil to dry between watering.
2. Add Garden Globes
Garden globes are a popular item used to add an artistic element to flower beds, gardens and lawn. Here are several DIY garden globe projects to try.
Metal Wire Garden Globe – With two wire metal hanging plant baskets, minus the lining, you can transform them into a decorative garden globe. Remove the hanging chains, hook, and coir lining. Turn one wire basket upside down and place it on top of the other, to form a globe. Next, using pliable wire, about 20 gauge, wire the two metal baskets together all the way around. Place the wire sphere on top of a post outdoors and allow a vining plant to grow up and around the form.  Or, place the metal globe in your garden and fill it with rocks (drop rocks through the top center hole) to add a decorative, organic element.
Marble Garden Globe – If you have a bowling ball that hasn't been used in years, or find one at a thrift store, you can transform it into an artistic garden globe. Clean the ball with vinegar and dry. Lightly sand the surface, rinse and dry. Set the ball on a metal coffee can. Using a strong adhesive made for plastics, arrange and glue flat glass marbles in one or a variety of colors onto a bowling ball for a one of kind garden decoration.
Stone Sphere – Love the sophisticated, modern look of granite? Grab a bowling ball for this garden project. Clean the ball with vinegar and dry. Lightly sand the surface, rinse and dry. Set the ball on a stand. Cover the ball with your choice of an outdoor stone finish spray paint. Apply several coats of a sealer and allow to dry. These attractive spheres look like the expensive granite balls that are often displayed in gravel filled beds or courtyards.
Garden hose floral wreaths – Add cheerful whimsy to your potting shed, garden gate or front door. Coil a 15-foot garden hose into a circle (wreath) and attach a zip-tie to one side to secure it. Fill a colorful floral print garden glove with a bouquet of artificial spring flowers. Secure the flower filled glove to one side of the wreath using another zip-tie or twine. Pin a colorful bow to the twine and your cheerful spring garden wreath is ready to hang.
Ceiling fan blades transform into dragonfly art for the garden wall. If you don't have an old ceiling fan on hand, this project is so cute, you might visit the nearest dump for materials to recycle. A wooden table leg makes a sturdy and attractive body for your dragonfly. Cut 4 blades into a wing shape using a jig saw, if desired. To assemble, screw two wings (ceiling fan blades) to the back of each side of the table leg. Paint the wings and body to match. For the eyes, be creative, attach drawer knobs, or metal parts or screws. For the antenna use pliable metal scraps or wire. Attach a metal hanger to the back of the body and your huge dragonfly is ready to brighten your garden wall.
Rustic Garden Rose Trellis – You'll need 3 garden tools: a rusty rake, shovel and spade, etc. to make this rustic trellis. Stick the pole, handle end of three garden tools firmly in the ground 3 to 6-inches apart. You want the rake and shovel head showing. To complete the trellis, you'll need several horizontal strips of wood. Screw the 3 poles together using several long horizontal strips of wood: yardsticks, pallet scraps, or commercial paint stirring sticks. What's your favorite garden decoration?

Deborah Tukua is a natural living, healthy lifestyle writer and author of 7 non-fiction books, including Naturally Sweet Blender Treats. She has been a writer for the Farmers' Almanac since 2004.
Keep Exploring